From the Blog
An expert's guide to learning to surf later in life
Posted by
Rebecca Jackson
on
Updated on
Feel the exhilaration of catching a wave
Learning to surf at any age can be daunting, especially if you're considering giving it a try later in life. However, with the right approach, an experienced instructor and a positive attitude, you could be feeling the exhilaration of catching and riding waves in no time at all.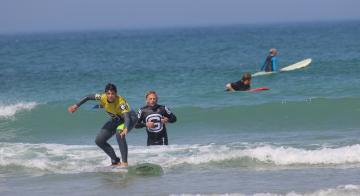 With beautiful beaches, clean water and a variety of waves, Cornwall is the ideal location for learning to surf. What's more, if you visit during the early summer months or September, you'll have the opportunity to learn in a mellow and calm environment outside the school holidays. If you're a bit self-conscious or unsure, it's the perfect time for hitting the waves with the support and guidance of an experienced coach.
To encourage you to give this ancient sport a try, we've asked an experienced Cornish surf instructor to share his expertise on learning to surf later in life. Founder of George's Surf School in Polzeath, George Stoy is a professional coach with over 20 years experience. His holistic approach to surfing, coupled with private, tailored surf lessons and immersive courses, are guaranteed to get you hooked, whatever your age or experience.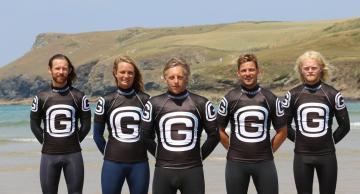 George's top tips on learning to surf later in life

How do you instil confidence in beginners?
Our team of world class instructors, alongside the culture and experience of learning to surf that we have created is designed to put people at ease, build trust and help them have an incredible time. On a practical level, small things like explaining to people when they arrive that we will only be going into waist-depth water can make a big difference to confidence levels.

Do you think anyone can learn to surf?
It's all down to having a positive approach. One of our priorities is to provide the equipment, skills and attitude that make riding waves as accessible and enjoyable as possible. We're lucky to have the perfect wave at Polzeath, which makes it extremely achievable.
When I hear people in their 40s, 50s and 60s say they are 'too old to surf' I always joke with them, so they realise the only barrier is in their heads! In reality surfing waves is open to anyone who wants to give it a go. We are passionate about teaching people to surf, and our aim is to instil this passion in anyone willing to give it a try.

Why is Cornwall so good for surfing?
I'm a little biased, as I am a huge lover of the British countryside, but having travelled the world surfing, the unique backdrop of wild coast and farmland is always magical. The water is clean, the vibe in the water is mellow and the variety of waves is amazing.

What tips would you give a first time surfer?
Invest in quality coaching and, if you're learning in cooler water, invest in a decent wetsuit designed for surfing. The fitter you are the more you'll be able to progress. Lastly, learning anything new takes a little longer as an adult! Learning to surf is all about going gently, enjoying being in the ocean, and working with us to set achievable short and long term goals.

Why is George's Surf School so good for adults?
Coaching one to one or in small private groups enables us to tailor every lesson to the needs of each individual surfer, which maximises progress. I've based the school on how I like to experience things, so the quality of delivery is aimed at grown-ups and then adapted to make sure kids also have a fantastic time. This approach ensures we remain relevant to people throughout their surfing lives.

If you tried and failed to surf when you were younger, is it worth giving it another go later in life?
Absolutely! There are lots of reasons people can have a negative first experience; the wrong type of wave, the wrong board, or being taught by the wrong person are all common problems. We've developed a really gentle approach based on building confidence which is perfect for people who want to give it another go.

How physically fit do you have to be?
To learn initially doesn't require too much fitness, but you will realise very quickly that the fitter you are the more you'll get out of surfing. Catching and riding waves is exhilarating so it's a great way of getting fit and a wonderful motivator to stay fit.

Are there any health benefits to learning to surf?
There are many. The obvious things are the general health and fitness benefits of taking exercise, but surfing has some unique aspects that make it really special in this regard. These include the therapeutic benefits of being in the ocean, something surfers have felt and known for a long time! Spending a few hours in nature, riding waves for ourselves away from any technology has to be a good thing.

When is the best time to book a lesson if you're a bit self-conscious?
One of the reasons we only offer private lessons is to help create a relaxed and accessible learning environment. It also give us flexibility as the lesson is completely geared to your specific needs. We'd usually recommend going early in the morning if anyone was feeling a little self-conscious as it means we have the beach to ourselves.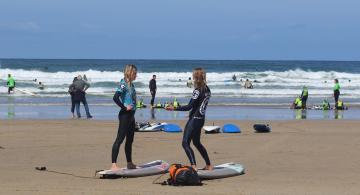 If George has convinced you to give surfing a try on your next Cornish break, then the Perfect Stays concierge team are on hand to arrange every element of your tailored surf holiday. What's more, many of our properties are just minutes from some of the best surfing beaches in the country, so you can embrace the surf lifestyle without compromising on comfort.