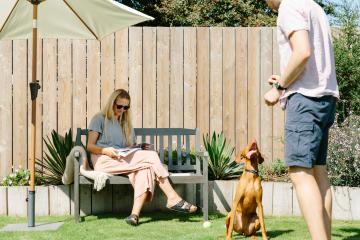 Dog-Friendly Holidays in Cornwall, Devon and Somerset
Ensure your dog doesn't miss out on all the fun during your next escape.
With over half of our self-catering holiday homes being dog-friendly, it means there are plenty of places to stay with your much-loved pet. From cosy cottages to glass-fronted beachfront homes, we have the perfect accommodation for your next getaway.
An unforgettable dog-friendly escape
Spoil your four-legged friend on your next getaway by choosing the ideal holiday rental for the whole family, surrounded by dog-friendly options. Many of our countryside properties welcome dogs and are close to rural walking routes, endless woodland, and cafés. If you'd rather opt for a coastal escape, we have a whole host of luxury dog-friendly beach houses, and many South West beaches allow dogs all year round.
Leave the planning to us
If you're hoping to dine at one of Cornwall, Devon or Somerset's highly acclaimed restaurants, our Concierge Team can arrange a dog-sitter for the duration of your evening. Otherwise, they'll be on hand with their local expertise to recommend dog-friendly pubs and beaches, or arrange a private dining experience from the comfort of your holiday let. For more ideas, take a look at our Dog-friendly guide to Cornwall.
Get in touch
If you need help narrowing your search, our team visit every property and are on hand to provide personal insights and advice about the homes best suited to your group or occasion.