From the Blog
Meet the Cornish business owners saying no to fast fashion | Behind the Brand with Atlantic Blankets
Posted by
Sophie Hesp
on
We champion South West creatives with the first in our new series
From homeware creators to artisan food and drink sellers, we're going 'Behind the Brand' to celebrate all that Cornwall, Devon and Somerset have to offer.
Let's set the scene: it's a chilly November morning, Alistair and Gemma Graham are opening up their shop in Perranporth, and the Perfect Stays Marketing team are settling in for a day in the Wadebridge office. Having recently read that the fast fashion industry is set to be worth over two billion dollars by 2030, and seeking solace in a fellow independent Cornish brand, we gave Al at Atlantic Blankets a call. Official suppliers of the world leaders at the 2021 G7 summit, they tell us how everyone can make more sustainable choices when shopping for fashion and lifestyle pieces.
From humble beginnings...
"We want to be more accessible than the fast fashion brands out there"
Atlantic Blankets is a much-loved Cornish brand specialising in the softest woollen blankets, inspired by the ocean that gives it its name. With a focus on sustainability, their products are designed to be draped over your sofa or thrown onto the sand, encapsulating the true Cornish lifestyle.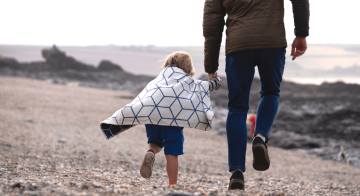 © Lee Searle via Atlantic Blankets
What did you want to achieve when starting out?
We want to be family-orientated and more accessible than the fast fashion and lifestyle brands out there. We like that we're a small team and we now have two other members who help us out in our Perranporth shop, which gets very busy in the Cornish summer as you can imagine.
A blanket is essentially a simple product, a direct contrast to today's 'tech' distractions, but something that offers a great deal and will hopefully be with someone years down the line. From sending as a gift to decoration for the home, we offer blankets for most occasions and settings.
Where do you get your inspiration from when designing your products?
Our influence for all of our designs comes directly from our location. Based by the sea in Perranporth, the colours are a direct nod to the ever-changing colours of the sea and land. From turquoise seas to pink skies, our colour palette has developed to be quite unique. All blankets are designed to sit together as a family, and give a nod to being coastal inspired.
For example, our 'Morse Code' was inspired by the telegraph cables running underground which came into Porthcurno, both transatlantic and from other locations. The 'Portolan' design is the name given to nautical charts - the lines on the blanket are taken from an old chart showing the Atlantic.
You were involved in the G7 summit in Carbis Bay this year, that must have been a huge moment?
It was great to be asked to supply blankets for the event, rather humbling to be honest. Getting a call from Downing Street was quite a bolt out of the blue! Each world leader received one of our rolled picnic blankets, with a laser etched leather strap, as part of the welcome gift package in their accommodation.

...to plastic-free pioneers
"Our products are woven in the UK, and not shipped halfway across the planet"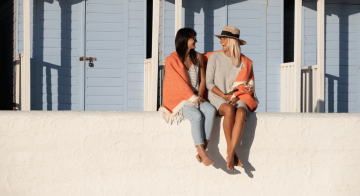 © Lee Searle via Atlantic Blankets
After reading on their website that Atlantic Blankets haven't used plastic in their packaging since 2018, we were keen to find out what other choices they make day to day, to lessen their impact on the environment. It starts with swapping unneccesary celophane wrapping for eco-friendly paper bags, and more recently has seen them develop recycled blends to make their blankets.
Some of your blankets are made using 100% recycled materials – could you give me a bit of background on how that process works?
Yes, we have a range of blankets made from recycled wool and brushed cotton, so we make them by saving the waste offcuts from the pure wool that would otherwise go straight to landfill. This wool then gets combined with other elements to give it some rigidity, including recycled brushed cotton that's made from discarded t-shirt yarn.
We source that material from manufacturers across the UK that would otherwise just throw it away. There's no additional dye or anything like that, it all just gets re-shredded and made into something new.
Why is it so important to make more sustainable choices, both for the people creating the products and the ones buying them?
When you live somewhere non-urban, close to nature, you can't help but feel more of a connection to the natural landscape and wildlife. With this in mind, I think it's easier to be more conscious about the impact on the environment your products will have. We choose to use sustainable materials like wool, as well as recycled brushed cottons and recycled wool blends.
How are you standing up against fast fashion?
Our products are woven in the UK, and not shipped halfway across the planet. The 'throw away' culture which exists today is slowly changing, as people are wanting to spend a little more, in the knowledge that the products are made to a better standard. This will certainly help with the mountains of landfill waste we are seeing at present.
Our USP is working with UK mills and designing all our products in Cornwall. You find that more places aren't able to say that nowadays, without relying on manufacturers in China, so it's really important that we keep things local. It's all well and good for companies to put a 'designed in…' sticker on their products, but everything we make is designed and created in the UK. Mostly in Cornwall, and a bit further north so we can support the country's woollen mills too.
Words of wisdom
"Look at your buying habits before you open up Amazon on your laptop – just because it's easy and comes the next day, doesn't mean it's the best choice"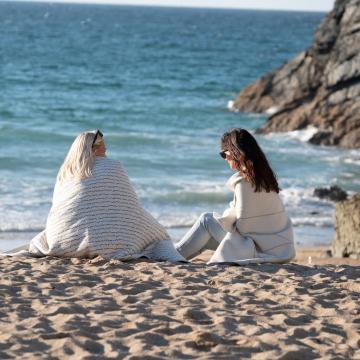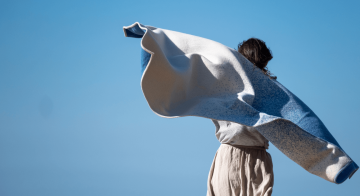 © Lee Searle via Atlantic Blankets
If you could give people one piece of advice in the run-up to Christmas this year, what would it be?
Just the importance of supporting local and shopping at your small independents. Look at your buying habits before you open up Amazon on your laptop – just because it's easy and comes the next day, doesn't mean it's the best choice.
Start-ups are a massive undertaking. Support is invaluable to us, as small business owners we want you to leave reviews, and if you can, come in and speak to us in our store. I think people's buying habits are changing – we've noticed more people wanting to buy products made more locally within the UK, so we're slowly going in the right direction.
What are the highs and lows of running an independent business?
For the highs, I think it comes down to being in charge of your own destiny, championing UK manufacturers, following your dream and doing it for yourself. We get to create beautiful products that reflect the beautiful place we live in, and give people those happy memories.
On the flipside you do need to be multiskilled and juggle a lot of things. Predicting future trends and planning ahead can be hard – we have to think about which colours and patterns we think will come into fashion for the next year, and which designs we might want to phase out.
The perfect gift
If you're hoping to purchase an Atlantic Blanket for someone special this Christmas, be sure to place your order online before 21st December. With the Perranporth shop set to open on Christmas Eve, Cornish locals have a little longer to find the perfect gift.
We also love the brand's Seconds Sales - where they sell perfectly useable blankets that haven't quite made it through their strict quality control. With subtle weaving faults or blemishes, they're sold at discounted prices instead of being wasted.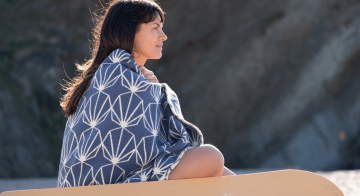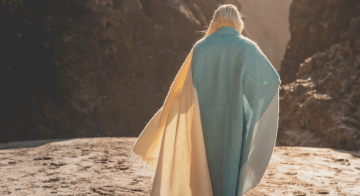 © Lee Searle via Atlantic Blankets
Image credits: All images courtesy of Atlantic Blankets