From the Blog
Top interior design tips for creating a cosy hideaway
Posted by
Sophie Hesp
on
Updated on
Insider design inspiration for 2019
Cornwall based interior designer, Nicola O'Mara, shares her top design tips, key trends to look out for in 2019, and her inspiration behind designing The Nook, our new romantic hideaway.
Where's the best place to find inspiration?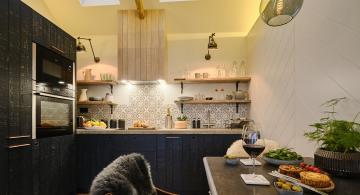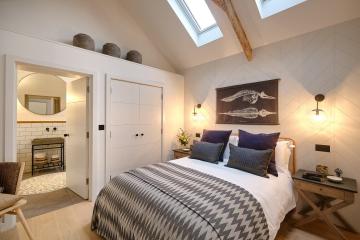 I find a lot of my inspiration in nature and in Cornwall – here it was important to keep it tasteful and authentic to really do the house justice. I love texture, so we introduced this beautiful chevron panelling to add some interest to the kitchen and lounge. Using tactile surfaces and colours can really give a room that contemporary twist – like adding little accents of copper to contrast lovely inky blues.
What are your top tips for maximising space?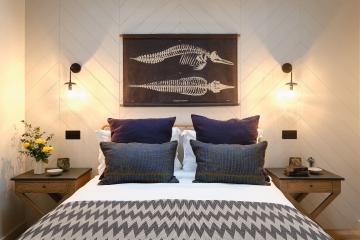 Don't be afraid to use dark colours. You have to think ergonomically and aesthetically to come up with something that works, but looks great too. Think about opening up the space into the eaves if you can. A good rule to remember is that if you can't extend out, it's always good to extend up to make the most of the space you have.
How would you describe The Nook's style and what's your favourite room?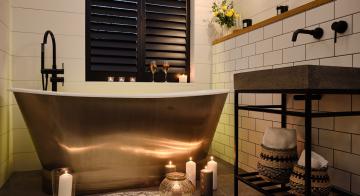 It's got a real Scandi edge. The design is timeless, it's simple and it's clean. It's a very elegant property; I'd sum it up as 'rustic chic with a contemporary twist'. The stand-out room has got to be the bathroom. It's just got that 'wow' factor – the bold tiles, the beautiful height, the simple monochrome design. And you can't forget that big bubbly bath – perfect for a real couple's retreat.
What advice would you give for making a house feel like home?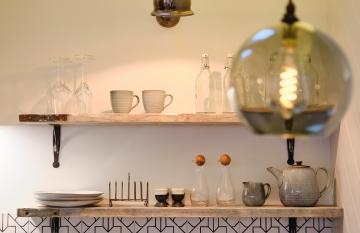 Be creative! For me, it's all about going crazy on texture and building up the layers, maybe introducing some decorative lighting. But I think it's important to say that you don't always need a theme – not everything needs to match. As long as you love everything in your home and it all works together harmoniously, that's what matters.
What are the key design trends for this year?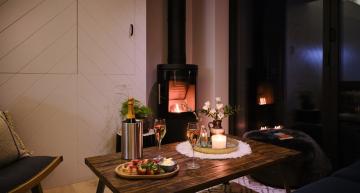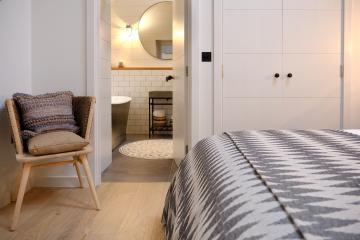 Metallics. I think metallics next year are going to be really interesting. They've proven popular this year and I don't think they're going anywhere soon. Ethnic touches and gentle tones are set to be big too, and colour – lots of colour. The lovely thing is that it's becoming less about following trends and more about filling your house with interesting objects that you love. I think people want a little bit more comfort in their homes.

Nicola O'Mara is an interior designer located in Cornwall and was behind The Nook's beautiful Scandi interiors. Find out more here.
Featured in this post
Rock, Cornwall
Sleeps: 2
Bedrooms: 1 i
Bathrooms: 1
A boutique hideaway nestled in the Cornish countryside, The Nook merges Scandi design with bold industrial accents. An inviting kitchen and living space opens onto the garden, while a hot tub and wood burner make it the perfect couples' retreat. Meanwhile, Cornwall's north coast beaches lie a short drive away.
Dog Friendly
Sea Views
EV Charger
Hot Tub
Swimming Pool
Games/TV Room