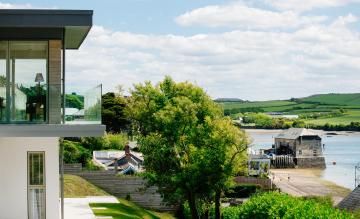 Our Story
Discover the story behind Perfect Stays®
Where everything started
Perfect Stays® was founded in 2011 by husband and wife team, Tina and Scott Fairhurst. They always harboured a passion for travel and a love for Cornwall, so they decided to leave their successful FTSE 100 careers and return to embark on a new and exciting venture.
They initially launched a holiday home service business, which provided housekeeping and management services to a large portfolio of exclusive properties. This provided Tina and Scott with invaluable experience and insight into the luxury accommodation industry. The company was a huge success and went on to achieve multiple awards.
After six years, Tina and Scott identified a need for a specialist company that went beyond beautiful holiday homes. They believed in delivering an entirely bespoke, high-end experience for every guest rather than a straightforward 'book a house' service. This concept was the driving force behind Perfect Stays®.
Founding values and a unique approach
From the beginning, Tina and Scott were passionate about finding high quality holiday homes in the best local areas. Their focus was always on quality and not quantity, and they believed in personally visiting every house to ensure standards remained consistently high.
Tina and Scott wanted to create a whole holiday experience, which included valuable local information, insider tips on where to go, and a wide range of lifestyle services to ensure guests get the best out of the local area and their stay. This personal and knowledgeable approach has always been at the heart of Perfect Stays®, as Tina recalls:
"Our aim has always been to go above and beyond to deliver a truly exceptional service."
That's why we offer an inclusive concierge service to every guest and build completely tailored itineraries based on individual needs and preferences.
A huge loss and a challenging journey
In 2015, Scott passed away suddenly, which was completely devastating for Tina and the rest of the small team. In the months and years that followed, Tina led everyone through this challenging period:
"The whole world had come crashing down, but we found a way to pull together and do what we had to do. I found strengths I never knew I had, and the team excelled at taking on more responsibility. Together, we made sure that Perfect Stays continued to deliver for our guests and homeowners."
An exceptional team of people
Since 2011, Perfect Stays® has grown from a team of two to 26, with plans to expand much further. But the founding values of quality, integrity and professionalism will always remain the same. Tina credits the whole team for carrying her vision forward:
"I've got so much faith and belief in Perfect Stays, and that's all down to the team. Our success has been driven by so much hard work and so much commitment."
Continuously striving for excellence
We're committed to delivering a perfect stay for every guest, which means we're always open to change, improvement and growth. We love welcoming new and returning guests to our holiday homes year after year, and our team will continue to work tirelessly to ensure they have a truly memorable experience.

"

I cannot speak highly enough of Perfect Stays...from booking Kilden Mor to throughout the stay, they were friendly, professional and super helpful. They made the experience a real pleasure and we wouldn't hesitate to book again. Thank you Perfect Stays...a superb portfolio of really special properties.

"
The Lloyd Family, Oakmere | Trustpilot - Stayed at Kilden Mor