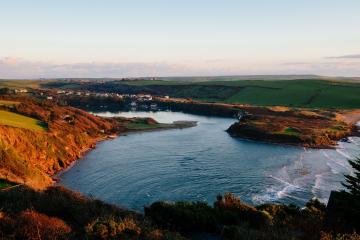 Why Stay with Us?
Everything we do is based on offering the very best holiday homes, experiences and service to our guests.
Our vision is to redefine the often-outdated perception of UK self-catering holidays, by pairing exceptional properties with unique local experiences that surpass expectations and create truly wonderful memories.
Our tailored approach extends beyond luxury holiday homes – we genuinely care about the experience of every individual and take the time to listen to their needs, preferences and the little details that make all the difference. We believe in providing so much more than a 'book a house' service, so we're always on hand with in-depth property knowledge, unique local recommendations and our inclusive concierge to make holiday planning hassle-free. By recommending an array of fantastic local businesses through our concierge service, we help guests get the best out of the area during their stay.
We only take on high quality properties that truly resonate with us
Our team's passion and enthusiasm are infectious, which is why we only take on homes that meet the Perfect Stays® specification and offer something really special. We want to match our guests with a holiday home we're genuinely excited about, so we're confident that they'll have a fantastic stay.
We're quality led in everything we do
Whichever holiday home our guests choose to book, they can trust in exceptional quality across the Perfect Stays® brand. We visit all properties and carry out annual quality assurance checks to ensure every house maintains consistently high standards. We only recommend first-rate concierge options and continuously develop our website and services to offer guests the very best. We enhance our knowledge at every opportunity to deliver the personal and professional service that sets us apart and invest in continuous training and development for our team to ensure our service remains outstanding.
Our team personally visit every holiday home
This allows us to have insightful, honest and open conversations with our guests. We have team stays at some new properties, so we can gain a detailed understanding of the space and the facilities on offer. We also explore the proximity of the properties to the nearest pubs, beaches, shops and restaurants, and test out the best of the local area. We highlight our personal recommendations across our website, and our team are passionate about sharing their insider tips and first-hand experience over the phone.
We're committed to helping guests find the perfect property
Whether our guests are planning a special occasion, a family holiday or a getaway with friends, we know that the little details make all the difference. Our team are always available to discuss different child-friendly and accessible options, along with those all-important 'wish list items' that will help create a memorable holiday. When it comes to our website, our property listings are written in great detail, with an abundance of photographs, interactive floorplans and room descriptions. Most also come with beautiful high definition videos, so our guests can make sure the property is the perfect fit for them.
Guests can rely on our in-depth local knowledge and inclusive concierge service
We know unforgettable experiences are key to a fantastic holiday, and we love sharing advice and recommendations with our guests so they can live like locals. We provide every guest with a complete guide of activities, attractions, beaches, restaurants and cafés in the local area, along with a multitude of in-house options on our website. Our inclusive concierge service is available from the moment of booking, and our team are on hand to organise anything our guests require, from additional housekeeping to activity bookings and in-house experiences.
24/7 support
Guests can rest easy knowing that if any problems occur during their stay, day or night, there is a 24/7 contact number for a local property manager and a guest information tablet or folder full of helpful information specific to the property and local area. The local property manager is at the end of a phone to deal with any emergencies at the property or to help with any unexpected problems, should they arise.
"

We have rented numerous properties from Perfect Stays and hands down they are the best by miles...nothing is too much trouble and they are great communicators. First class.

"
The Gent Family, Nottingham | Trustpilot - Stayed at Longships