From the Blog
10 fuss-free styling ideas to make your home a lockdown sanctuary
Posted by
Sophie Hesp
on
Updated on
Shun Lee, St Ives
Tips, tricks and trends for 2021
Spending more time inside has no doubt made us appreciate the four walls we call home. We choose colours that make us happy, furniture that feels comfortable, artwork that speaks to our creative side and layouts that allow us to live our lives more easily. Part of the fun is being able to tweak, update or completely transform a space with just a few small changes.
Inspired by the trends from previous lockdowns and styling predictions for 2021, we've chosen our 10 favourite design tips to give your home a lockdown lift. Whether you're embracing work from home life with the office makeover of your dreams, starting a fun DIY project or making the most of your time spent indoors, these fuss-free tips will have you falling in love with your home all over again.
1. Make time to get inspired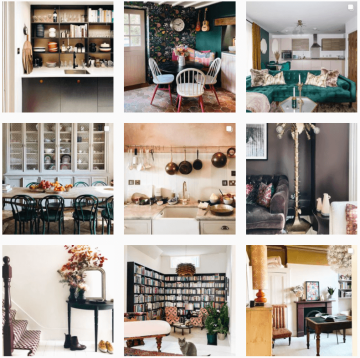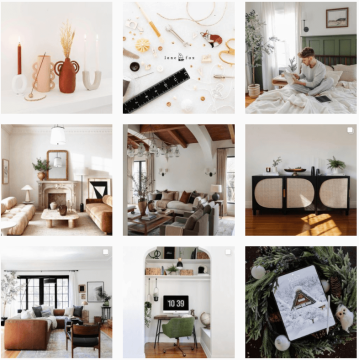 Mad About the House and Lone Fox Home via Instagram
If you're finding lockdown overwhelming, running low on ideas or not sure where to start, there's plenty of content out there to spark your creativity. It goes without saying that it's not essential to revamp your home during a global pandemic, but if it's been on your to-do list for a while, you'll soon be inspired once you know where to look.
Maybe you're new to the world of interiors? If so, shows like Dream Home Makeover, Interior Design Masters and Get Organized with The Home Edit are on hand to offer advice that combines style with practicality. So if the thought of painting an accent wall or designing your own pantry is a bit far-fetched, you can ease yourself in from the comfort of the sofa.
Of course, Pinterest and interiors go hand in hand so you won't be scrolling for long until you find an idea you love. We'd also recommend searching Instagram for hashtags like #scandistyle or #mybohemianhome – you'll soon find the concepts and creators that speak to you the most. Think DIY tutorials with @lonefoxhome, styling advice from @kellyhoppen and plenty of posts from brands like @thewhitecompany and @elledecorationuk. And if you're trying to reduce your screen time during lockdown, books like The Nesting Place and Mad About the House promise fruitful afternoon reads.
2. Create the home office of your dreams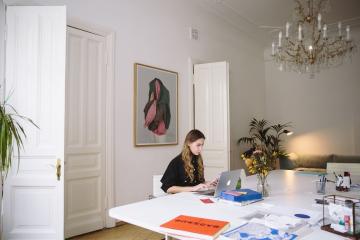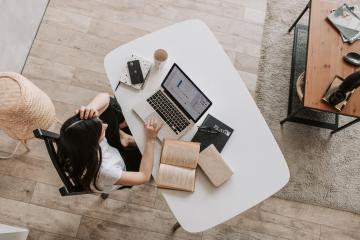 If you've not already jumped on this trend and perfected your work from home set-up, it's not too late to start. Not only does creating a separate space for home and office life allow you to truly switch off at the end of a working day, feeling calm and content in your surroundings can work wonders for your mindset, not to mention boost productivity.
Our favourite tips for a DIY home office are to give yourself a view, invest in a good chair and surround yourself with things you love. While must-have office equipment tends to be bulky rather than beautiful, it doesn't mean you can't accessorise your desk with things that bring you joy. Perhaps it's a notebook in your favourite colour, a personalised mug to liven up your 10am coffee or a couple of houseplants to add some greenery and help circulate the air – it's amazing how even the smallest of things can help make a morning's work something to look forward to.
3. Colour code your bookshelf with shades that boost your mood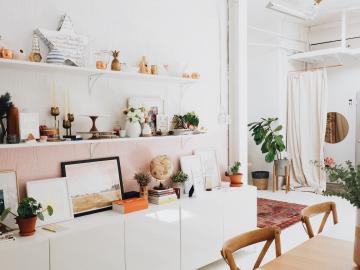 The perfect balance of cathartic, productive and pleasing to the eyes, something as simple as rearranging a bookshelf is an effortless way to breathe new life into your space. You'll be able to give any unwanted books new homes, choose your next lockdown read and inject some personality in minutes. Go bold with colour blocking or opt for a softer palette that flows gently through every shade of the rainbow.
For a monochrome look, try experimenting with black, white and grey hardback spines stacked at different levels across your shelf. Then accessorize with fun bookends, your favourite magazines and some small potted succulents that can slot into your design for an extra layer of interest. If colour's not your thing, you could organise your library alphabetically by author, or group titles by 'read' and 'yet to read' – the beauty of interior design is that you're free to pick and choose the elements you love and disregard anything that doesn't work for you.
Finally, to make sure your coffee table books don't sit and gather dust, rotate your favourites on a regular basis by styling them alongside a beautiful scented candle or diffuser, and keeping them in a place where you go to relax; beside the wood burner, in the bath or in front of the TV. Having some of your favourite things nearby may just make you that little bit more tempted to leaf through the pages for some extra inspiration.
4. Make a gallery wall to bring loved ones close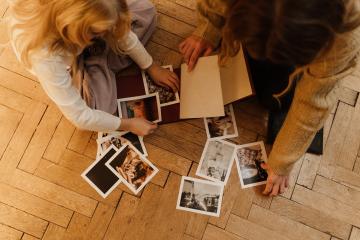 In a time where we're staying apart, starting a collection of family photos is a lovely way to still feel connected to the ones we love. From wedding photos to holiday memories – just having them on the wall could be the daily pick-me-up you need.
There's plenty you can do to add a personal touch – print your favourites in black and white inside timeless rectangular frames, transform the corner of a bedroom with bold prints and soft wooden accents for a rustic bohemian look, or get the children involved with a fun corkboard design in the kitchen, where self-portraits and homemade art are always welcome.
5. Paws for thought: it's your pet's home too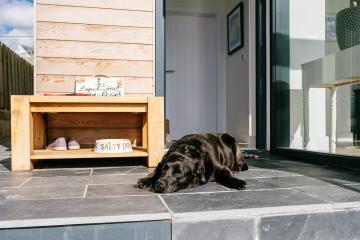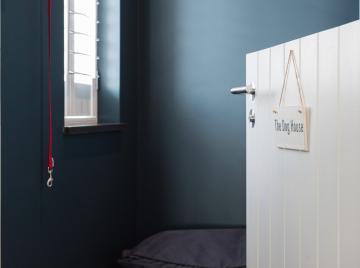 Beachfront in Bigbury-on-Sea and Sea Breezes in Daymer Bay
Whether it's a custom-made pet portrait or a personalised food bowl, there are plenty of ways to pay homage to our four-legged friends through design in our homes. Having been by our side through three national lockdowns, you may be tempted to give your dog a token of your appreciation.
A fun way to do this is to create a break-out area where they can snack, play and sleep to their heart's content. We all value space in our homes, so rather than dedicating an elaborate dog room, think more about cosy corners and nooks that aren't already being used. If you've got under-the-stairs storage going to waste, make it inviting with a fluffy bed and a toy basket for your dog to come and go as they please. For a touch of fun, devoted dog-lovers may even be tempted to cut a snout-shaped arch along the bottom of the door, so that for four-legged friends can keep an eye on the rest of the house from their new den.
For finishing touches, online retailer Etsy and Cornish-based Slickers Doghouse are both full to the brim with dog-friendly gifts, combining anti-anxiety beds with safe sweet treats and hand-crocheted toys.
6. Give your bathroom the spa makeover it deserves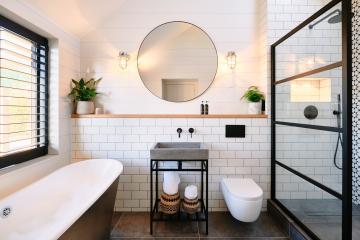 Treasure House in Polzeath and The Nook near Rock
Taking good care of ourselves both physically and mentally has never been so important, and even with a beautiful new home office making working from home less stressful, sometimes there's nothing quite like a hot bath after a long day at the desk.
Bringing a sensory spa-like feel to a bathroom can be achieved in moments. From investing in the fluffiest Egyptian cotton towels and relaxing essential oils, to buying that oversized circular mirror you keep going back to, it's all about creating a space that helps you unwind. Soothing natural tones like oatmeal, rust and lavender tend to create a laid back feel, and you can choose to incorporate them into subtle bathroom textiles like tasseled bath mats and linen robes, or opt for a whole room refresh by painting a wall.
With dried flowers and grasses making bathrooms feel all the more zen, you can tinker with smaller accessories to suit your style until all that's left is to pour a glass of wine, light a candle and sink into a cloud of bubbles.
7. Feel the benefit of an indoor jungle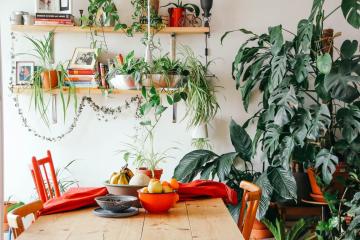 Whether it's the finishing touch on a perfectly styled shelf, some much-needed texture in a plain green colour scheme or the beginnings of a herb garden on your kitchen windowsill, plants can transform a space in so many ways. Not only are they beautiful to look at and therapeutic to care for, their ability to purify the air in your home, reduce stress and even improve concentration means they can enhance your wellbeing too.
For new houseplant parents, we'd recommend easy to care for varieties like leafy calatheas, striking snake plants and sun-loving aloe vera, available in all shapes and sizes to liven up your home. If you're looking for a lockdown project, upcycling old plant pots with a mixture of paint and baking powder gives a rich textured ceramic look that will give your plants a new lease of life in minutes. Whether you stick to neutrals or embrace a bolder palette, the options for personalising each one to suit your home are endless.
8. Dedicate a drinks station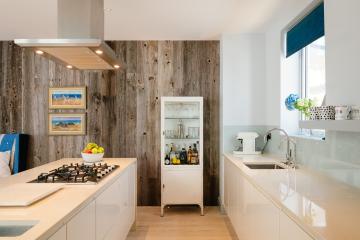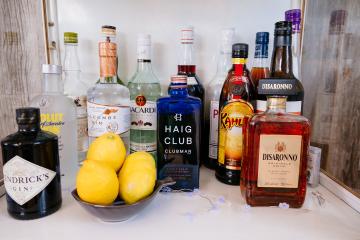 Waterside in Salcombe
Perfect for an early morning caffeine hit or an evening sundowner, a dedicated drinks station makes a fun addition to any home, especially during lockdown. Keeping a collection of your favourite tipples, finest champagne glasses and go-to cocktail books all one place can be a great way to catch up with the family at the end of a working week. If you're celebrating a lockdown birthday, bring out the bar cart, pull up a chair and connect with friends for a virtual get-together – there's a drink for every occasion.
For a daytime pick-me-up, set up a tea or coffee station in the home office, complete with your signature blend. Great for balancing fun with productivity, it'll keep you refueled and remind you to take regular breaks from the screen.
9. Try something new and rearrange the furniture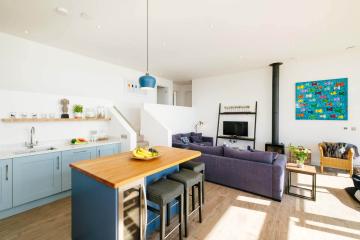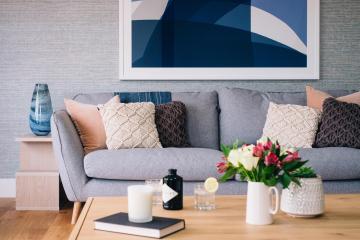 Beachfront in Bigbury-on-Sea and The Retreat in Widemouth
It may sound simple, but it's amazing how drastically a space can change by just rearranging the things you already have inside it. Whether it's subtly tweaking the angle of the TV to make your living area more sociable or swapping the rug from the dining room to the hallway, it'll bring a lovely fresh feel. Experiment with moving furniture, artwork and textiles until you find the winning combination, then accessorize with smaller items to make it feel even more like home.
10. Incorporate the colours of 2021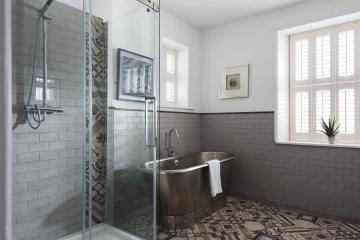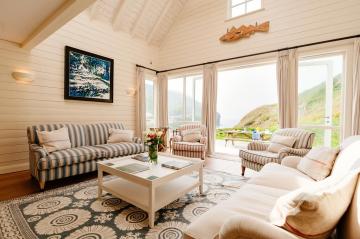 Shun Lee in St Ives and The Yellow Cottage in Trebarwith Strand
Yellow and grey are set to be big in the interiors world this year, so finding effortless ways to weave them throughout your home will make it feel instantly on-trend.
Thought to be warming and optimistic, Pantone's shades of the year for 2021 are 'ultimate grey' and 'illuminating' – a punchy, vibrant yellow. If you're looking to incorporate either into your home, try experimenting with metallics and invest in a deep steel bath tub to make a statement in the bathroom, or for something more subtle, opt for retro patterns or springlike florals to truly celebrate Pantone's pretty yellow shade.
So whether you just make a few tweaks to your living room accessories or start a whole house makeover, take time to refresh your interiors and give your home a new lease of life during lockdown. For extra inspiration, browse our beautiful properties and gather ideas from across our portfolio.