From the Blog
Six chef-approved recipes to make this Christmas
Posted by
Bethany Walton
on
Updated on
Tis' the season for good food, boozy cocktails and quality time together
At this time of year, there's nothing that gets us feeling more festive than decadent food and a cocktail or two. With preparations in full swing, it's time to impress your Christmas guests with these six stand-out recipes - some for friends and some for family.
We asked our friends Chef Fiona, Ali Pumfrey, Truly Cornish, Trevibban Mill, Greens of Padstow and Sauce Cornwall to share their favourite festive recipes with us ahead of next week. From spiced winter biscuits to a Cornish twist on a classic negroni, our concierge contacts have Christmas 2021 covered…
Get merry with a Christmas cocktail
Enjoy a Christmas Eve tipple before a big night out or a cosy evening in. While we love to keep things traditional with a warm mulled wine, we're tempted by something different this year. All using spirits or recipes from local producers, these tangy winter cocktails will be a sure-fire hit:
1. Greens of Padstow's Sidecar Special
When we spotted this lively little cocktail on Greens' Instagram stories, we just knew we had to have it. A dash of cinnamon brings a Christmassy touch to a 1920s classic. Don't forget to pay the restaurant a visit if you're in Padstow this month too - there's beautiful views over the twinkling harbour lights.
What you'll need:
50ml brandy
25ml Cointreau
20ml sugar syrup
20ml lemon juice
Generous bitters
Cinnamon to decorate
How to make: Simply add all of the ingredients into a shaker, give it a good mix, and strain into a coupe glass. For some extra sweetness, sprinkle with cinnamon to counteract the sharpness of the lemon.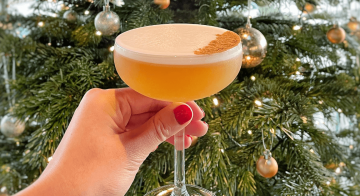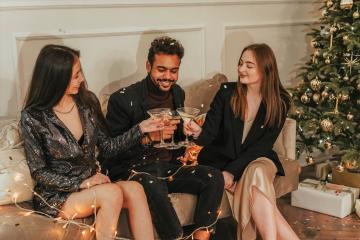 Left: © Greens of Padstow

2. Sauce's Cornish Christmas Negroni
Will Bickham from Sauce knows a thing or two when it comes to cocktails. He votes that a negroni is the best way to get into the festive spirit. Using spiced gin and sweet vermouth, this recipe is simple to follow and really delicious.
What you'll need:
30ml Colwith Farm 'Aval Dor Christmas Edition' spiced gin
30ml Campari
30ml Knightor Rosso Vermouth
A slice of clementine
How to make: Add all the ingredients to a large, short tumbler of ice, stir, then add the clementine. Once everything's mixed, just sip and repeat. We weren't lying when we said it was easy!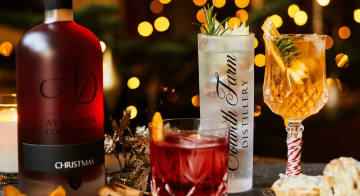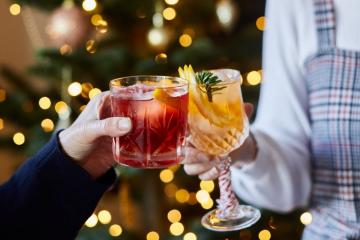 © Sauce Cornwall

3. Trevibban Mill's Apple Sour
A sweet and sour cocktail with a silky texture, and one that's perfect for vegan dinner guests. We asked our friends at Trevibban Mill for a simple festive recipe, and they delivered:
What you'll need:
75ml Trevibban Mill Dry Apple Liqueur
25ml pressed apple juice
1 tbsp aquafaba (chickpea water)
Juice of 1 lemon
Handful of ice cubes
How to make: Into a cocktail shaker go all the ingredients. Shake for 15 seconds before straining into your favourite martini glass, and garnish with dried apple as an optional extra. For the non-vegan alternative, swap the aquafaba for an egg white.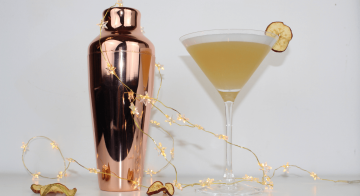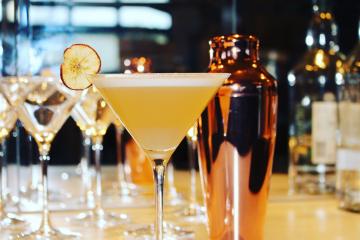 © Trevibban Mill
Time to eat
Once everyone's had their fill of fun and festive cocktails, it's time to serve the main course. A refreshing take on the traditional nut roast and vegetable wellington, Ali Pumfrey's Christmas Day strudel will have your vegetarian guests coming back for more.
4. Ali Pumfrey's Spiced Lentil Root Vegetable Strudel
What you'll need:
150g uncooked green lentils (cooked weight 350g)
1 vegetable stock cube
2 sweet potatoes
1 parsnip
Spice mix (2 tbsp cumin, ½ tsp dried chilli flakes, 1 tbsp turmeric)
1 red onion
3 garlic cloves
1 fresh rosemary sprig
6 fresh sage leaves
1 tbsp harissa (or tomato purée)
100g ground almonds
1 lime (optional)
50g sesame seeds
250g filo pastry
100ml olive oil or 100g butter
Worcestershire sauce
Salt and pepper – I use flaky sea salt
How to make: Download our handy recipe card, or head to Ali Pumfrey's website for a detailed method, complete with chef tips and serving suggestions.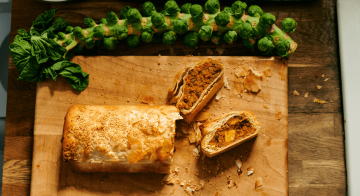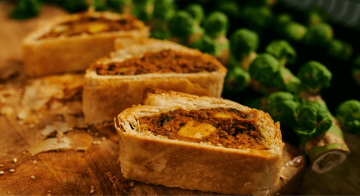 © Ali Pumfrey
Something sweet to finish
If you've got little ones in your family this Christmas, keep the magic alive and leave these spiced winter biscuits out for Santa on Christmas Eve. Following a simple but delicious Chef Fiona recipe, children will love rolling out the dough and pressing in their favourite festive shapes.
5. Chef Fiona's Spiced Winter Biscuits
What you'll need:
225g butter, softened
225g dark brown sugar
1 free range egg
350g plain flour
2 tsp cinnamon
2 tsp mixed spice
2 tsp cocoa
1 tsp bicarb of soda
200g icing sugar, sifted
1 - 2 tbsp lemon juice
Extra flour for dusting
Festive biscuit cutters
How to make: Keep our downloadable recipe card nearby throughout the festive season - you'll want to bake these more than once.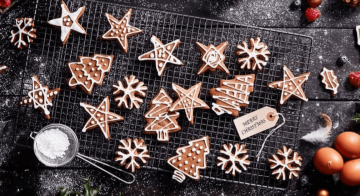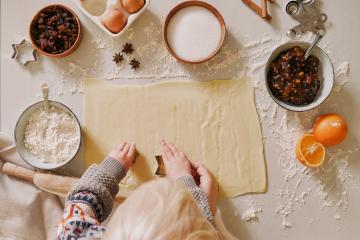 Left: © Chef Fiona
6. Truly Cornish's After Eight Chocolate Tiffin
When we got in touch with Truly Cornish Cupcakes & Bakes for an indulgent dessert recipe, Bethany said this After Eight tiffin is a real crowd pleaser on Christmas Day.
What you'll need:
175g golden syrup
225g butter
1 tsp peppermint extract
200g milk chocolate
200g dark chocolate
100g digestive biscuits
100g raisins
175g mint matchsticks or other mint chocolate
250g melted chocolate for topping
After Eights to decorate
How to make: Melt the butter and golden syrup in a pan. While it's melting, break up the chocolate. Add the chocolate and melt into the mixture. Allow it to cool slightly. Meanwhile, crush the biscuits and matchsticks and mix with the raisins. Pour the melted mixture onto the biscuit and raisin mix, then pour into a square or rectangular baking tray. Pop it in the fridge to set.
When the base is set, melt the chocolate for the topping and pour over the top. Arrange the After Eight pieces and Christmas sprinkles, then put the tiffin back in the fridge to set. When set completely, cut up and enjoy with a glass of wine by the fire, or gift to friends and family for a homemade touch.
Click here for our recipe card.
Image credits: Greens of Padstow | Sauce Cornwall | Trevibban Mill | Ali Pumfrey | Chef Fiona | Pexels | All other images are our own.