From the Blog
Cornwall's new foodie capital: drink and dine in St Mawes
Posted by Sophie Hesp on Feb 19, 2019
A food lover's guide to St Mawes on Cornwall's South Coast
A picture-perfect fishing village nestled on the edge of the Roseland Peninsula, St Mawes is one of Cornwall's most desirable holiday locations. Bursting with fresh local produce and first class eateries, its spectacular waterside setting and vibrant community spirit make it a must-visit destination. Whether it's an evening drink beside the water or an indulgent dinner at a Michelin star restaurant, we've rounded up the best places to drink and dine in St Mawes.
The Idle Rocks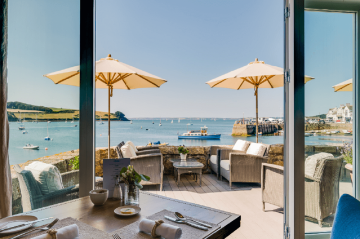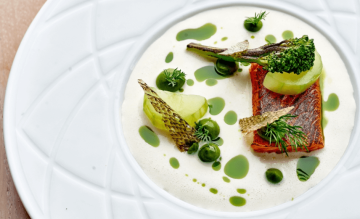 © The Idle Rocks
One of the most prestigious restaurants in the area, head to The Idle Rocks and enjoy an al fresco evening on the idyllic waterfront terrace. Soak up the fantastic local atmosphere with a cocktail in hand and sample a menu of refined and imaginative cuisine, with beautifully presented dishes inspired by French and Asian flavours.
Open for breakfast, lunch and dinner as well as a highly recommended afternoon tea, The Idle Rocks combines fine dining with an enviable seaside location – making it a tranquil spot to enjoy dinner as the sun sets over Falmouth Bay.
Tresanton Restaurant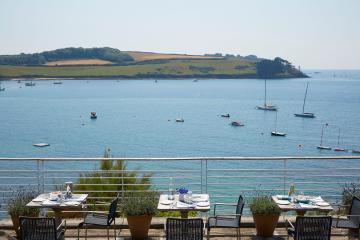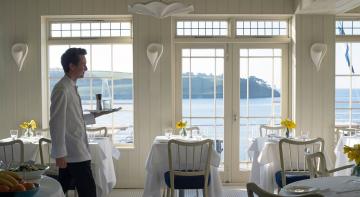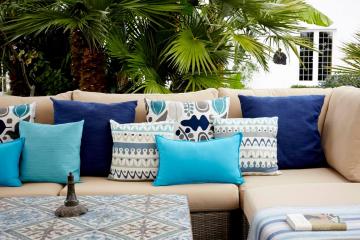 © Tresanton Restaurant
If a day out exploring isn't complete without a four-legged friend by your side, Tresanton Restaurant is not to be missed. After an invigorating walk, cosy up in the Dogs' Bar in front of the crackling open fire and enjoy a varied menu of seafood starters, elegant main courses and all-too-tempting desserts.
Be sure to visit during the summer months too, when Tresanton organises its famous summer barbecues. A much-loved Sunday lunch with a twist, indulge in an abundant Cornish feast with the family or step out onto the terrace for a sundowner to mark a special occasion in style.
Driftwood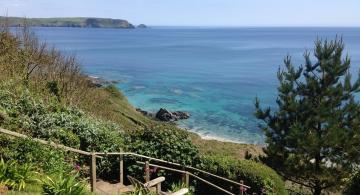 © Driftwood Restaurant
Perched on the cliffs and proudly upholding its Michelin star for another year, this aptly named boutique restaurant enjoys some of the best views in St Mawes. With a string of five star reviews to its name, Driftwood's sophisticated menu and quirky seaside interiors make it a popular place to dine for locals and visitors alike.
From whole lobster and jigged squid to pickled peach dishes and quinoa salads, expect a wild and wonderful menu from head chef Chris Eden, plus all-encompassing sea views to be enjoyed from the dining room. After a one-of-a-kind meal, be sure to make the most of Cornwall's warm evenings with an aperitif on the softly-lit deck.
The Watch House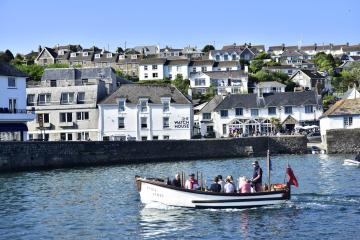 © The Watch House
For unique harbourside dining, book a table at The Watch House. With an intimate restaurant atmosphere, laid back interiors and an extensive menu catering for every taste and appetite, the restaurant is perched just above the seashore.
Cosy up in the window seat and watch the boats bobbing into the harbour, or for the perfect accompaniment to a weekend stroll, pop into Watch Out takeaway next door for the 'best fish and chips in Cornwall'.
The Hidden Hut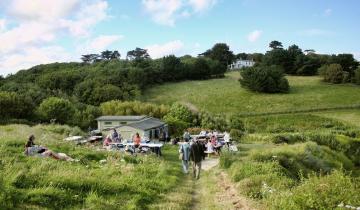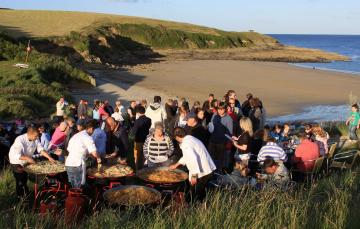 © Just Nice Photos via Flickr
For an unforgettable foodie excursion, cross Cornish waters and visit The Hidden Hut at Porthcurnick Beach. A lovely setting for lunch with a view, this relaxed seaside café is tucked away on the Roseland Peninsula. Catch the ferry from St Mawes harbour out towards Place Creek and join the South West Coast Path at St Anthony Head to enjoy a two hour walk towards the beach.
Possibly one of Cornwall's worst kept secrets due to recent coverage in the national press, The Hidden Hut serves up a magical menu made fresh each day – with hearty soups, homemade cakes and summer salads best enjoyed from the sand. On the walk back to the ferry, stop for a drink at Thirstea Company – a fabulous travelling tearoom based on The Roseland.