From the Blog
Five ways to rediscover your inner calm in Cornwall
Posted by
Perfect Stays
on
Updated on
Resist the winter blues with our top tips
With winter bringing short days, dark afternoons and stormy nights, it's far too tempting to retreat to the comfort of your sofa and let the days and nights while away. Yet, these months offer the perfect opportunity to unwind, disconnect and rediscover your inner zen by getting out and about as much as possible before the hectic Christmas celebrations begin.
From yoga and writing retreats to spa breaks and rambles through the quaint countryside, Cornwall is the perfect place to feel your troubles melt away.
What's more, our beach houses are wonderfully equipped for a luxurious stay, so you can still factor in the desired moment of downtime and cosy up by the fire for the ultimate chilled winter night after a day of exploring.
1. Keep moving with an outdoor activity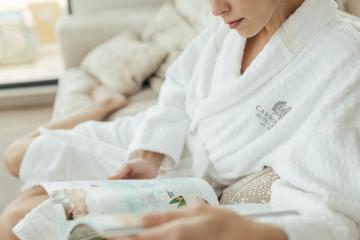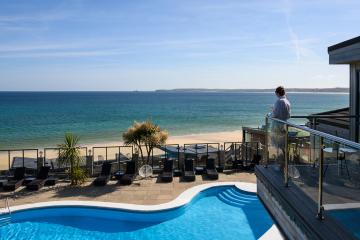 © Carbis Bay Hotel and Spa
Although the colder months make us want to stay indoors for the season, some gentle exercise and vitamin D can work wonders on those troublesome winter blues. Although it can be tricky to get out and about on dark evenings during the week, a long weekend away provides the perfect setting to enjoy the outdoors.
Wave goodbye to any tensions or frayed nerves with a meditative yoga retreat. Relax in style and breathe in the fresh sea air as you perfect your posture in the Cornish countryside.
If yoga isn't for you, make sure you keep fit by other means during your winter break. Work up a sweat with a one-on-one personal training session or engage in local group classes such as spin, Zumba and circuits to really get the blood flowing.
After burning off some steam, soothe your aching muscles with a moment of downtime and recharge in one of Cornwall's luxurious spas, including The Clearing Spa and St Ives' Carbis Bay. Sit back in the sauna and steam room or opt for a facial or massage to loosen any tight muscles. For rainy days, let us bring the spa to you, where we can arrange for an in-house therapist to spoil you rotten from the comfort of your beach house.
2. Eat clean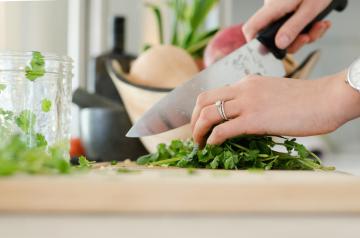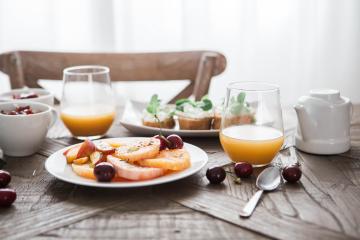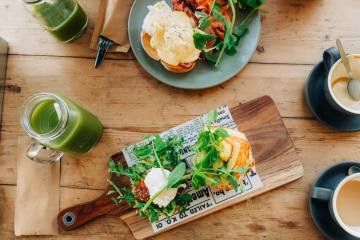 With Christmas just around the corner, the winter months are the perfect time to revamp your lifestyle and diet, focusing on health and nutritional benefits. Feel yourself glow from the inside out and enjoy the energy surge that good food will bring you.
Learn new ways to eat well with a learn to cook stay, completely centred around health and wellbeing. Choose between a local cookery class or an in-property chef and delight in a tasty detox before the festive feasting kicks in.
For the explorers, opt for a foraging adventure in the local woodlands. Learn the basics with Cornish Wild Food or opt for a specialised course with one of Cornwall's favourite foragers Fat Hen, where you can choose between vegan, seaweed and canape themed events. Source fresh ingredients including mushrooms, herbs and vegetables before tucking into a delicious homemade dish later that day.
3. Learn a new skill on a rainy day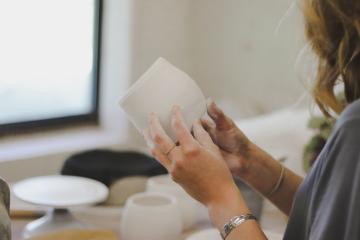 Rather than cosying up by the fire on a rainy day, give free reign to your playful side by learning a new and exciting skill. Release your inner artist and try your hand at one of the many arts and crafts workshops on offer.
Gather with budding artists for a group pottery session filled with learning and laughter. The Leach Pottery in St Ives and Richard Phethean in Penzance offer a variety of courses to suit all levels of expertise. From intensive sessions to day classes, let your creative side loose and get your hands dirty in the studio as you attempt to master the art of clay.
Become acquainted with the trusty easel and add a personal touch to the pastoral landscape and rugged coastline, as you recreate the Cornish countryside with paintbrush and paper. Whether you'd prefer to try your hand at watercolour portraiture at Cardinham's Stable Art or explore abstraction at Newlyn's Art School, there's sure to be a workshop to suit your artistic desires.
4. Switch off from the outside world with a digital detox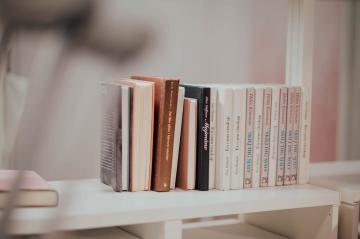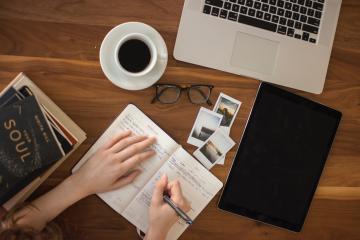 Time whittles away in the winter months with shorter days and dark starry nights. Rather than settling down with your phone, laptop and television, switch off from the outside world and pick up a pen, book or museum brochure.
Factor in a rare social media detox and switch off from work commitments with a writing retreat to Cornwall. Find inspiration in the same streets as Virginia Woolf and gaze upon the same natural wonders that inspired her novels, including the Godrevy Lighthouse in St Ives.
Dive back in to one of your all-time favourite novels or visit one of Cornwall's local bookshops, such as the Padstow or Falmouth Bookseller, and let them inspire you to find something new. From poetry and romance to crime and thriller, choose a genre that captivates you enough to sit by the wood burner all evening without putting it down.
For inspiration, take a trip to one of the many museums and galleries that await, such as the Tate St Ives. Peacefully meander through one of their renowned exhibitions or discover Barbara Hepworth's abstract creations in the museum and sculpture garden.
5. Explore the great outdoors and reconnect with nature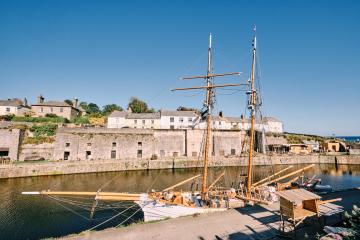 Escape the hustle and bustle of city life and long working days with an escape to Cornwall this winter. Soak up the crisp sea air on long walks along the coastline and feel yourself naturally reconnect with your surroundings.
Venture out to one of Cornwall's National Trust parks, gardens or estates and feel your wellies crunch through frost and fallen leaves along the way. Wade through the bluebell fields for a picturesque one-and-a-half-mile wander through Penrose or dabble up Trencrom Hill for far-reaching views across the rural landscape, factoring in some time to perch on a granite tomb and spot some local wildlife.
Nature lovers can appreciate the outdoors with an afternoon spent storm watching in Porthleven. Observe the south coast from a safe distance and witness the double harbour and church sit at the brunt of the action.
On quieter days, meander through cobbled streets in quaint towns and villages and bump into local gems, home to unique gifts, boutique clothing and homemade delicacies. For TV fanatics, hunt down some of the filming locations for popular seasons such as Poldark's Charlestown and Helston mines, along with Doc Martin's Port Isaac.