From the Blog
Seaweed, sorell and everything in between: meet Cornwall's favourite foragers
Posted by
Sophie Hesp
on
Updated on
Enjoy the fruits of Cornwall, from seashore to hedgerow
Good for your health, great for the mind and the perfect holiday addition, foraging promises a feel-good afternoon for all ages. Whether you're scrambling around the coast in search of mussels or tiptoeing through the forest for fresh berries to complete a winter crumble, Cornwall is the place of plenty when it comes to finding your own food.
For tips and tricks on what to look for and when, plus details on guided walks on offer in Cornwall, we hear from the local foraging experts filling their baskets across the county.
Rachel Lambert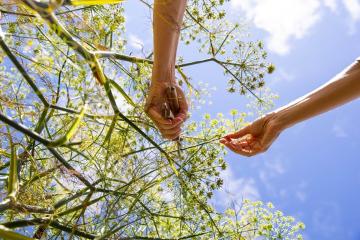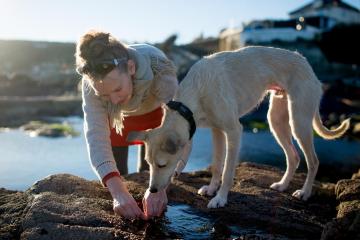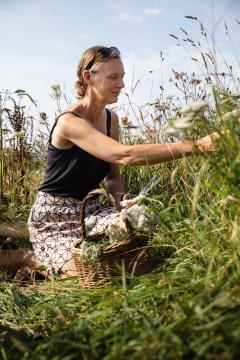 "Getting cosy inside feels so much better after an outdoor adventure, especially if it's involved gathering
wild ingredients for an evening feast."

Founder of Wild Walks South West, Rachel has been foraging across coast and country for 25 years. Based in West Cornwall, her immersive courses and guided walks are perfect for beginners and seasoned foragers alike. Most routes are just under three miles, promising spectacular views along the way, from picturesque Porthcurno to St Michael's Mount.
With her loveable lurcher Paddy McGinity by her side, Rachel imparts her local words of wisdom to help identify wild foods of all sorts, from rock samphire to elderberries. If the foray leaves you wanting more, Rachel's homemade tasters are sure to impress.
With each recipe changing with the seasons, Cornwall's wild and wonderful land means there's always something tempting to try: "In summer I harvest honey-scented yarrow flowers for creme brulees to crack open outdoors. In autumn I fill my basket with elderberries for cordials or cocktails and to add to hearty winter stews."
Of course, with so many fresh, seasonal ingredients on the doorstep, choosing the ultimate foraging location is tricky, but Rachel confesses she does have her favourites: "Mousehole is easy to be in and escape from by walking up Raginnis Hill onto the coast path. Rock, near Padstow is great at low tide to access the estuary with marsh samphire and wild fennel. Cape Cornwall is wild and overflowing with edible seaweeds. I love it all."
Find out more and forage with Rachel at one of her upcoming events.
Photography: © Elliott White/John Freddy Jones
Fat Hen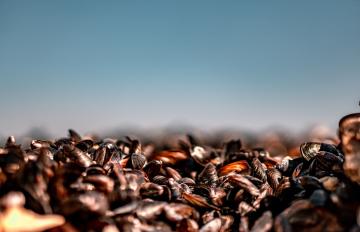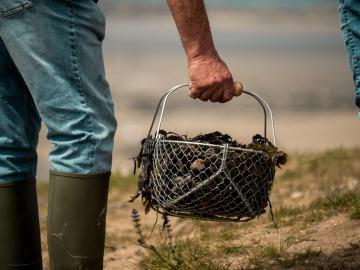 With their bundles of local knowledge and 'open to all' courses, Fat Hen is all about uniting the two great joys of nature and food. Eager-to-learn foodies can expect foraging walks and wild canapes, game cookery, crab on the beach and even a children's foraging club – each designed to showcase the best of Cornwall's al fresco ingredients.
Head out onto the coast path at Zennor for 'forage and feast' day, where lunch at The Old Coast Guard awaits just around the coast in Mousehole.
If a special occasion's on the cards, treat the keen forager in the family to a 'gourmet wild food weekend', currently set to go ahead next year. Whether it's wild berries for a fruity pick-me-up or cockles and oysters for a seafood feast, with a keen eye and some local knowledge, there's no limit to what you can find.
Book onto one of Fat Hen's courses here.
Emma at Never Mind the Burdocks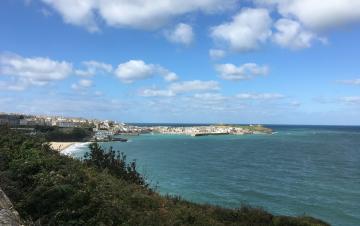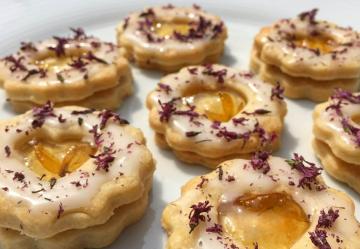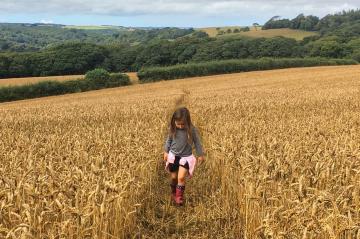 "We're so lucky in Cornwall to have such a range of landscapes – everything from heathland,
estuary, meadow, hedgerow, woodland, river and of course coastal."

Celebrating all that Cornwall has to offer, Emma Gunn is an expert when it comes to nature's 'pick your own'. With green fingered beginnings from her time as a skilled Eden Project horticulturalist, Emma set up Never Mind the Burdocks to share her passion with the world.
Now offering guided walks across the county from Penzance to Bude, you'll be in safe hands as she guides you through edible kelp at the seashore and hazelnuts in the forest. And with the day's harvest best enjoyed gathered around a campfire with wine at the ready, Emma is always inspired by the variety that Cornwall has to offer: "This diversity gives us such delicious edibles such as marsh samphire, goji berry, sea buckthorn, Douglas fir, sea kale, a plethora of seaweeds… the list is endless!"
For keen chefs hoping for wild food demonstrations from the comfort of a cookery school, look no further than Emma's courses at Philleigh Way. On the banks of the River Fal, start by exploring Court Farm with its fruitful pastures and tidal estuary, collecting your very own larder of herbs, flowers, nuts and fungi to take back to the kitchen.
Forage your way through Cornwall with help from Never Mind the Burdocks.
Photography: © Emma Gunn
The Family Foraging Kitchen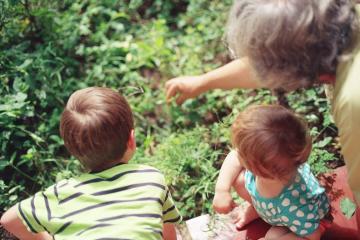 Another favourite for foraging in Cornwall, The Family Foraging Kitchen uses their wild food education walks to support those living in poverty. A wonderful way to embrace the great outdoors and give back to the community on your next staycation, a percentage of profits from every walk goes to those in need.
With baskets at the ready, take a walk through wildflower meadows or set off towards Kingsand, where an abundance of edible seaweed will be ripe for the picking. Based on the Rame Peninsula in one of Cornwall's 12 Areas of Outstanding Natural Beauty, the kitchen's outdoor classroom and covered cookery area will be loved by younger foragers, where they can marvel at the day's finds or try their hand at willow weaving come Christmas time.
Take a closer look at The Family Foraging Kitchen here.
A quick note on safety
While Cornwall is a haven for wild food, please make sure you forage sustainably. Emma from Never Mind the Burdocks puts it perfectly: "To go foraging, all you need is a little common sense… leave plenty behind for wildlife, don't uproot anything and never pick anything you aren't 100% sure of."
We recommend booking in with one of the local foraging experts featured above or asking our concierge team about foraging in Cornwall. Call us on 01208 895570 or send us an email: planmystay@perfectstays.co.uk.
Main image courtsey of © Alun Callender for Rachel Lambert.