From the Blog
Pottery, painting and everything in between: get creative with these South West workshops
Posted by
Bethany Walton
on
Updated on
Explore your imagination and learn a new skill this summer
Whether you're a crafting genius or just looking for something a little different while you're in the South West, we've been speaking to local artists about the benefits of getting creative. From drawing on the beach to learning the historical craft of soap making, there's a wealth of workshops available for you to try.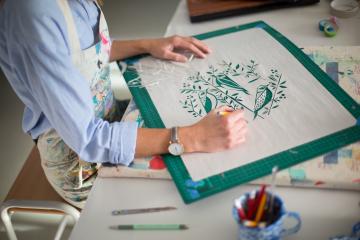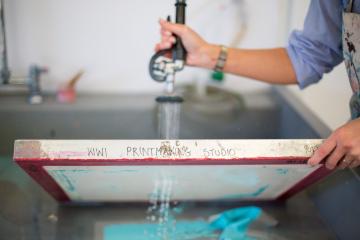 © Photography by Mariné
In the heart of Cornwall, surrounded by luscious green fields and wild flowers is Kiwi Printmaking Studio. A tranquil, bright, spacious creative hub run by Dena, who trained at the Royal College of Arts and set up her sunny studio to share her love of printmaking with everyone. Dena hosts many workshops at her studio and welcomes anyone with or without a background in art.
Speaking to Dena, she told us "printmaking helps you to relax, switch off from the world, meet new people, learn something new and create some unique unexpected art to take home." You can even take a bottle of fizz to make your creative afternoon extra special.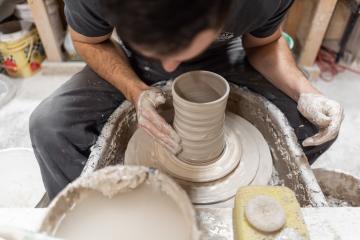 Learn to throw your own mug, plate or bowl with trained ceramicist Angela, at St Ives Pottery. The one-hour lessons are tailored to you and are a fantastic opportunity to create a new addition to your kitchenware.
You'll love experimenting with the pottery wheel and adding personal touches to your creation. Once you've perfected your piece, Angela will then glaze and bisque-fire it for you and send the finished product to your house.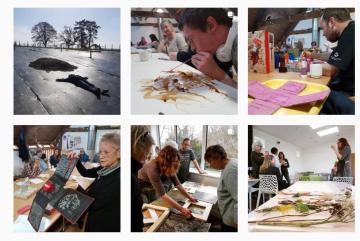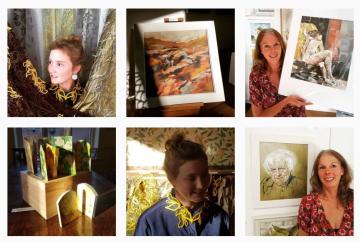 Promoting wellbeing and influenced by the environment, Creative Beings is a haven for artists in beautiful East Devon. We spoke with Director Martin Staniforth about the benefits of reconnecting with nature and getting creative, he told us "we can learn so much from the natural world, from its peace, its flow and its endurance."
Because of this, all of their classes take place outside and take inspiration from their surroundings. With plenty of workshops to choose from, try your hand at life drawing, creative writing and sculpting.
Pottery Wheel Experience and Creative Clay Modelling | Tarka Pottery | Little Torrington, Devon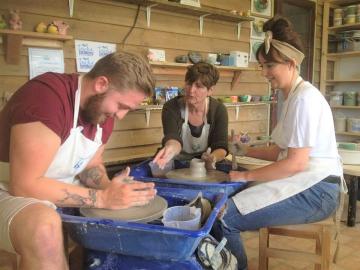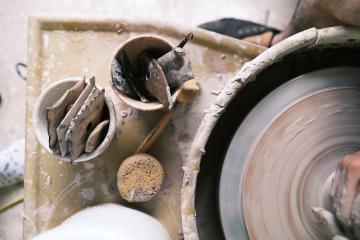 © Tarka Pottery (left)
"One of the great things about clay is that there's no right or wrong. Just creativity, pleasure and the opportunity to unwind. We love to introduce visitors to the fantastic medium of clay and the marvellous projects that can be created" - Jax Williams, owner of Tarka Pottery.
Spend an afternoon getting creative with clay. Not only can you try your hand throwing a pot, but you can also experiment with a Creative Clay Modelling workshop. Different to using a pottery wheel, clay modelling involves hand-building techniques and the use of natural items to create texture. Aimed at all ages, everyone will love experimenting with shells, leaves and bright colours to make a personalised Devon souvenir.
Family Art Workshops | Half Acre Studio | Boscastle, Cornwall | 23rd, 24th and 25th August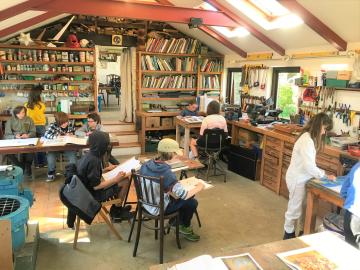 © Half Acre Studio
Little ones will love getting creative in the beautiful gardens of Half Acre Studios. Running for three days in August, you can choose between a day of drawing and sculpture, mono-printing or botanical plaster work – or all three!
The workshops are designed to encourage creativity and inspire imaginations, so it's a great opportunity to spend time as a family and you may even discover a hidden talent while you're at it.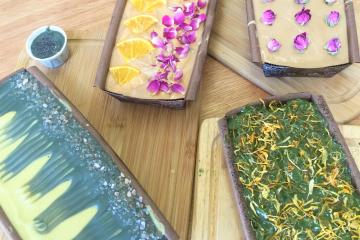 © Boo Cottage Botanicals
From their laid back workshop in rural Somerset, Ben and Nic create a beautiful range of natural skincare named Boo Cottage Botanicals. Born out of curiosity and a love of crafting, the collection includes homemade soaps, bath bombs, moisturisers and lip balms.
Sharing their passion for all things homemade, Ben and Nic offer hands-on workshops for you to learn the traditional art of soap making. Not only will you discover the benefits of various essential and plant oils, you'll also make your own batch to take home with you.
Painting and Drawing | Art at the Beach | Mawgan Porth, Cornwall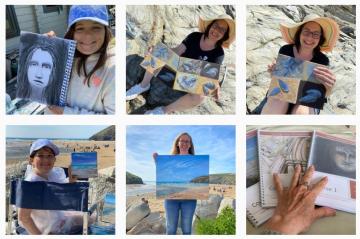 There's no better view in Cornwall than across the ocean, and Jeanni from Art at the Beach has got the best seats in the house. Offering fun and informative painting and drawing lessons from her picturesque studio on Mawgan Porth Beach, Jeanni welcomes everyone to spend an afternoon on the sand producing brilliant artwork for you to keep.
If that's not enough...
In Cornwall, we also recommend Susie Ray who puts together superb Matisse Painting workshops, and Susy Ward Ceramics where you can throw your own masterpiece and take it home with you. If you're staying in Devon, we'd also suggest experimenting with mosaic and lino printing at Coastal Craft Creative. Or try something a little different with Steve Robinson's Glass Fusing workshops in Totnes or Candle Making in Stalbridge, Somerset.
Call our Concierge Team to start planning your staycation: 01208 895570
Image credits: Kiwi Print Studio courtesy of Photography by Mariné | Half Acre Studio | Tarka Pottery | Boo Cottage Botanicals | Screenshots taken from Creative Beings and Art on the Beach | Unsplash