From the Blog
Introducing Dine with Iris: bespoke picnics on the Cornish coast
Posted by
Perfect Stays
on
Updated on
Meet Briony, the face behind our one-of-a-kind concierge experience
From extravagant cliffside celebrations to the simplicity of a garden soiree, Dine with Iris has collected quite the archive of mesmerising set-ups since launching in July. She's also well-loved by our celebrity guests, Tom and Giovanna Fletcher. Pairing beautiful picnic platters with breathtaking locations, experience a new side to al fresco dining.
On Tuesday evening, we were lucky enough to meet Briony and tuck into one of her beautiful picnic set-ups. Nestled amongst Crantock's sand dunes and blessed with September sunshine, it was truly magical. We found out a little more about her favourite spots, a special homemade chutney and of course, her red fox Labrador puppy, Rudi.
What inspired you to start Dine with Iris?
I have worked as a chief stewardess on private yachts in America and Europe for the last eight years, and loved to create bespoke and beautiful table settings for the guests onboard, as well as surprise picnics for them at some of the different spots we'd visit.
With my love of the Cornish coast, I thought it'd be perfect to bring these luxury picnics home and create them with the amazing coastal backdrops that we all know and love.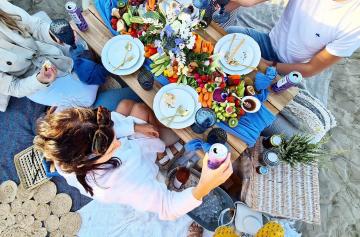 Where are some of your favourite picnic spot locations?
We're so lucky to have an abundance of incredible picnic spots to choose from in Cornwall. I love a secluded sand dune where you can have a little privacy with your chosen picnic pals and still have beautiful sea views.
I also absolutely love styling picnics in back gardens where I can complement the flower arrangements and table linens with the colours of the flowers already growing. It can look really magical, and how amazing that you don't even have to leave your own home and can have all the luxury brought to you.
Do you incorporate local food and drink into your picnics?
I provide a savoury grazing table with all my picnics, incorporating locally sourced and seasonal produce from several amazing local suppliers in and around North Cornwall. I love finding local cheeses, charcuterie cuts and vegetables from Trevilley Farm Shop in Newquay, homemade dips and hummus, alongside an aubergine chutney that my mum makes (which has gone down a storm!) I also provide flavoured sparkling water from Dash Water – I love that they create their drinks from 'wonky' fruit that would otherwise go to waste.
If you'd like to elevate your picnic with a dessert board or a bottle of fizz, you can enjoy delicious home-baked cakes from Jam Jar or prosecco and rosé from the Wild Wine Club.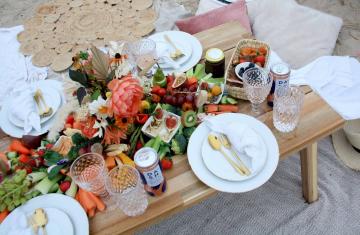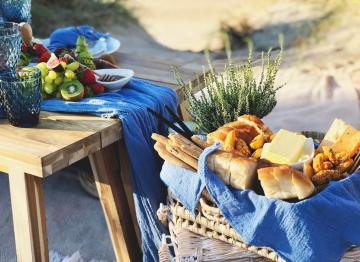 What's next for Dine with Iris?
I'm really keen to scope out some picnic spots that are a little 'outside the box' in terms of character and surroundings. I'd really like to style some picnics in locations where the food being served was grown in the same place – I'm thinking flower farms, vineyards and veggie patches!
Do you have a plan for autumn and winter picnics?
I have some exciting plans in the pipeline for the cosy colder months. I'm looking forward to creating seasonal indoor picnics and intimate dinner parties, as I'll be collaborating with Cornish chefs to bring some local cuisine and table setting magic into your homes.
Of course, the outdoor picnics won't be off the cards, I'll just have plenty of blankets and luxurious hot chocolate on hand!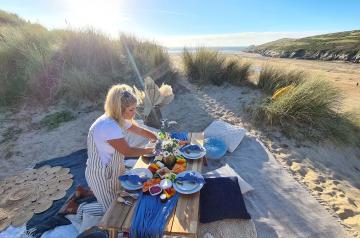 What's your favourite thing about life in Cornwall?
When I'm not prepping for picnics or playing around with gorgeous flowers, I love getting outdoors and exploring our local area. I love walking my puppy Rudi along the beach and of course, if there's a coffee or lunch spot thrown in then all the better.
What are some of the most special events you've been a part of?
Every picnic for me is special. I spend so much time perfecting the finer details and getting every aspect in place. I love seeing the reaction of my guests once they spot the table and setting, it's what makes it all worthwhile – even more so if it's a surprise.
A highlight has to be an elopement picnic for a lovely couple and their gorgeous pup after they were officially married. I set up on a cliffside close by and wild horses were wandering past as I was putting together the finishing touches. The couple arrived for a sunset picnic in a gorgeous wedding dress and suit and it brought a tear to my eye. It's really lovely being able to be a part of people's special moments.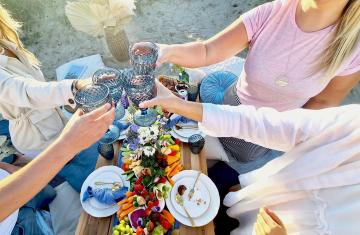 How's Rudi settling in?
Rudi is settling in wonderfully. He's an absolute dream and I couldn't imagine life without the little one now, even though he won't be little for much longer! He's extremely fond of carrots so is a big fan of the picnic lifestyle, although I probably wouldn't trust him too close to those grazing tables!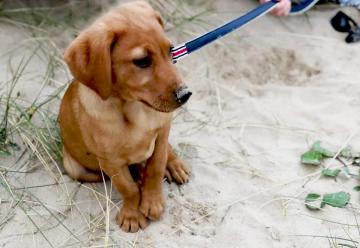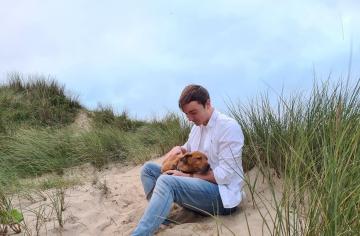 Perfect for a romantic surprise, family lunch or catch-up with friends in Cornwall, personalise your picnic with plenty of colour schemes, locations and luxury extras to choose from. Prices start from £25 per person. If you'd like to book in for a beautiful DWI picnic, call our concierge team on 01208 895570 who'd be delighted to help.