From the Blog
Explore the Jurassic Coast: our must visit Dorset destinations
Posted by
Sophie Hesp
on
Updated on
Discover the stunning south coast one landmark at a time
A patchwork of majestic ocean views, iconic geological landmarks and prestigious seaside neighbourhoods, Dorset is a picture-perfect setting for your getaway. To help you make the most of your next trip to the south coast, we've rounded up our must-visit Dorset destinations, with recommendations to suit all the family. Kayak through turquoise waters, visit ancient royal castles or sample the freshest local seafood – however you choose to while away the balmy summer days, read our tips below to make your south coast staycation extra special.
Go fossil hunting along the South West Coast Path
With its string of fossil-rich beaches and sandy golden coves, Dorset's portion of the South West Coast Path is a treasure trove for holidaying beachcombers. A popular choice for the children, Charmouth Beach is one of Dorset's most prestigious, owing to its old world charm and abundance of fossils. Wander along the shoreline and keep an eye out for ammonites, or pop into the Charmouth Heritage Coast Centre to join a guided walk and follow in the footsteps of locally famed fossil hunter, Mary Anning.
Providing the beautiful backdrop for the 2017 film, Chesil Beach is another popular destination, with its 18 mile long pebble stretch spanning from Portland to West Bay. And of course, a visit to the Dorset coast wouldn't be complete without an afternoon in Lyme Regis, with the familiar seaside stripe of deckchairs and beach huts lining the sand.
Paddle through tranquil waters at Lulworth Cove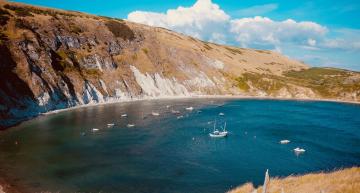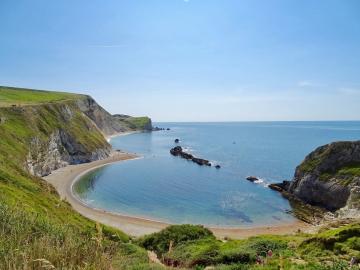 Whether you want to just kick off your shoes and tiptoe into the turquoise water, or make the most of it with an afternoon's kayaking, Lulworth Cove makes an idyllic setting for a day in the water. Take in the natural wonders of the striking Jurassic landscape on a guided kayak tour setting off from Lulworth, or indulge your sense of adventure with a day's coasteering at the impressive Stair Hole.
Experience Dorset's must-see landmarks from a whole new vantage point and enjoy a leisurely paddle through the iconic Durdle Door arch, or take to the water with a refreshing swim as the summer sun warms the shallows.
Stop for a picnic at Durdle Door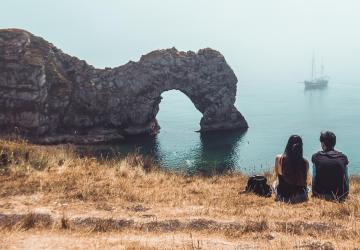 After a dip in the Dorset sea, lay down a blanket and claim your patch on the grass as the beautiful Durdle Door treats you to heart-melting lunchtime views. Arguably the south coast's most iconic landmark, the natural limestone arch is thought to be 140 million years old, jutting out into the sparkling ocean and forming a familiar backdrop for postcards and fond holiday memories.
Pack a generous spread of local blue vinney cheese and Dorset apple cake and soak up the view, or make your way down to the beach along the footpath to watch sailboats and snorkelers weave around the towering arch.
Sketch the striking Old Harry Rocks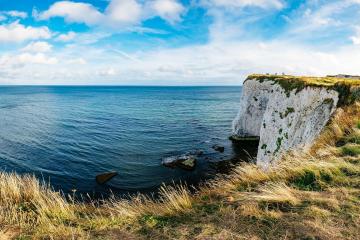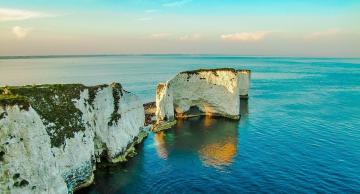 Keen artists and amateur illustrators will relish the chance to capture one of England's oldest chalk formations, standing proud between the bays of Studland and Swanage. Old Harry Rocks mark the most easterly point of the Jurassic Coast, with a series of stacks and stumps having been eroded over time to create a striking marine masterpiece.
To make the most of the beautiful views, set off on the National Trust's Old Harry Rocks Walk with sketchbook in hand and keep an eye out for the bees, butterflies and wildflowers that call the surrounding nature reserve home. This circular dog-friendly walk climbs gently along the coast path and can be enjoyed in a couple of hours, with the Bankes Arms pub en-route providing just the right excuse for pint of local ale.
Visit Corfe Castle
A historic site promising a great day out for families, a visit to Corfe Castle is simply a must. Peeking high out of the village of Corfe, the thousand-year-old royal castle is a haven for little ones to run riot, when they're not setting off on quests around the grounds, trying their hand at medieval craft or being brave with a spot of falconry.
Situated in the Purbeck Hills and with views across the ancient Dorset countryside, Corfe Castle is also home to a National Trust shop, an 18th Century tearoom and a pretty courtyard garden, plus plenty of events taking place across the year that are definitely worth a visit.
Catch the ferry to Sandbanks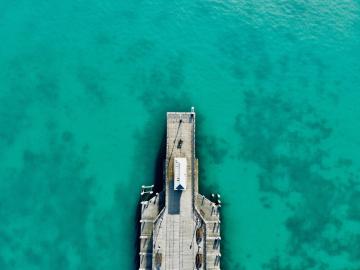 Sample a taste of Dorset's most esteemed neighbourhood with a wander around Sandbanks. Home to the county's elite and upholding the reputation of 'Britain's Palm Beach', the small peninsula crosses the mouth of Poole Harbour and is well known for its long sandy beach and thriving watersports scene. For a lovely day out by the sea, catch the regular Bramble Bush Bay ferry from Swanage or Shell Bay and set sail across the water.
Once you've made the short crossing, Sandbanks is yours to explore, with sailing pursuits, fishing trips and mountain biking excursions all proving popular ways to spend an afternoon. For garden lovers, the beautiful Compton Acres provides 10 acres of subtropical paradise, with five ornamental gardens making it a tranquil place to visit year round.
Sit down for supper at Shell Bay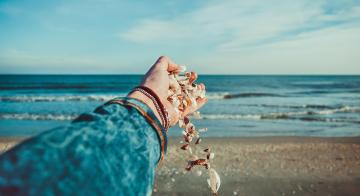 After a blissful afternoon spent on Sandbanks, retreat to Shell Bay for a spot of dinner with a view. Sparkling along the sea edge in the idyllic Isle of Purbeck, Shell Bay Restaurant and Bistro is home to a tempting menu of vegetarian dishes and locally sourced fruits de la mer.
Accompany your meal with a glass or two of fine wine as the sun sets, or take a walk along the shallows while you wait. With panoramic views across to Brownsea Island, Shell Bay's waterfront location makes it ideal for al fresco dining, but if the weather isn't on your side, retire to the canopy to enjoy fantastic views all year round.