From the Blog
A thrill-seeker's bucket list: the best outdoor activities in Cornwall
Posted by
Sophie Hesp
on
Updated on
Test your nerve across coast and country
Home to rolling waves, granite-flanked quarries and beautiful rugged landscapes, it's no surprise Cornwall is a popular destination for holidaying thrill-seekers. This week, we caught up with our contacts at Cornish Rock Tors, Via Ferrata Cornwall and Camel Ski School – three of Cornwall's favourite local companies for adrenaline sports. From high ropes to waterskiing, they talk us through their range of activities to test your nerve on your next trip to Kernow.
Cornish Rock Tors: the coasteering experts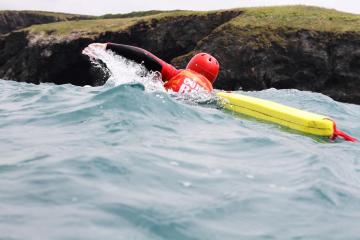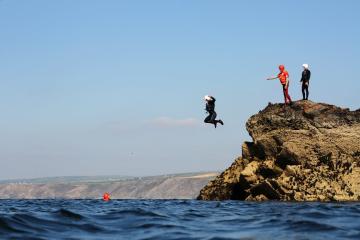 © Cornish Rock Tors
Based in Port Gaverne, not far from the buzzy towns of Polzeath, Rock and Port Isaac, Cornish Rock Tors are experts among the county's watersports scene. Their beginner and intermediate coasteering sessions allow visitors to see Cornwall from a whole new perspective, exploring stretches of the coast that are otherwise inaccessible. Swim through rocky coves, climb across wave-battered rocks and leap from ledges for an instant adrenaline rush.
For a behind the scenes look at what makes this part of the world such a treasure trove for thrill-seekers, we spoke to Ben and Mat at Cornish Rock Tors:
What do you think makes Cornwall so special for watersports?
The coast of Cornwall changes with the seasons and each turn of the tide, so there's always something new to explore even on familiar stretches of coast. As soon as you get away from the main beaches and are at sea level beneath the cliffs or in the sea, you're exploring places and views that not many people get to experience. Sometimes the best adventures can be found right under your nose – just around the corner from a busy beach or right under the coast path.
We're surrounded by wildlife in this part of the country – any unusual sightings you can tell us about?
There's so much incredible marine life around Cornwall – just last week there were sightings of an Orca off the south coast, and there have been reports of basking sharks again this year (giant and harmless filter feeders). There are resident seals on our stretch of coast who sometimes pop up to see what we're up to, incredible bird life, and the world of rockpools and the creatures that live in them is endlessly fascinating. Last year we almost bumped into a sunfish during a guided open water swim – they're the largest bony fish in the ocean but look very strange – like a giant dustbin lid! We also see large barrel jellyfish from time to time, and once found a very rare scarlet and gold cup coral at the back of a cave!
Why is it important to spend time in the great outdoors?
You're asking the person who's built his entire life around the sea! There are so many benefits, and in recent years there's been some amazing research that has proven the health and wellness benefits of spending time around "blue spaces". The positive mental impacts have been shown to be particularly strong in areas where blue and green spaces meet – so the coastline where the land meets the sea. The Victorians believed in the benefits of "taking the sea air" and visiting the seaside to recuperate, but there's now some solid science behind it. For me, the sea is my playground as well as my workspace, and is absolutely my gym and happy place. Being in the sea keeps me fit but it also keeps me challenged, humble and positive.
I imagine some people are nervous about getting in the water or trying something new. How does it feel to be helping them conquer their fears?
When you watch the reaction of people who have really challenged themselves to step outside of their comfort zone or confronted a fear to come on a session, and succeeded, that's really special. Helping people to realise their potential or take steps to overcoming a fear is one of the privileges of our work. The change that you see in some people, in their self-confidence, between the start of a session walking down the beach and the moment when they climb out of the water, can be huge. The ocean is a great environment for self-development and learning, and it's something that we try to build in to every session.
With coasteering especially, there aren't any parts of the activity that are compulsory so somebody can skip a jump or cave if they want to, but our team are amazing at helping people to work up to challenges and the majority of times the person who said they'd never do it, does it and takes the most away from it.
Click here to get booked in with Cornish Rock Tors and explore a whole new side to North Cornwall. More challenging routes are available on request for those looking to test their nerve with tricky (but safe) swims, climbs and jumps.
Via Ferrata Cornwall: conquer your fears with a cliff face climb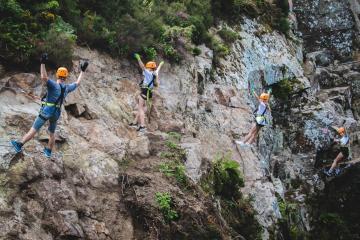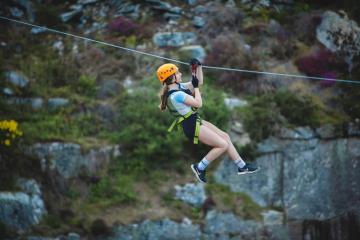 © Caroline Kearsley Photography
While South Cornwall may conjure up idyllic scenes of flat waters and pretty coves, charity-launched Via Ferrata Cornwall are out to prove that there's adventure around every corner. Set amongst Goodygrane Quarry, not far from Falmouth, their site is home to the South West's first full 'via ferrata' or 'iron path' course. Think metal steps to climb, suspension bridges to cross and zip wires to master, all the while suspended 20 metres above water. We chatted with Eleanor at Via Ferrata Cornwall to gain some local insight for first time thrill-seekers:
We'd love to hear a bit about how Via Ferrata Cornwall came to be – could you give us a quick recap of your story?
We were launched by charity BF Adventure last year as part of its mission to grow its income. As a charity supporting Cornwall's most vulnerable children and young people, this has never been more important as it's seen a real surge in the demand for its services during the pandemic. We decided to build the first full Via Ferrata experience in the South West, so that people can journey through our water-filled granite quarries near Penryn on an epic adventure that's super scenic and brilliant fun!
Our routes are suitable for adventuresome eight-year-olds through to full on andrenalin junkies and everyone is clipped in to a safety cable the whole time, giving them freedom to push their limits in a completely safe environment. Climbing pros will find challenges too though, with the option of forgoing the metal rungs and relying on the natural rock crevices to move around the course.
Your website mentions new wild play areas for younger visitors – could you tell us a bit about them?
We want to be a place where whole families can come together and make amazing memories, so we're creating wild play areas for little ones aged three and over – think muddy play and rope swings. In today's world of screens, we see huge benefits of children getting back to nature and getting their imagination going as they come up with their own mud play ideas.
What's your idea of a perfect weekend in Cornwall? Anything you'd recommend for first time visitors?
Thrill-seekers can't leave Cornwall without trying coasteering – the buzz you get from it is incredible! There are options around the coast and we also offer freshwater coasteering in our sheltered quarries, which is great if you're seeking to try something new as a family without being at the mercy of the tides!
Around Falmouth there are some great places to visit. Gardens like Glendurgan are beautiful and we're spoilt for choice with the beaches. They're super popular during the day so I actually prefer going in the evenings – it's a magical atmosphere at that time and you'll get a patch to yourself! Grebe Beach is especially nice and sometimes you can spot some bioluminescence on calm summer nights.
Also offering archery, coasteering and watersports with views over Falmouth Bay, click here to book a session with Via Ferrata Cornwall.
Camel Ski School: The UK's home for waterskiing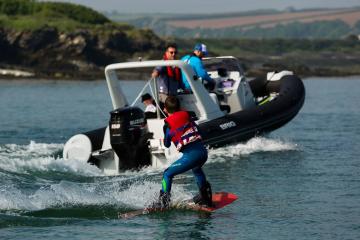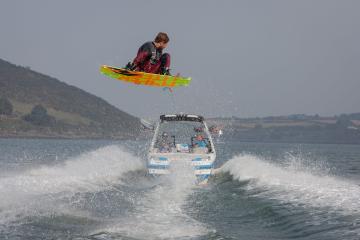 © Camel Ski School
Occupying a prime spot beside Rock Beach on Cornwall's north coast, Camel Ski School have been offering watersports tuition for over forty years. The largest waterski centre in the UK, their trained instructors, first class facilities and picturesque setting make them a popular choice for visitors to Cornwall. If you prefer something a little higher octane than hopping aboard a kayak or paddle board, they have plenty of exhilarating options, from wakeboarding to group parties.
Susan at Camel Ski School talked us through the sessions on offer, tempting recommendations for groups and an up-and-coming addition for later this year:
What do you think makes Cornwall so special for thrill-seekers?
Cornwall is one of the most beautiful counties in the UK and offers an abundance of different watersports along its immense coastline. The waters are cool, clean and clear and offer varying conditions depending on what coast you are on and what you want to do – if you love the water and being active, the opportunities are endless.
Which activities would you recommend for different groups?
We have a wide range of activities to enjoy; from the adrenaline rush of a waterski, wakeboard or wake surf session to the thrill of an inflatable ride. For families and larger groups, there's the opportunity to organise a 2.5-hour boat charter in one of the school's boats, either a rib or the larger Axis T22. You can try a range of watersports and every charter includes the driver, insurance, all equipment and fuel. We can even stop off at Padstow for some fish and chips if you like!"
Tell us about your Island Café – will it be open for summer?
The Camel Ski Island is one of the best kept secrets in North Cornwall – a floating haven in the middle of the Camel Estuary. We are currently working to get the island back in the water for high summer – but are awaiting Covid guidelines. When the island is open, you can visit our 'pop-up' Island Café for a 'drive-thru' coffee or light snack or join us for one of the many events we have scheduled during the summer months – from a sunrise yoga session to an evening barbeque. For a truly unique and unforgettable experience, you can book the island privately for a family celebration, special event or just a romantic meal.
As a first-time visitor, how would you spend 24 hours in Cornwall?
Get up early to enjoy a quiet stroll on the beach or along the coastal path. Plan to get on or in the water at one of our local stunning beaches, inlets or coves. Sample some of the excellent food and drink produced right here in the county and obviously fit in a waterski or two on the estuary to round it all off.
Try your hand at waterskiing or climb aboard an inflatable with a Camel Ski School session on your next trip to Cornwall.
If you're still seeking a thrill...
We've rounded up a few more fantastic local companies offering high-octane activities to try on your next Cornish escape. From hot air ballooning to swimming with sharks, there's something to bring out the adrenaline junkie in everyone:

• Swim with sharks in Cornwall
• Visit Adrenalin Quarry
• Spend the day at Kernow Adventure Park
• Take to the air with Aerosaurus Balloons
Image credits: Via Ferrata Cornwall images courtesy of © Caroline Kearsley Photography | Cornish Rock Tors and Camel Ski School images provided direct.