From the Blog
Sennen Cove Christmas swim
Posted by
Perfect Stays
on
Updated on
Take a dip in the waters this festive season

Despite the frosty temperatures, Sennen Cove's large expanse of golden sand and clear blue waters still manage to attract hundreds of people outside of the summer seasons, for the annual Christmas Day swim.
Tis the season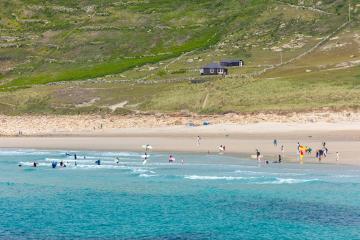 Christmas swims take place all over the country, with enthusiastic attendees bracing the cold to embrace waters below 10 degrees. Wild swimming in Cornwall has grown more and more popular in recent years, with the county's secuded coves and peaceful rivers making it all the more tempting to take the plunge.
Each year, Sennen Cove attracts over 400 people for this special occasion, along with many others across the UK that take place on Christmas or Boxing Day. The event takes place in the morning at around 11am, allowing you the opportunity to spend the rest of the day cosying up by the woodburner with a mulled wine or hot chocolate.
What's more, laughing and making special memories with loved ones is a perfect way to celebrate the festive season in the South West.