From the Blog
Where to go for a swim on Christmas Day, Boxing Day and New Year's Day
Posted by
Bethany Walton
on
Brave Cornwall's cold seas this festive season
While many of us enjoy waking up on Christmas Day and lazily going about our mornings unwrapping presents with mimosas in hand, there's a much-loved tradition in Cornwall whereby locals and visitors alike don their swimming costumes in favour of a cold-water dip. Thought to have originated from a landlady daring a couple of locals to a cold-water swim in return for a free pint of ale on Christmas morning, now hundreds brave the waters on December 25th, Boxing Day and New Year's Day.
For those wishing to give it a go this festive season, we've done our research and found the best organised swims taking place across the county. Of course, there are also plenty of unofficial festive swims taking place in smaller coves around the coast where you'll find local families taking the plunge together before sprinting back up the sand in search of a toasty wood burner and comforting glasses of mulled wine. If you're opting out of an organised event, please note there'll likely be no lifeguard cover so please be careful when taking to the seas.
It's also worth noting that many encourage fancy dress, while wetsuits are a firm no when it comes to what to wear. As a team of cold-water swimmers, we suggest woolly hats and wetsuit boots to keep you warm, while a hot water bottle and dry robe will never go amiss once out of the water again. Complete with hot chocolate stands, lifeguard cover and charity fundraising, here are 10 wintery swims to tempt you into the waves this year.
Christmas Day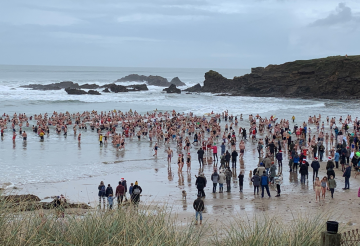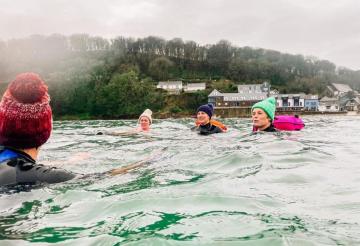 Crooklets Beach, North Cornwall
Just around the coast from Summerleaze in Bude, Crooklets is a beautiful stretch of soft sand which quickly fills with people on Christmas morning. Hosted by Bude Surf Life Saving Club, this charity swim attracts around 500 brave participants into the chilly waters with the starter's whistle blown at 11am sharp. Many of Crooklets' swimmers don Santa hats for the event, in fact, it's encouraged and four-legged friends are often spotted getting involved too.
There are always hot drinks ready for those returning from the salty waves and all proceeds from the event go to Bude's Surf Life Saving Club.
Polzeath Beach, North Cornwall
Another busy spot for a Christmas Day swim, Polzeath sees hundreds embracing the nip in the air mid-morning. Starting at 11am, there's plenty of time to unwrap presents and gear yourself up for the chilly waters with friends and family in tow too. Ditch the wetsuit and make a run for the waves, all before heading back up the sand to the sound of applause from cheery onlookers. Warm up with whipped cream hot chocolates from the Oystercatcher or raise a toast to the festivities with alcoholic tipples all around.
Sennen Cove, West Cornwall
One of the most well-known events in Cornwall at Christmastime, Sennen Cove's annual swim welcomes many willing bathers into the waves for a quick dip. Racing each other to the water's edge, you'll be amongst great company, with many travelling from across the county to gather here for 11am. Taking place before midday, head home for a celebratory Christmas lunch and warm up beside the fire all before cosying up in front of your favourite festive film come evening.
Boxing Day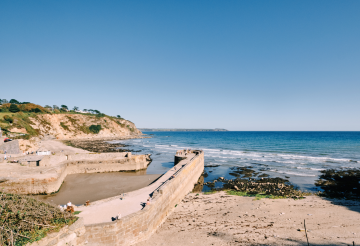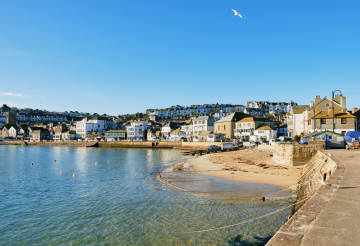 Charlestown, South Cornwall
If you can't make it down on the big day itself, opt for a refreshing Boxing Day dive instead. Perfect for those needing a little pick-me-up, the cold waves promise to leave everyone feeling fresh and revitalised after a day of indulging. Raise a minimum of £10 prior to your arrival (or donate on the day) and be sure to register before 10:45am on the harbourfront. Organised by Charlestown Rowing Club, the event is on the smaller scale but still sees a good amount of Santa-clad swimmers heading into the water. As Charlestown Beach is pebblier than Polzeath or Crooklets, it would be a great idea to head in wearing your wet shoes (and they don't mind as much about wetsuits here either)!
Perranporth, North Cornwall
Meeting at 10:30am every Boxing Day, Perranporth Surf Life Saving Club register willing participants for their annual wintery sea swim. If the tide is low, expect to make a run for the water several metres away before immersing yourself in the icy waves. Expect lots of laughter and encouragement from your fellow bathers before rewarding yourself with a spiced mulled wine, served up by The Watering Hole. If you'd prefer to stay on dry land, watch everyone else dive into the waves before enjoying a windswept walk along the coast path towards Holywell Bay.
Porthminster, West Cornwall
In the summer months, it's easy to forget you're in Cornwall once on Porthminster Beach due to its endless white sands and gentle turquoise waters. Come Boxing Day, the little bay fills with brave swimmers come rain or shine. Beginning at 12pm, the event asks everyone to donate £1 to charity before tackling the waves and all ages are encouraged to take part - meaning you can opt for a thick winter suit to keep warm too.
New Year's Day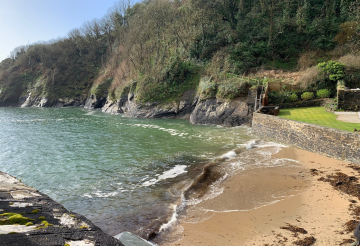 Newquay Harbour, North Cornwall
One of our favourite summertime dining spots, Newquay Harbour is not to be missed on New Year's Day too. Welcoming plenty of cold-water enthusiasts to raise money for Young Lives vs Cancer, the event sees hundreds heading into the shallows around midday on January 1st. For those wishing to take up wild swimming as one of their resolutions, this is the perfect opportunity to dive into the deep end, literally. Fancy dress is encouraged, so pull on your woollen hats and reindeer antlers before heading into the waves.
Gyllygnvase Beach, West Cornwall
There's also Gyllygnvase Beach in Falmouth that holds the event year after year. Join the friendly crowd of locals and visitors of all ages who gather for this annual event, embracing the Cornish tradition with ease. Whether you're a seasoned cold-water enthusiast or a first-time swimmer, this is a great way to kick off the new year in style.
Be sure to rise early, perhaps with a few freshly brewed coffees to get you going, and arrive on the sand for noon. Once back on dry land, head for Gylly Beach Café and wrap your fingers around a warming mug of tea and watch as the waves roll into shore as plans are laid out for the year ahead.
Readymoney Cove, South Cornwall
Loved for its shallow waters and gentle waves, Readymoney is one of South Cornwall's hidden gems. Just down the road from Daymarker, Lantic Barn and Little Polkerris it's where all the locals head for a refreshing dunk on January 1st. As a resident of this side of the coast, I'm well-versed in the tradition of derobing, running, swimming and throwing a towel back on - all within a couple of minutes. Not one to enjoy the salty water for longer than necessary, this is the best way to ease yourself into this festive tradition before rewarding yourself with a celebratory pint in one of Fowey's locals.
Harlyn Bay, North Cornwall
Enjoying a sheltered spot amongst Cornwall's Seven Bays, Harlyn is an idyllic location for a swim - no matter the time of year. What's more, it's dog-friendly from January through to December, so you can tempt your four-legged friends into the waves with you too.
On New Year's Day, everyone gathers for around midday to head into the water for a quick soak. If you've managed to convince the whole family to join in, rejoice with flasks of hot coffee and snap a photo to savour the event. Before heading home for a celebratory lunch, take a walk along the headland over to Trevose and you may even be lucky enough to spot a seal enjoying a festive dip of its own!
A note on safety: As beautiful as Cornwall is, its waters can still be unforgiving and cold water shock is extremely dangerous. If you're tempted by a festive swim, please make sure you do your research beforehand. Never swim alone, always keep an eye on the tide and above all else, know your limits. For more safety information, click here.
Staying with us this Christmas and New Year? Speak to our Concierge Team to help plan your festive itinerary.
Image credits: Sergio Souza via Pexels (main image). All other images are our own.