From the Blog
Our beginner's guide to wild swimming in Cornwall
Posted by
Sophie Hesp
on
Updated on
Places, products and practical tips
Being surrounded by sea, it's no surprise that Cornwall is considered one of the best places in the UK for wild swimming. If you know where to look, you'll find outdoor tidal pools tucked around the north coast and secluded rivers and lakes in the south. Plus, with the health benefits it can bring – from reducing anxiety to improving circulation – picking up a new hobby like wild swimming could be just the tonic you need.
Here to provide some beginner's insight if you're just starting out, we've compiled the best places, products and practical tips for wild swimming in Cornwall.
Places: from geothermal lidos to a freshwater quarry
Starting off with two prolific swimming spots in Cornwall, the sea pool in Bude and Jubilee Pool in Penzance are loved by locals and visitors. While there's some debate as to whether self-contained sea pools are true 'wild' swimming locations, they're home to calm waters that are ideal for new swimmers and we think they're well worth exploring.
Bude Sea Pool has a sheltered position at the back of Summerleaze Beach and is open all hours of the day. A cherished spot for wetsuit-clad families, the bordered pool is a wonderful introduction for young swimmers who may not be quite ready for the open sea. At high tide, it's topped up by the Atlantic and the beach is transformed into a turquoise oasis. Just as beautiful when the weather turns wild, it's also a wonderful post-swim lookout spot with dramatic views across the sand.
Penzance's Jubilee Pool is a unique art-deco inspired lido with views across St Michael's Mount. Home to three seawater pools – the main pool, a geothermal pool and one specifically for learners – there's a strong community feel that welcomes beginners with open arms. There's also a lovely café on-site so you can warm up quickly with a coffee as soon as you're out of the water.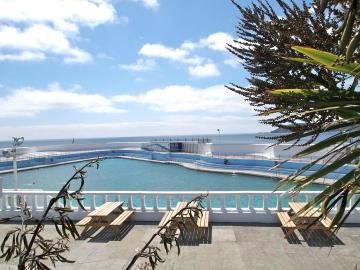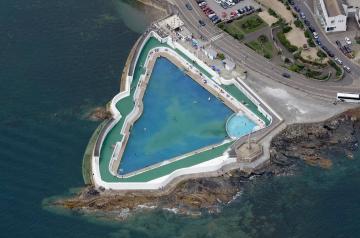 South Cornwall
To find the real gems in Cornwall's wild swimming crown, you'll be rewarded for digging a little deeper. For sea swims, the tranquil south coast is a wild swimmer's paradise, with the lesser-known beaches at Menabilly and Polridmouth near Fowey offering gently shelving sands and crystal-clear waters. Both are ideal for a peaceful morning dip, and being tucked away along the coast path, they tend to be free from crowds.
The River Fal and the Helford River towards Falmouth have built up a cult following within the Cornish community, as secluded inlets line their banks and make it easy for swimmers to take a moment for themselves, appreciating their surroundings with few others nearby.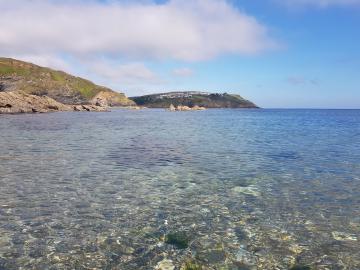 North Cornwall
The north of the county is home to the spring-fed Goldiggins Quarry on Bodmin Moor, and the tree-flanked streams at Respryn and Cardinham Woods. All three offer idyllic bathing areas to cool off in the summer. With plenty of ledges for (sensible) jumping and great routes for walking, they're best enjoyed with a water-loving dog by your side.
West Cornwall
Cornwall meets the Mediterranean at Pedn Vounder Beach – where a picturesque shallow lagoon is warmed by the summer sun. Access can be tricky and is best taken from the coast path, but you'll soon be rewarded with warm waters and views of Porthcurno's Minack theatre up on the cliffs. When the water's high enough, we'd also recommend swimming through Nanjizal's 'Song of the Sea' archway, before washing off the saltwater under the beach's natural waterfall.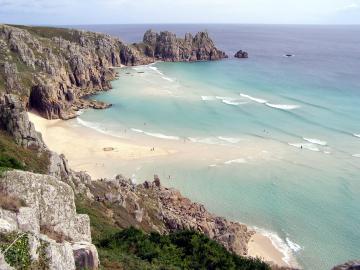 Handy products and practical tips
For some of our own staff here at Perfect Stays, taking up wild swimming has been a lifeline during lockdown. There's nothing better than starting your day with a swim and a stunning sunrise and feeling like you've achieved something – both physically and mentally – before breakfast. From one beginner to the next, we've rounded up some tips and tricks from our Sales and Marketing Director, Emily, that might make your first Cornish wild swim all the more enjoyable:
1. "Always go with a buddy! Firstly, it's safer, you should never swim in the sea alone. Secondly, you're so much more likely to get in. A good old chat and a laugh is the best distraction when adjusting to the cold.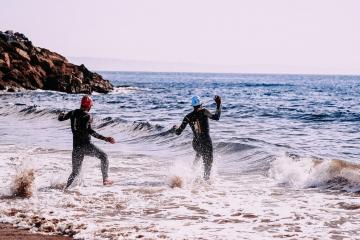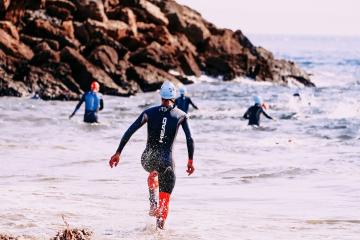 2. You need lots of warm layers that you can throw on quickly. A hot water bottle you can tuck inside under your jumper and a hot drink really help! The Dryrobe is also 100% an absolute game changer. Getting out of the water and getting warm quickly is the hardest bit. When you get out of the water, your body temperature continues dropping and often this is when the shakes start to set in. I found the Dryrobe helped so much as it keeps the cold wind off you as you get dressed and helps you warm up quicker.
3. Your fingers and toes are what feel the cold the most and can get quite painful when you come out of the water, so even if you're only going swimming in a normal costume, shorts or bikini, wearing wetsuit boots and gloves is recommended, especially if you're swimming through the winter.
4. Always take a moment to appreciate where you are. Getting in the sea is my escapism – nothing makes me switch off from the stresses of daily life like it. Being connected to nature like this really makes me appreciate where I am and where I live. I always feel refreshed and like I have a new lease of life after."
Discover the wild swimming community
If you're ready to dip your toe in the water, the wild swimming community is home to plenty of people sharing their local insight and picturesque swimming locations. Two of our Cornish favourites are @wildswimmingcornwall and @katetocoast. You'll also find plenty of dedicated sea swimmers a little further afield, including @seaswimssouthwest in Devon and Dorset-based Flora Jamieson - writer of Beginner's Guide to Wild Swimming.
A note on safety: As beautiful as Cornwall is, its waters can still be unforgiving and cold water shock is extremely dangerous. If you're tempted to take up wild swimming for yourself, please make sure you do your research beforehand. Never swim alone, always keep an eye on the tide and above all else, know your limits. For more information on safety, click here.