From the Blog
Your guide to dog-friendly Cornwall
Posted by
Sophie Hesp
on
Updated on
With miles of soft sand beaches and woodland trails, Cornwall is a dog's dream
From waterside walks to clifftop climbs, there's plenty to discover either on or off the lead, and with a selection of great dog-friendly restaurants too, holidaying with your dog in Cornwall is not to be sniffed at. As a team of locals and dedicated dog-lovers, we've put our heads together to bring you our favourite must-visit spots for you and your four-legged friends to enjoy.

Set off for Trebarwith Strand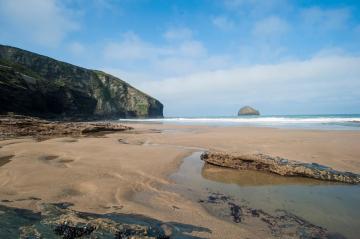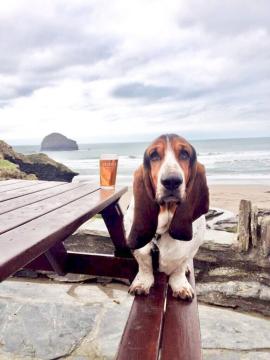 Pull on your walking boots and venture to Tintagel Church to set off on a rugged coastal walk. Following the coastline around Port Isaac Bay, this circular three mile walk will lead you from the craggy ruins of the church towards the beach at Trebarwith, both of which welcome dogs all year round. One of Cornwall's most accessible beaches, Trebarwith has plenty of caves, inlets and rock pools for your dogs to explore.

Pop into the nearby Port William Inn to sample the menu of locally sourced Cornish cuisine paired with proper ales and fine wines, as your four-legged companions settle down to enjoy the stunning view over the beach. Tucked into the cliff face, the dog and family-friendly pub offers an intimate fire-side atmosphere inside, or relaxed outside dining for dogs who prefer to enjoy lunch al fresco.

Return wet-nosed and salty-skinned as the South West Coast Path leads you back towards Tintagel Church. A favourite of our Accounts Manager, Ashley, and his Basset Hound, Frankie, this North Cornwall excursion is perfect for tiring out both humans and dogs.
Enjoy Woof Wednesday at Lusty Glaze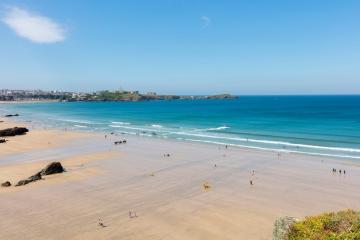 Our number one office dog-lover, Lindsay, loves nothing more than taking her beloved dogs Busta and Bonnie along to the Lusty Glaze Beach Bar and Restaurant after a walk on the beach to stretch their legs.

Nestled into a blissfully secluded cove near Newquay, and with stretches of sand and sea on its doorstep, Lusty Glaze's weekly 'Woof Wednesday' event is a dog-friendly haven for hungry dogs and their well-behaved owners, showcasing a bespoke menu of chef prepared canine dinners.

The restaurant encourages pets to choose between classic English dishes like 'Paws in the Hole' and 'Terrierrine', or for those with a sweet tooth, dreamy desserts like the 'Peanut Mutter and Bonio Sundae' – made with dog-friendly lactose-free ice cream. If that's not enough to keep tails wagging under the table, Lusty Glaze also donates all money raised from the £3 dog menu to a great local charity, the St Francis Home for Animals.
Take your four-legged friends out for dinner at the Wet Dog Pizza Co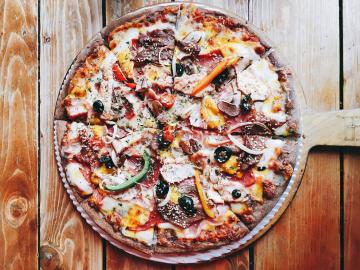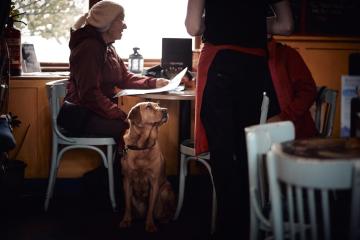 A quirky little pizzeria tucked away near the world-famous dog-friendly beach at Fistral, Wet Dog Pizza Co pride themselves on the freshest ingredients, the best pizza and the friendliest staff. There's a spectacular menu for two-legged diners as well as four, including familiar favourites like 'Sargeant Pepperoni', a vegetarian option known as the 'Blushing Bambino', and the mighty 20" pizza challenge for larger and more daring appetites.

As their name suggests, the Wet Dog Pizza Co also caters for dogs, with fluffy beds for them to lounge on, freshly made dog-friendly pizzas to enjoy and even 'Bottom Sniffer' dog beer for an after dinner treat.
Explore the Lanhydrock Estate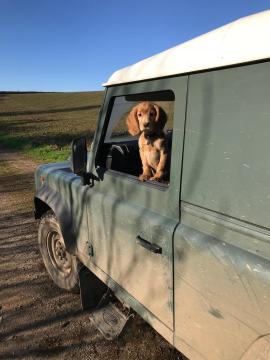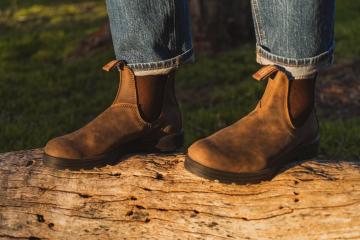 An easy circular route with fantastic scenery along the River Fowey, water-loving dogs are sure to enjoy the sights and smells of the Lanhydrock Estate. Lined with wild flora and fauna and plenty of dipped inlets for canine companions to perfect their doggy paddle, this walk follows the water through a series of flat woodland trails. Setting off from the entrance at Respryn car park, head over the bridge and through the kissing gate to follow one of the two paths alongside the river.

As you amble over the wooden 'Kathleen Bridge' and enter Higginsmoor Wood, keep an eye out for local wildlife, while those on four paws let off some steam charging through the ancient woodland.

Taking roughly 40 minutes to complete, the one mile route will lead you up a hill and through a red gate along Newton Lane, after which the spectacular outline of Lanhydrock House will be approaching in the distance. Surrounded by horse chestnut trees heavy with conkers through the autumn months, a final jaunt through the Lanhydrock Estate is sure to tire even the most boisterous pup, before heading back to Respryn to complete the walk.

Emily, our Sales and Marketing Director, and her lively cocker spaniel, Willow, love exploring the woodland trails all over the Lanhydrock Estate, where Willow can't resist a splash in the shallow stream.
Walk from Daymer Bay to Rock with a stop for lunch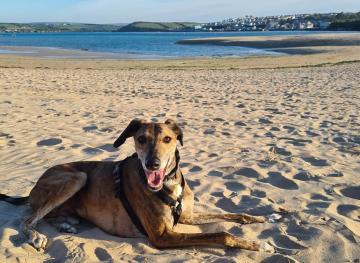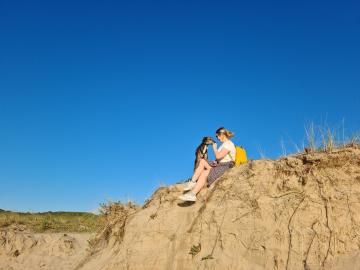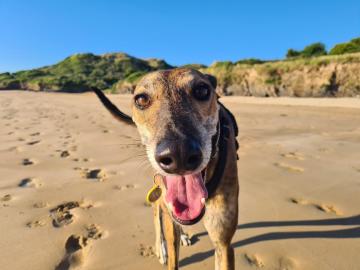 By far Cornwall's most prestigious coastal stretch, the South West Coast Path offers plenty of beautiful walks to enjoy with your dog. Park at Daymer Bay and walk down to the beach for a walk along the shallows as the water laps against the shore, or go off-piste and take to the headland. A firm favourite for Loki and me, taking a walk up Brea Hill at high tide is a fantastic way to soak up some spectacular ocean views from above, and well worth the climb.

Whichever route you choose, let the dogs roam off the lead as you follow the curve of the beach towards Rock and its distinct sand dunes, before taking the narrower path to the left to guide you into the fashionable town and its local shops and restaurants.

For a unique lunch spot, try Four Boys, which overlooks the water and welcomes dogs of all breeds and sizes. Expect a selection of fish dishes, vibrant soups and zingy veg plates made fresh each day. Of course, the walk can also be enjoyed in reverse, parking at Rock and enjoying a stroll along golden sands towards Daymer Bay, and both beaches benefit from being dog-friendly all year round.
Pop in and say hello at Paws in Padstow
Known as the original dog boutique, Paws in Padstow is the place to go for all holidaying dog-lovers. Stop by their shop at Trevisker Garden Centre to stock up on feeding, walking and grooming supplies, discover great local brands, or just pop in for a chat with friendly owners Lynz and Mike, to take advantage of their extensive canine knowledge.

Stocking a wealth of both notable and local brands, including Barbour, Oggi's Oven, The Innocent Hound and Lily's Kitchen, Paws in Padstow is a must visit destination for your Cornish escape – don't forget to pick up a dog-friendly ice cream whilst you're there!
Dog-friendly beach houses
If you're visiting Cornwall with your four-pawed friends, our collection of dog-friendly beach houses are the perfect holiday base. Roscarrock sits in an unrivalled position overlooking the sand and sea of beautiful Porthcothan, where dogs on leads are welcome all year round. If it's a North Cornwall escape you've got in mind, Tater Du is a beautiful seaside bolthole set in the heart of Harlyn Bay, while a stay at The Mouse House is the perfect opportunity to explore the quaint fishing village of Mousehole, and all its independent restaurants, shops and galleries.
Featured in this post
Gorran Haven, Cornwall
Sleeps: 8
Bedrooms: 4 i
Bathrooms: 2
Perched just above the sea is Beachcombers, a traditional cottage located in Gorran Haven, which has been described as 'the jewel on the south coast' and 'a village almost too pretty to be true'. Dog-friendly and with unparalleled views over soft sands and gentle waters, you can expect to enjoy glimmering sunsets in summer and dramatic storms in winter. Beachcombers is the stone and white property with three windows in a row to the left of the photograph.
Dog Friendly
Sea Views
EV Charger
Hot Tub
Swimming Pool
Games/TV Room
Mousehole, Cornwall
Sleeps: 6 - 8
Bedrooms: 4 i
Bathrooms: 3
Endless sea views, stunning coastal walks and a picturesque harbour: just three things that make The Mouse House so special. Located in Mousehole, soak up the captivating views over the West Cornwall coastline, Mount's Bay and St Michael's Mount.
Dog Friendly
Sea Views
EV Charger
Hot Tub
Swimming Pool
Games/TV Room
Polzeath, Cornwall
Sleeps: 6
Bedrooms: 3 i
Bathrooms: 2
A contemporary retreat nestled in front of Polzeath Beach, experience coastal luxury at Penmorcom. Only one minute away from Polzeath's golden sands, taste the sea air on your lips as you settle down for an evening of socialising on the terrace. With bright pops of colour throughout, Penmorcom's fun and modern design is perfect for families and dog owners.
Dog Friendly
Sea Views
EV Charger
Hot Tub
Swimming Pool
Games/TV Room