From the Blog
As seen on Giovanna Fletcher's Instagram: British Colonial interiors at Morning Tide
Posted by
Sophie Hesp
on
Updated on
Our family-friendly beach house with a twist
This week, we were delighted to welcome Giovanna Fletcher and her family to Morning Tide in Constantine Bay. One of our newest homes, and within walking distance from both the beach and the golf club, you'll find striking Asian-inspired interiors in every room. See what the Fletchers got up to over on Instagram, as we delve deeper into Morning Tide's design with owner and designer, Annette Miller-Golding.

British Colonial design: an introduction
Ducking beneath the veranda and stepping foot in the entrance hall, it doesn't take long to get a taste of Morning Tide's spectacular British-meets-Asian scheme. Adorned with statement furniture, lightweight fabrics, dark wooden accents and tropical prints, it ticks all the boxes when it comes to the key principles of Colonial design.
While always important to bear in mind that they're rooted in problematic history (recommended reading: The Washington Black), British Colonial interiors are known today for taking elements from the Victorian era and bringing them up-to-date with more modern patterns and textiles.
Starting off with colour palettes, the Colonial style calls out for neutrals. To introduce them at home, think warm browns, whites, creams and beige tones, then accessorise with leafy green plants to add height and depth. For a textured look, consider choosing a few key pieces like a dark teak sideboard or mahogany trunk, and complementing them with lighter soft furnishings like a pair of oatmeal linen curtains.
Furniture-wise, it's all about comfortable oversized sofas in rich brown leathers, and quirky bamboo armchairs. If you're working on a larger-scale renovation project, adding architectural elements like dropdown tray ceilings, vintage ceiling fans and plantation style shutter doors can quickly transform a space and give it that distinct Colonial feel.
When it comes to finishing touches, line your walls with framed botanical artwork inspired by exotic faraway lands. From fun flamingo prints to detailed illustrations, mix and match your pieces and collect them over time for an authentic, curated look.

A sit down with the designer
"Interior trends come and go in the same way as fashion – look for things
you really love and that will stand the test of time"

For an exclusive first look inside Morning Tide, we sat down with owner and interior designer, Annette Miller-Golding, to find out how it all came together...
How would you sum up Morning Tide's style in three words?
"Classic, nostalgic and homely. I love that it has a real sense of olde-worlde grandeur but it's still so welcoming and in a way reminiscent of a past era."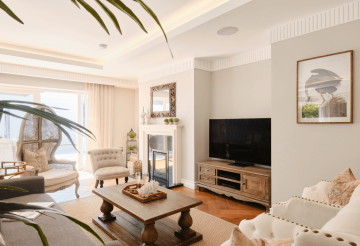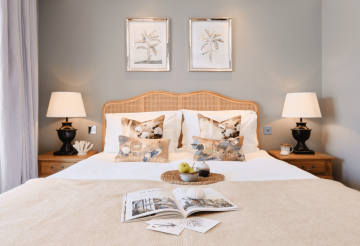 Could you tell us a bit about your background in interior design?
"A lot of it came from my childhood. Growing up in New Zealand, Mum and Dad were always renovating, gardening or working on DIYs so I think I picked it up subconsciously from them.
Since then, design has always been my passion. I found an interior design course with KLC School of Design in London, graduated and went straight into my first job. From there, I started my own design company and now do work freelance mostly for myself, friends and family."

What were your main inspirations when coming up with the design for Morning Tide?
"We lived in Hong Kong for four years and we've travelled quite extensively so I wanted to capture the combination of styles that you get with the typical Colonial design. The house has a real mixture of Chinese, Thai and wider Asian influences and I think that mishmash approach works so well together.
It was important to wait for the right pieces for the house rather than rushing into things, so a lot of the furniture I've worked on myself. We've gone for bespoke plantation shutter doors and the dining table is an old temple door from India – you can still see where the handle once was."

What's your favourite room in the house and why?
"The open plan kitchen, living and dining space. It's what made me fall in love with the house and it's great for entertaining. It's also quite difficult to find a room of this size."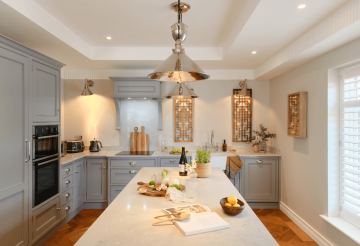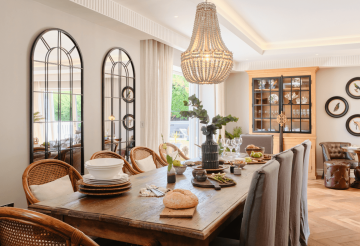 Why Cornwall?
"We've been holidaying here for the last 14 years, even while living in Asia we'd come back especially. I grew up by the sea so it's like being home, it pulls me in. Just hearing the seagulls reminds me of my childhood and spending all my time by the sea.
North Cornwall has the nicest beaches and makes such a good base to explore all over. There's so much to do here – I'm a keen gardener so we particularly love visiting Trebah and Heligan. We also love to eat! Our favourite thing is picking up fish and chips from Rick Stein's in Padstow to enjoy on the beach at sunset."

If you could give one piece of advice to someone starting out on their own design journey, what would it be?
"Interior trends come and go in the same way as fashion – look for things you really love and that will stand the test of time. Mix old with new, make use of hand-me-downs and look in vintage shops for special pieces – I've picked up some great things from places like that. They make a great scheme once you pull it all together. If you can, it's worth investing more money into something you're really pleased with, rather than filling your home with throwaway pieces.
If you're renovating, my advice would be to do a lot of research and find a good builder. Good communication is key so take your time and don't rush into it."
Stay at Morning Tide
Dog-friendly and sleeping 10 guests from this September, click here to take a closer look at our sneak peek photography and be amongst the first to stay at Morning Tide. With ground floor bedrooms, a separate games room and a hot tub coming in spring 2022, it's perfect for families, couples and groups of friends.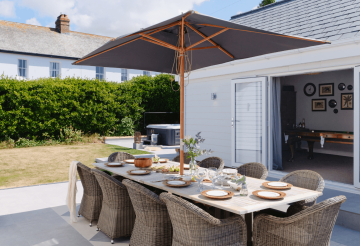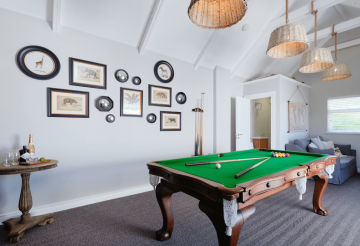 Featured in this post
Constantine Bay, Cornwall
Sleeps: 10
Bedrooms: 5 i
Bathrooms: 3
A short walk from the sands of Constantine Bay sits an idyllic contemporary beach house. With a unique British Colonial design, Morning Tide features a sleek open plan kitchen and living area, a sunny wraparound veranda, a hot tub and games room plus five beautifully decorated bedrooms. Relax into life by the sea and enjoy quality time together in this coastal hideaway.
Dog Friendly
Sea Views
EV Charger
Hot Tub
Swimming Pool
Games/TV Room