From the Blog
Devon and Cornwall's best restaurants for 2023
Posted by
Sophie Hesp
on
Updated on
Michelin-star chefs, AA rosettes and three new openings to be unveiled
If you're looking to broaden your culinary horizons in 2023, Devon and Cornwall promise to leave you spoilt for choice and hungry for more.
Back with 15 of the region's best restaurants, come with us and discover award-winning food, up-and-coming chefs and long-awaited refurbishments, plus three brand new locations set to open in 2023…
The Cornwall collection...
Walter's on the Beach | Carbis Bay, West Cornwall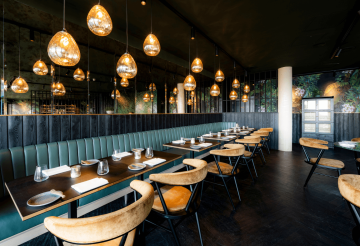 © Kieran Brimson for Walter's on the Beach
What's new? Their outdoor terrace that's footsteps from the sand.
Why visit? For beach views by day and dramatic dining by night.
Joining the Carbis Bay Estate's growing collection of fantastic restaurants, Walter's finds itself in good company alongside Ugly Butterfly, The Orangery, The Hungry Gannet and The Beach Club. Describing itself as a "sophisticated yet glamorous beachside restaurant and cocktail bar", Walter's is headed up by chef Andrew Haughton, who puts an international spin on British classics in his menu.
Inside, dark wooden floors, low-slung velvet seating and metallic pendant lights give the restaurant a dramatic, moody vibe. But it's the al fresco dining option that'll light a spark in fairweather foodies come summer 2023. Sat on the promenade and overlooking the beach at Carbis Bay, the brand new terrace promises a relaxing setting for cocktails, lunch or dinner.
Starters include Italian burrata, pan roasted scallops and lobster macaroons, before dishes like Thai-spiced aubergine and Korean chicken with kimchi and sticky rice steal the show.
Those with a sweet tooth will love the selection of lavish desserts, from the poached plum, white chocolate and basil sorbet, to a tonka bean panna cotta and tropical mango colada.
Mine | Falmouth, South Cornwall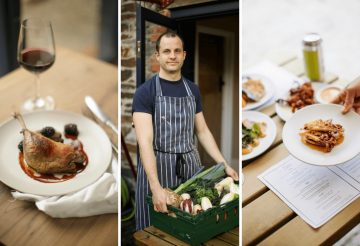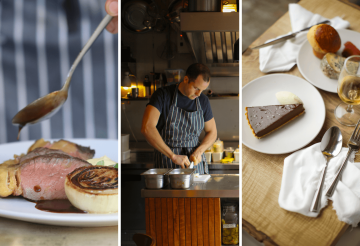 © Robin Markland, Emily Marcovecchio and Kevin Gitsham for Mine
What's new? A beautifully refurbished courtyard for lunch al fresco.
Why visit? Neighbourhood-style dining on Cornish cobbles.
Next in our Cornwall collection, Mine is based in The Old Brewery Yard in Falmouth. It has one aim: to bring its community closer through simple, playful food.
What we love about Mine is that anything goes - whether you choose to dine in the newly refurnished courtyard for summertime drinks, or warm your cockles inside, the restaurant's comforting food and first class service will put a smile on any diner's face.
As with many of the county's best restaurants, the menu changes with the seasons and looks to showcase its finest ingredients. Grilled leeks, pork cheek ragu and crab fritters make up the snacks and starters, with a stunning range of vegan, vegetarian and gluten-free dishes following closely behind.
Springtide | Charlestown, South Cornwall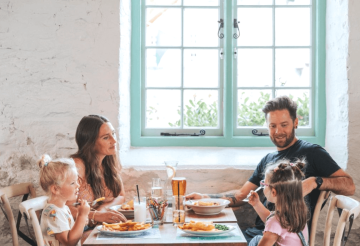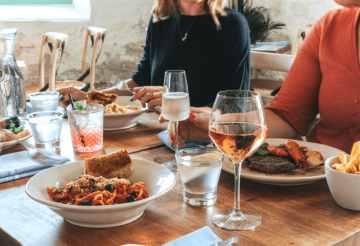 © Springtide via Instagram
What's new? Charlestown's latest restaurant heads into its first full year.
Why visit? Their cocktails are a must-try. Fruity and refreshing, ours is a melon margarita.
If steaming plates of fresh, salty seafood is your idea of heaven, you're in the right place. Having opened their doors on Charlestown Harbour in July 2022, the team at Springtide are excited to share their passion for fresh, local fish with even more visitors in 2023.
Sister to The Longstore - who recently opened their second restaurant in Truro - Springtide's winter menu features mains like grilled lemon sole and New England chowder, as well as pasta dishes and tempting grilled options for those less averse.
Book a table on Sundays and look forward to low and slow cooked beef, house dry aged pork, whole plaice, or a lentil and mixed nut roast. With children's options also on hand, Springtide is highly recommended for family-friendly dining on the coast.
Mix | Newquay, North Cornwall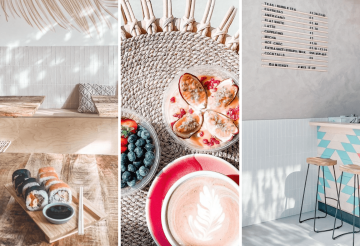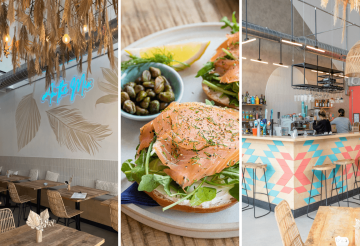 © Mix, Newquay
What's new? Cornwall's hub for sushi and sweet treats, plus a packed calendar of events.
Why visit? Their boho-inspired decor is an Instagram-lover's dream.
Following a vibrant launch party in June 2022, Mix is a must-visit stop for a summertime trip to Newquay. One of Cornwall's dog-friendly cafés and bars that's already loved locally for its gorgeous interiors and varied menu, it sits on the town's East Street.
If you're visiting for food, think breakfast bowls, toasted sandwiches, mezze boxes and nibbles, or stay a little longer to see Mix come alive in the evenings too. Having hosted a handful of themed events, including their "Sushi and Sax" nights and disco-themed "Funky Fridays", it's an up-and-coming spot that we're sure to see more from.
What's more, children are always catered for, with a great selection of bagels, pastries and juices made fresh to order each day.
Surfside | Polzeath, North Cornwall

What's new? A grand reopening for this beachside rum bar.
Why visit? Tiki-inspired drinks with views over Polzeath.
Bringing a taste of the tropics to Cornwall, Surfside has had a makeover. An old favourite that's now under new management, the bar is nestled onto the back of Polzeath Beach and spread across three floors. There's a large outdoor seating area that's perfect for sundowners while watching the surf, plus an enticing selection of drinks if rum's not your thing. Choose from mai tais, daiquiris and spiced negronis, or opt for one of the house spirits and ciders.
Truly leaning into the tiki theme, Surfside's interiors have had a complete design overhaul, with cane woven onto the walls and raffia chandeliers suspended overhead. A recent winner of OpenTable's Diners' Choice Award, and TripAdvisor's Travellers Choice for 2022, you'll still find the same laid back, welcoming feel that Surfside was loved for when it first opened in 2017.
Hoping to be surfside for summer 2023? May we suggest a stay at our modern retreat, Trelorna. Nestled onto the headland overloooking Polzeath Beach, its sea-view terrace, fun-filled games room and cedar-clad hot tub will be loved by holidaying families.
Hevva | Coverack, West Cornwall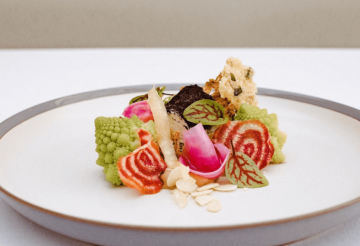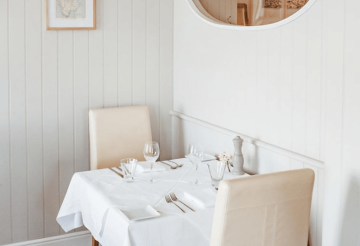 © Hevva via Instagram
What's new? One AA rosette.
Why visit? Bold flavours that stay true to Cornish roots.
It only takes one look at the menu to know that local produce is at the heart of Hevva, from the Coverack lobster and monkfish, to the Cornish strawberry tart and Falmouth Black Rock gin.
Part of The Bay Hotel on the west coast, this modern restaurant has recently been awarded an AA rosette in recognition for its culinary efforts. Open for dinner from Tuesday to Saturday, each dish is a visual masterpiece, with unique colours and textures providing a slice of Cornwall on every plate. With the ever-growing organic wine list in hand, choose from rich French reds, light Spanish whites and Chilean dessert varieties.
Hoping to stay nearby? One of our most popular homes, look no further than Compass Point in Coverack for an idyllic week by the sea. Complete with a sunken cedar hot tub and tiki bar, take advantage of select weeks remaining from March 2023.
The Conch | Downderry, South Cornwall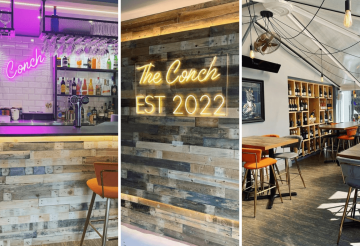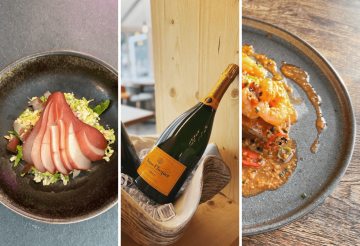 © The Conch via Instagram
What's new? A real win for the south coast.
Why visit? Great small plates and an extensive wine list.
Set on Cornwall's idyllic Rame Peninsula, The Conch opened its doors in June 2022. Perfectly placed for lunch after a walk on nearby Seaton or Downderry Beach, it's dog-friendly and provides the option for indoor or al fresco dining.
Outside on the sun terrace, choose from a dazzling selection of reds, whites and sparkling wines, or order the "Cuba to Kernow" cocktail - made with Wrecking Coast clotted cream gin, blue curacao and lemongrass syrup.
The food menu features seafood risotto, wild sea bass and cider battered haddock, or visit with friends to sample small plates like tiger prawns, grilled scallops or a smoked bacon terrine.
Hoping to stay nearby? A new addition to our own portfolio and a tempting base for a 2023 escape, Eden sits just up the road from The Conch, complete with an outdoor resistance pool and stunning views over the South Cornwall coastline.
Fallowfields | Housel Bay, West Cornwall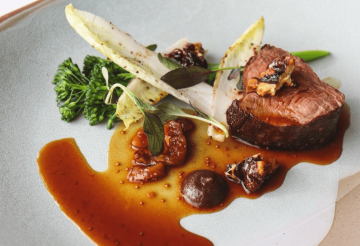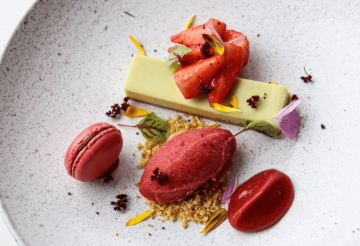 © Fallowfields via Instagram
What's new? Two AA rosettes.
Why visit? Elegant interiors, beautiful plating and themed supper clubs.
Tucked away on the Lizard Peninsula with head chef Joseph Fallowfield at the helm, this gorgeous restaurant champions the best of Cornwall's produce.
Now with two AA rosettes to its name, the autumn sample menu includes vodka cured brill, venison loin, a raw honey tart, and coffee with petit fours to finish.
With dates for 2023 soon to be released, Fallowfields' new "Supper Club" evenings promise something extra special for those wanting a true taste of Cornwall. An intimate affair with around 30 guests, meet the chefs and hear their inspiration behind each dish, while enjoying tailored wine pairings throughout the night.
And keep an eye out for…
Barnaby's at Trevibban Mill. Announced in an Instagram post in December 2022, this Padstow-based vineyard is set to welcome the delicious flavours of Barnaby's in a fun new pop-up coming May 2023.
And now for seven in Devon...
Brasserie at the Bay | Torquay, South Devon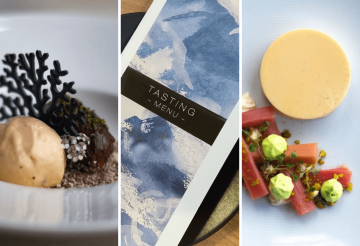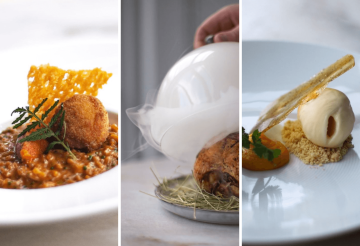 © Brasserie at the Bay via Instagram
What's new? Extended lunch hours from Tuesday to Saturday.
Why visit? For the vegan tasting menu.
This double-rosette-award-winning restaurant combines an intimate dining experience with exquisite produce from land and sea. Bringing with him a wealth of knowledge from the best fine dining restaurants in Devon - including Dartmouth's Seahorse and The Elephant in Torquay, chef Callum Tasker takes centre stage in the kitchen.
Now with extended opening hours for lunch from Tuesday to Saturday, turn to the assiette menu for gorgeous small plates like baby squid, crab arancini and Thai green mussels.
Vegan diners can delight with a specialised tasting menu, where cauliflower velouté, porcini and aged parmesan risotto, wild mushroom and truffle en croûte, and autumn apple crumble promise a spectacular fine dining experience.
And if you're hoping to visit Brasserie at the Bay again throughout the year, look forward to extra special menus for Sunday lunches, plus festive events across Christmas and New Year.
Twenty Seven | Kingsbridge, South Devon

What's new? Two AA rosettes for culinary excellence.
Why visit? The perfect juxtaposition: fast-paced fine dining in a sleepy South Devon town.
Said to have been fully booked every evening since the end of the pandemic, Twenty Seven is the brainchild of head chef Jamie Rogers. Now featured in the Michelin guide and storming into 2023 with two new titles under its belt (Food Drink Devon's Best Fine Dining Restaurant award and two AA rosettes), this Kingsbridge based restaurant comes highly recommended for its elevated cuisine.
The a la carte menu keeps Devonian produce at its core, with crab fresh off the boat in Dartmouth and lobster from Salcombe, best followed by the mandarin souffle or something sweet at the cocktail bar downstairs.
Rockfish | Topsham, Salcombe and Sidmouth, South Devon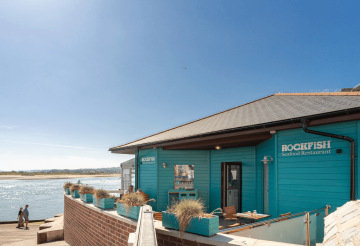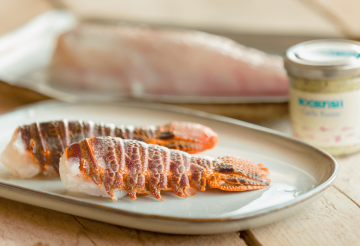 © Rockfish
What's new? Mitch Tonks plants roots in early 2023.
Why visit? Three new restaurants from a South West favourite.
With excited rumours of new openings flying around the South Devon food scene, Rockfish are set to make waves in 2023. As well as a new Salcombe restaurant which was announced this time last year, the seafood giant has now got its sights on Sidmouth and Topsham.
New restaurants will line the banks of the beautiful Exe Estuary, Batson Creek and Drill Hall, complete with the gorgeous views, fresh fish dishes and tempting tipples that are already loved in their eateries across the South West. While Rockfish is yet to confirm a launch date for all three restaurants, early 2023 promises exciting times ahead for hungry Devonians.
Menu favourites include salt and pepper calamari, vegetable tempura, firecracker prawn cocktail and Lyme Bay mussels in garlic oil.
Trevilder | Thurlestone, South Devon

What's new? Recommended by The Restaurant Guide 2023.
Why visit? Impeccable service and beautiful desserts.
From torched mackerel and Dartmoor partridge to poached pears and chocolate delice, Trevilder's exciting menu promises culinary delight around every corner. Featuring in The Restaurant Guide for 2023, its creative food and dress to impress atmosphere make it one of Devon's favourites.
Whether it's a beautifully plated starter, a main meal combining bold and unexpected flavours, or a dainty dessert that packs a citrussy punch, avid foodies won't be disappointed.
Seacliff | Ilfracombe, North Devon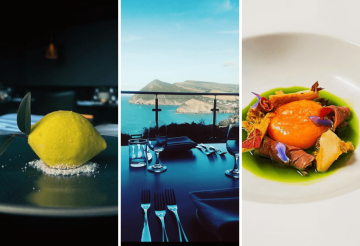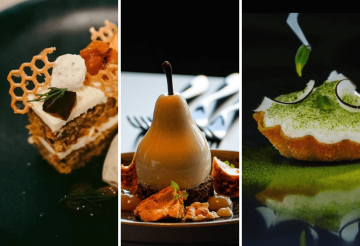 © Seacliff via Instagram
What's new? Three AA rosettes.
Why visit? Book for their starters and stay for dessert.
Based out of Sandy Cove Hotel in North Devon, this gorgeous sea-view restaurant is a worthy addition to 2023's fine dining bucket list. Now with three AA rosettes to its name and not far from Ilfracombe Harbour, it looks out over Sandy Bay and out towards Wild Pear Beach.
When it's time to dine, Seacliff's starter menu alone is enough to entice meat-eaters, seafood fans and vegetarians alike. It features dishes like hand dived scallops with crispy chicken, celeriac and truffle, plus ewe's curd and ash ravioli, served with Jeruselem artichoke and hen-of-the-wood mushrooms.
For those with a sweet tooth, look no further than the custard bavarois with mulled winter fruits, gingerbread and honey to warm up a winter's evening.
Soar Mill Cove | Salcombe, South Devon

What's new? Two AA rosettes.
Why visit? A great option for families.
Torbay sole, beetroot risotto and West Country rib eye steak await eager diners at this beautiful sea-view restaurant in Salcombe, South Devon. Part of the Soar Mill Cove Hotel, the evening menu is served between 6 and 9pm and open to non-residents.
Head Chef Ian MacDonald was proud to take home two AA rosettes in 2022, receiving high praise for his creative "family magic" menu. As well as a tempting "from the cellar" wine list, there's a handful of sides and desserts to tempt holidaying foodies, plus a dedicated children's menu that caters for smaller appetites.
Hoping to stay nearby? With access to Salcombe Harbour Spa's leisure facilities included as part of your stay, our property Waterside combines breath-taking estuary views with nautical interiors and sleeps up to eight guests.
The White Hart | The Dartington Estate near Totnes, South Devon

What's new? Chef Adam Page and a Sustainable Restaurant Association star.
Why visit? To dine in a "feasting hall steeped in Medieval history".
With a sample menu that features 28-day aged steaks, wild mushroom tagliatelle and Spanish-style chickpea stew, this oh-so-British establishment promises feel-good food in a spectacular setting.
Following a stint at another of our favourite Devon restaurants - The Burgh Island Hotel in Bigbury-on-Sea - chef Adam Page works hard to celebrate local produce in every dish.
Part of the wider Dartington Estate, summertime here means a tree-lined haven for families to relax in the great outdoors; a place where parents can enjoy chilled pints on the Great Lawn as little ones run wild. Now the proud owner of a Sustainable Restaurant Association star, and with some further interior upgrades still in the pipeline for next year, this is a must-visit spot for foodie families.
Planning a 2023 getaway?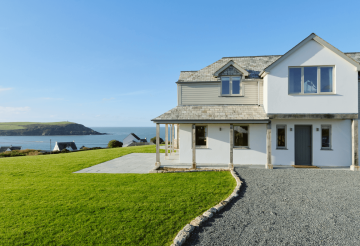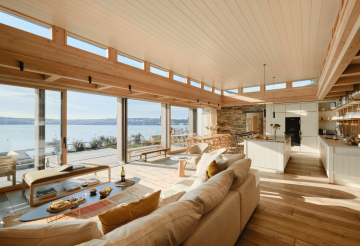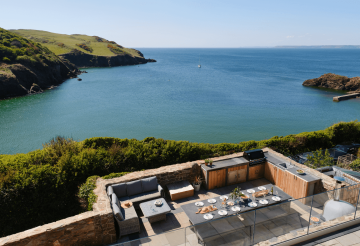 Left: Brynia in Daymer Bay | Middle: Ferryside in Rock | Right: Tamarisks in Hope Cove.
If you'd like to make a break for Cornwall or Devon in 2023, take a look at our collection of luxury homes, or get in touch with our Property Advisors for tailored property recommendations. Then, with your stay all booked in, turn to our Concierge team for local expertise. Covering everything from restaurant reservations and dog-sitting to family-friendly days out, they're on hand to make your time in the South West extra special, all included within your booking.
Reach us on 01208 895 570 or info@perfectstays.co.uk.

Image credits: Kieran Brimson for Walter's on the Beach (including main image) | Robin Markland, Emily Marcovecchio and Kevin Gitsham for Mine | Mix | Rockfish | Springtide via Instagram | Hevva via Instagram | The Conch via Instagram | Brasserie at the Bay via Instagram | Seacliff via Instagram | Fallowfields via Instagram. All other images are our own.