From the Blog
The five best dog walks in and around Mawgan Porth
Posted by
Sophie Hesp
on
Updated on
Plus dog-friendly pit-stops along the way
Loved for its breath-taking scenery, sandy beach and local eateries that line its steep headlands, Mawgan Porth in North Cornwall is a dog's best friend. With Newquay to the south and Porthcothan sitting above, it's a must-visit for dog walks in Cornwall, and has plenty to offer four-legged friends while on holiday.
To narrow down the search for dog-friendly walks in and around Mawgan Porth, we've rounded up our top five:


1. Mawgan Porth Beach to Bedruthan Steps

How far? 2 miles each way
How difficult? Easy, with some hills
Full dog walk: Details here
What's on the way? Carnewas Tea Room is well worth stopping by for jam-first cream teas in their dog-friendly garden.
What makes it good for dogs? The walk starts and ends on Mawgan Porth Beach, so for dogs who need tiring out, miles of golden paradise awaits.
Bear in mind: Being on the South West Coast Path, some of the route covers high clifftops, so dogs will need to be closely supervised.
Having parked up in the nearby village car park, or at one of our luxury holiday homes in Mawgan Porth, start this route by heading straight for the sand. Mawgan Porth is one of Cornwall's best dog-friendly beaches for many reasons – there's a shallow stream for dogs to splash around in, the bay is generally quite sheltered thanks to the towering headlands that frame it, and it reveals a huge expanse of beautiful golden sand at low tide.
Keeping to the right-hand side of the beach, you'll soon notice the South West Coast Path emerging up ahead. Take the path and begin to climb with the sea on your left. As you curve around the coastline, it won't be long until you're greeted by stunning views across to Trenance Point and Carnewas Island in the distance. A great walk for bird-lovers and wildlife enthusiasts, you'll be surrounded by vibrant yellow gorse, soft purple heather and a carpet of wildflowers.
Reaching the end of the mostly uphill outward journey, the path flattens into the National Trust car park. Stop here to give thirsty pups a well-earned drink and a bite to eat at Carnewas Tea Room, or march on to be rewarded as the towering rock formations of Bedruthan Steps come into view. Having played a key part in the mining of copper, iron and lead, the buildings surrounding the steps, like the shop and café, were once the original Carnewas Mine offices and count houses during the 19th century.
This is widely considered one of the best National Trust trails with a café nearby. On good weather days, longer stints can be enjoyed further along the coast path towards Park Head and Porth Mear, but if you're looking for a straight-forward 'out and back' route, turn around and enjoy the downhill amble that'll land you on Mawgan Porth Beach.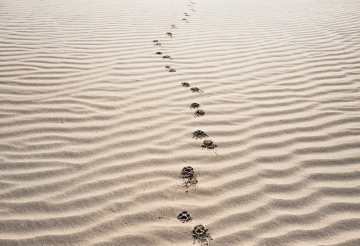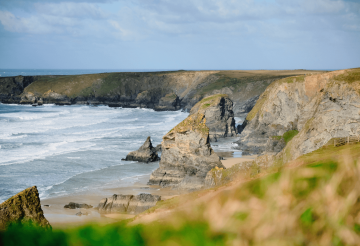 2. Mawgan Porth to St Mawgan circular

How far? 4.3 miles
How difficult? Easy
Full dog walk: Details here
What's on the way? Cornish Fresh sells hot homemade pasties to fuel walkers on their adventures.
What makes it good for dogs? There are streams every so often to cool down tired paws if you're walking in the warmer months.
Bear in mind: There's the occasional stile to navigate.
An idyllic walk that's best enjoyed in the spring, this beginner's grade route starts out from Mawgan Porth. Taking the small lane signposted 'Mawgan', follow the road until a bridleway sits on your left, then follow it until it joins a junction. Here, cross to the track just opposite as it stretches past a row of buildings, and you'll soon see a foot path twisting to the right.
Take a moment to notice the abundance of flora and fauna that line the way, from dainty-looking hawthorns to eye-catching lichen. As the route goes on, you'll pass through churchyards, navigate the occasional stile and cross foot bridges as they arch above the River Menalhyl. There are sections of the river that are easily accessible every mile or so, providing plenty of opportunities for cooling off tired pups along the way.
A must-visit if you're staying in Mawgan Porth this summer is Cornish Fresh. Ideal for either picking up snack supplies as you head off on your walk, or for a wood fired pizza reward at the end, it's perfectly positioned in the Mawgan Porth valley and a stone's throw from the beach.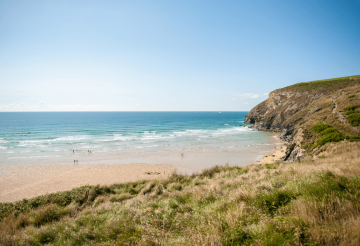 3. Park Head, Pentire Steps and Porthcothan Beach

How far? 4.5 miles
How difficult? Moderate
Full dog walk: Details here
What's on the way? Pop into Porthcothan Bay Stores to pick up everything you'll need for a beach picnic reward. Children will love the Roskilly's ice cream counter or choosing fresh Chough Bakery pastries.
What makes it good for dogs? With not a seasonal dog ban to be seen, Porthcothan Beach is a haven for dogs, with endless rockpools and caves to explore.
Bear in mind: Porthcothan Bay stores is usually open from April to October, so this walk is best enjoyed in the summer months.
The perfect walk to accompany a stay at dog-friendly Noordhoek, Roscarrock or Seastar, this route starts out from the South West Coast Path, accessed on the far right-hand side of the beach. The path curls up and around the headland, with crashing waves on the left and a dreamy expanse of pawprint-dotted sand down below.
Before long, you'll descend slightly into Porth Mear, following the stream and crossing it at the bottom. Track the path as it climbs back out of the valley and towards Park Head. An iron age fort set against the headland and dating back over 2,000 years, it'll be a welcome sight for keen historians.
Still following the coast path as it laces through fields and tumbledown walls, you'll then pass gorgeous coastal sites like Diggory's Island, Pentire Steps, Pendarves Point and Bedruthan – a Site of Special Scientific Interest. Carrying on around Trenance Point, enjoy the gentle up-and-down route as it descends gradually towards Mawgan Porth Beach.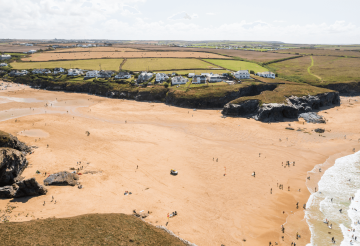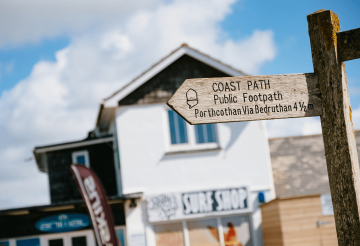 4. Watergate Bay to Mawgan Porth via Beacon Cove

How far? 4.7 miles
How difficult? Moderate
Full dog walk: Details here
What's on the way? The Beach Hut at Watergate Bay. Serving lunch from midday, their selection of small plates, salads and seafood dishes are the perfect tonic for coast path-weary walkers.
What makes it good for dogs? A few steep hills will be the perfect challenge for energetic breeds.
Bear in mind: Dogs will be better on leads due to grazing livestock.
Watergate Bay – our starting point for this spectacular coastal route – comes high on the list of dog-friendly pockets in Cornwall. Welcoming dogs year-round, it's long enough that there's plenty to explore even on busier weekends, and being surrounded by lovely local cafés, restaurants and pop-ups makes it great for group walks.
Setting off from the South West Coast Path that runs just above the beach, leave Watergate behind and before long, you'll reach Bre-Pen – a National Trust-owned working farm with sweeping sea views. Turning back to check your progress, soak up the crashing waves and shimmering reflections of the hilltop homes of Newquay, far in the distance.
Moving towards slightly more mountainous terrain, the landscape here is undeniably Cornish. Dogs on leads will love exploring the luscious green paths up ahead, while turquoise waters lap against the shore. Crossing over a wooden foot bridge, Beacon Cove will soon be within sight. Best admired from above, this secluded beach is small in size but makes up for it in 'wow' factor.
Entering Mawgan Porth with the ocean on your left and the beach straight in front, walkers will be promised incredible views to end the route.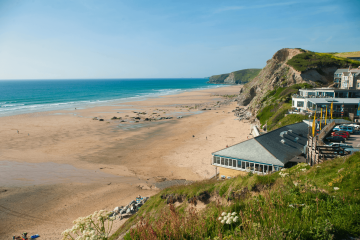 5. Carnanton Woods Walk

How far? 2.9 miles
How difficult? Easy
Full dog walk: Details here
What's on the way? Dog-friendly seafood restaurant Catch awaits back in the village.
What makes it good for dogs? For dogs that prefer quieter, shady walks, this one's just as relaxing for owners as it is for four-legged friends.
Bear in mind: You'll need to drive to the car park.
For dogs who'd choose shady forests over sun-kissed sands, the Carnaton Woods Walk won't disappoint. Set off from the car park near St Mawgan to discover the forested banks of the River Menalhyl while four-legged friends run on ahead.
Begin by heading south-east through the forest and following the track that runs alongside the river. At the end of the path, it turns slightly hilly and before long you'll reach a clearing amongst the trees. A great spot to throw sticks and play chase, rest a while here before turning around and heading back for the car.
With the mud dried off and tails wagging, make a beeline for Catch, a seafood restaurant that sits just opposite the beach back in Mawgan Porth.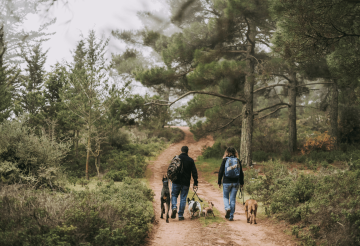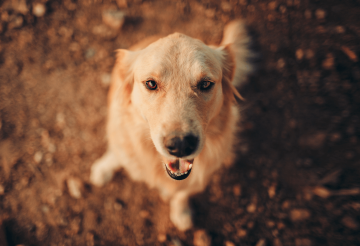 Where to stay nearby?
If you're tempted to make a week of it and book a stay in Mawgan Porth, you'll find plenty of inspiration on our website. Like the recently re-launched Headlands, many of our holiday homes are dog-friendly, and have gorgeous sea views and sunken hot tubs to enjoy after days on the coast.
Now welcoming guests for 2023, Headlands also enjoys direct access onto Mawgan Porth Beach – perfect for dog-friendly getaways.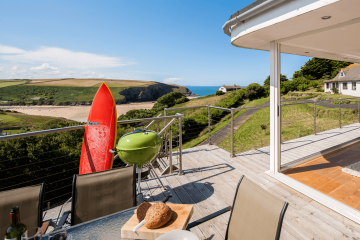 More in Mawgan Porth
See a full list of our luxury holiday homes in Mawgan Porth. Our Property Advisors are the local experts – to start planning your staycation, get in touch on 01208 895 570 or info@perfectstays.co.uk.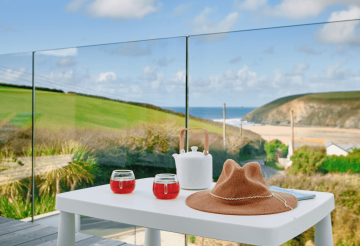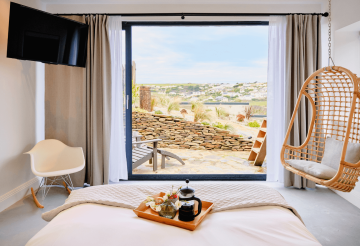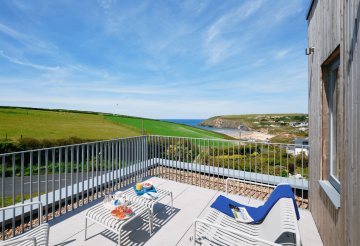 Left: The Lookout | Middle: The Hideout | Right: Prennek House (all dog-friendly)
Image credits: Watergate Bay image © Adam Gibbard via Visit Cornwall | Carnanton Woods Walk and 'pawprints on sand' images via Pexels | All other images are our own.