From the Blog
Behind the look: explore the interiors of our unique Padstow hideaway
Posted by
Bethany Walton
on
Updated on
We talk to Mint House about Harbour Walk's dreamy interiors
Nestled away in the heart of Padstow lies a truly enchanting and unique home. Having recently undergone a complete interior redesign, Harbour Walk beautifully combines the house's original features with soft coastal touches and modern furnishings. Behind Harbour Walk's beautiful scheme, our friends over at Mint House are a Cornwall based interior design company who take their inspiration from the surrounding coast and laid back Cornish lifestyle. Their distinctive style radiates charm and informal luxury from every corner, while their service is bespoke, friendly, and intuitive.
Taking on Harbour Walk from the very beginning of its redesign, Mint House transformed an old mill cottage into a spacious and luxurious coastal haven. Now one of our most sought-after properties, we spoke with Caroline Saulsbury, one of Mint House's co-founders, to discover the inspiration and design process.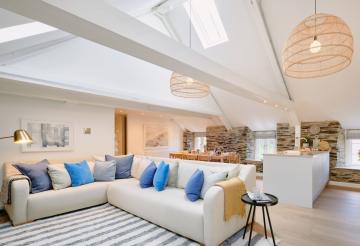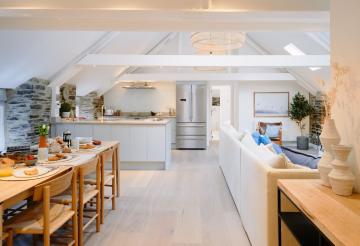 How did you come up with the style for Harbour Walk?
We wanted the interiors to feel inviting, relaxing, and luxurious so chose tactile fabrics, understated colour schemes, and added in timeless pieces of furniture.
There are subtle nods towards its coastal location, and it was important that the character of the building was retained by exposing the original stone walls and keeping its quirky details.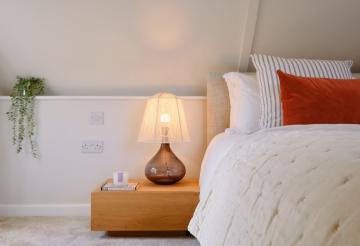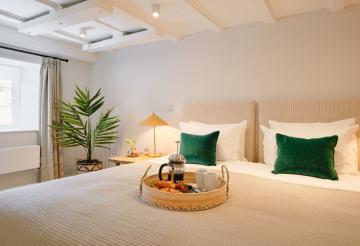 The stone walls and sloping eaves instantly make the house feel cosy, plus the low-slung leather armchairs and sumptuous sofa make the living areas instantly sociable, with plenty of room for people to spread out and break away.
We love: the subtle pops of colour in each bedroom, from the coral cushions in the master to the deep green touches in bedroom four.
Do you have a favourite part of the design?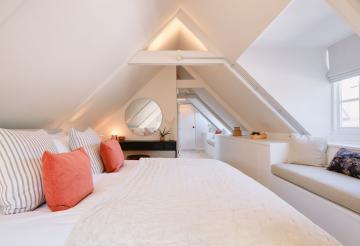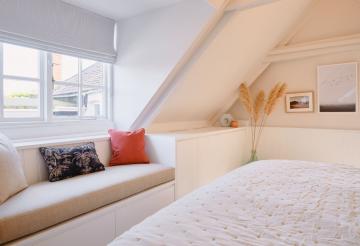 We loved designing the master bedroom, incorporating a walk-in wardrobe, ensuite bathroom and bespoke built-in joinery made perfect window seating nooks. The paired back colour scheme and furnishings gave it a relaxing feel. It was quite a transformation from how it looked originally, to the refined space it is now.
Taking up the majority of the third floor, the master bedroom is a beautiful, calming space. The low ceilings and wooden beams are reminiscent of countryside cottages, while the large walk-in wardrobe and waterfall shower ensuite make it a spacious and luxurious room to relax in after a busy day exploring Padstow and the surrounding north coast.
What are the key elements of your design that make Harbour Walk work as a successful holiday home?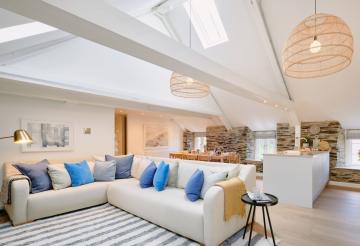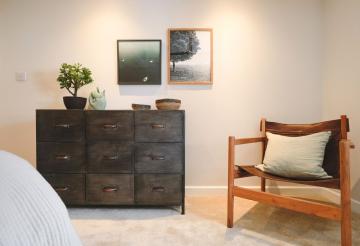 From a practical point of view, we made sure it had a functional layout that could comfortably accommodate eight guests. We chose quality furnishings that are built to last and withstand all the sand and fun that normally come with a family holiday. We think the guests enjoy the laid back luxury and the thoughtful details in the décor.
We love: the handy nook by the front door, perfect for hanging coats after wintery walks around Padstow. Plus, the utlity room on the ground floor features a raised dog shower, making it easy to wash off sandy paws after days on the beach. These carefully considered touches make Harbour Walk easy to live in as a holiday guest and ensures everyone feels at home and comfortable.
How do you choose the right interior pieces for a room?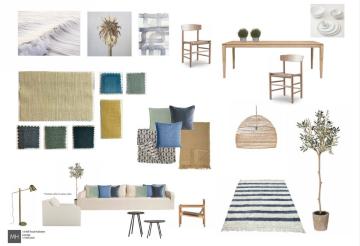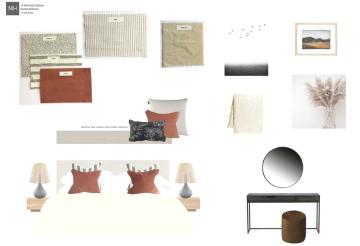 © Mint House Interiors
Firstly, you make sure everything will fit in the space. Planning your layout is so important before you begin choosing furniture, and it gives you a plan of what to look for in terms of measurements.
Secondly, when it comes to style, you need to think of the house as a whole, so that you end up with a cohesive look throughout. Collecting images and samples of things you like and putting them together on a board will help you see what style you're drawn towards and then give you a style guide to refer to when you're considering what pieces to buy.
What tips would you give somebody who'd like to bring a little of Harbour Walk's style into their own home?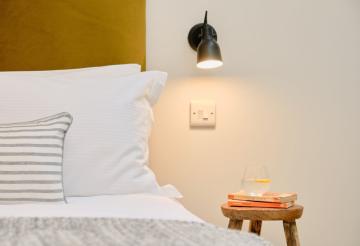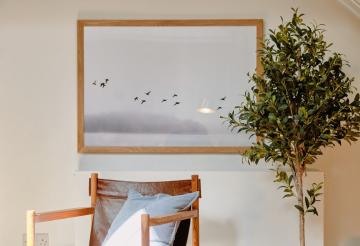 Create a relaxed look using calming, harmonious colours and include lots of natural woods and finishes. Also, make sure everything feels lovely to touch and include the occasional striped pattern.
We love: the small touches like the vintage Penguin Classics stacked up in bedroom two, the rattan lampshades in the living room and the coastal inspired prints throughout, which are easy to replicate and match with your home.
Mint House have kindly gifted our readers a discount code to use in their online shop, making it easy to add your favourite touches to your own space. Shop the Harbour Walk look here and use the code HARBOUR10 at the checkout for 10% off your basket.
And lastly, what interior trends should people keep an eye out for in 2022?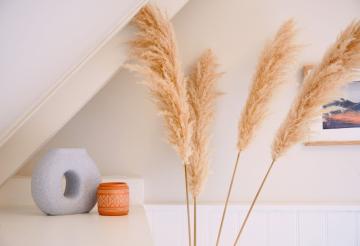 We're definitely seeing soft textured fabrics, such as boucle being used in new furnishing collections. After us all spending so much more time at home during lockdown, it has encouraged us to make our homes cosy and comfortable.
Also, bringing more plants in to the home is a continuing trend, but if you have the space, then trees are going to be seen inside too. Artificial plants and trees are becoming so realistic now that you don't have to worry about whether they'll get enough light and if anyone will remember to water them.
Throughout Harbour Walk, you can find dried pampas grass, artificial draping plants and small faux palm trees. These little additions make the space feel serene while also softening and refreshing the space – take a look at Mint House's plants here.
Secure your next getaway...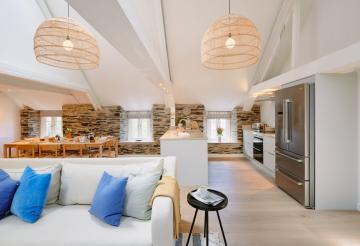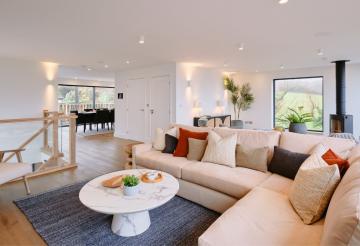 Left: Harbour Walk. Right: Tater Du.
With the full video for Harbour Walk now ready to view online, take a virtual walk around and fall in love with its charm. Gather everyone together for delicious breakfasts in the dining room, settle in for evenings in front of the roaring wood burner or step out the front door and be in the centre of Padstow within minutes. Available for select bookings from April, take a closer look around and secure your 2022 stay at Harbour Walk.
…or let us tempt you with a stay at Tater Du, in Harlyn Bay. One of our new additions to our portfolio and also designed by Mint House, Tater Du is a contemporary coastal retreat in walking distance of one of North Cornwall's most-loved family beaches. Styled in muted pinks and soft greens, sink into the candy-striped armchairs and watch the waves crash in the distance or gather everyone together for supper on the sunny terrace.
Book online or call our Property Advisors on 01208 895 570
Where to find Mint House: Instagram | Facebook | Website
For more interiors inspiration, head to over to our Pinterest
Image credits: mood boards courtesy of Mint House Interiors | All other photography is our own.
Featured in this post
Padstow, Cornwall
Sleeps: 8
Bedrooms: 4 i
Bathrooms: 4
Tucked away in an enviable position just moments from Padstow's much-loved fishing harbour, Harbour Walk is an idyllic retreat for families, couples and groups of friends. Dog-friendly and newly renovated to a high specification, this four bedroom home perfectly pairs stylish interiors with charming character features. The sociable open plan kitchen, dining and living area offers the perfect space to enjoy time together in front of the wood burner, while children will love movie nights in the mezzanine snug.
Dog Friendly
Sea Views
EV Charger
Hot Tub
Swimming Pool
Games/TV Room
Harlyn Bay, Cornwall
Sleeps: 8 - 10
Bedrooms: 4 i
Bathrooms: 3
Located in the heart of Harlyn Bay and minutes from the beach, this Scandi-inspired home is an idyllic retreat for families and groups of friends year-round. Newly built and finished to the highest spec, Tater Du features four beautiful bedrooms, an irresistible outdoor hot tub and a sea-view terrace.
Dog Friendly
Sea Views
EV Charger
Hot Tub
Swimming Pool
Games/TV Room