From the Blog
Your foodie guide to Devon with celebrity chef Mitch Tonks
Posted by
Sophie Hesp
on
Updated on
Sustainable seafood and the perfect Devon day out
Owner of Devon and Dorset's go-to establishment for fresh, sustainable seafood, this week we caught up with Rockfish restaurateur, Mitch Tonks. An award-winning celebrity chef and cookery writer, Mitch combines his passion for food with a love of the South West. Amongst his achievements are two 'Best Independent Restaurant' awards for Rockfish, a 'Best Fish Book' title for Fresh and an inclusion in The Caterer's 'Top 100 Most Influential Foodies' list.
A South Devon local with plenty of insight, we asked Mitch for an insider's take on life and work by the water. Here's your foodie guide:
What do you think makes the South West such a special place?
"I used to visit here as a child in the holidays and it has always been a special place for the seaside, the water activities, the fishing. It's a stunning location, the coastal views and walks, the ocean, the space and lack of big cities. I always wanted to come back, it was a dream and it's come true!"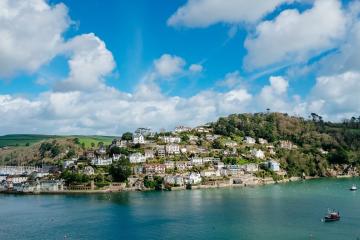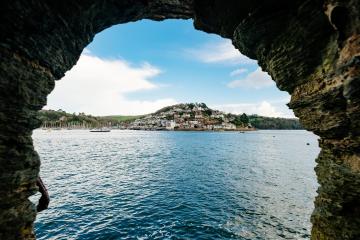 You have 24 hours in Devon to spend however you'd like - give us a quick itinerary
"I love getting up early. I'd take the dog for a walk and take a dip in the sea near where I live in Brixham, whatever the weather. I love going to Brixham Fish Market and seeing what has landed. The auction and buying is all complete before 7am, then I take a brandy and piece of fish and eat it grilled, whilst chatting to the fishermen.
Then it would have to be an afternoon on my boat, I'd sail up the river to Dittisham and enjoy a crab lunch at The Anchorstone, or sail round the bay and just moor up in a quiet cove and read. If there was time I'd sail round to Plymouth, the waterfront there is just superb and arriving by boat is the best. I'd probably finish the day with a few beers from Salcombe Brewery and then supper on the deck at Rockfish overlooking the sound."

Rockfish is considered one of the best sustainable dining spots in the South West, how do you make sure your fish stays fresh and local?
"Sustainability is all about ensuring we do not fish a species beyond the levels at which it can reproduce and maintain healthy stock levels. The fish we serve at Rockfish is caught on our own boat, Rockfisher, and others from the Brixham fishing fleet who land daily at Brixham Fish Market. Fishing here is highly controlled by quotas (the amount of fish you can catch), engine and gear size, and a limit on the days at sea a boat can spend.
All the seafood we serve is local - caught and served to you within hours. We use MSC certified species if there's an option to do so. The Marine Stewardship Council work with independent scientists and fishermen to assess stock levels - their process to accreditation is rigorous and requires regular verification.
The fisheries of the South West are a positive example of progress. In comparison to the massive fishing efforts around the world, our British fleet is pretty small. When all the boats are in the harbour at Brixham, you realise just how small scale the industry really is. I speak to fisherman and trawler owners in my daily life. They're an innovative bunch of people and I'm always fascinated by their resilience, ingenuity and their commitment to doing the right things. When you take all this into account, my simple advice to people is to confidently buy British caught seafood."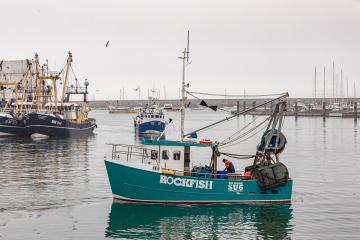 What can foodies expect from a holiday in Devon?
"There's so much to experience and enjoy - from picking up a baguette from the local bakery to take on a boat for a lovely beach picnic, to eating out and enjoying the best local seafood on the planet that's been caught that day.
A must try is Dartmouth crab and local native lobster, plus local mussels and Brixham scallops roasted in their shells with garlic butter. You can eat in the restaurants or buy from our seafood market and take it back to cook at your holiday home.
Devon is packed with great award-winning cafés and restaurants, I think if you're visiting, finding a place overlooking the water is key - it's part of the holiday experience. You've got to try a Devon cream tea before you leave too. Cream first. Then jam. Always."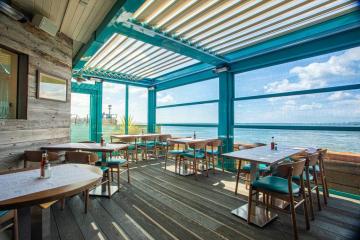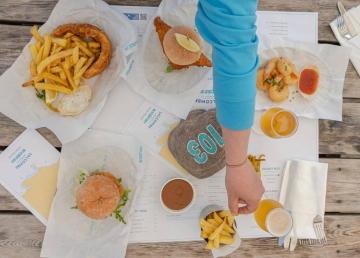 Dartmouth Food Festival is back in October. Can you give our readers some insight about this year's event?
"This event is my favourite food festival - the town comes alive, it's by the water and we have the broad embankment which lends itself to a festival. We always have a bunch of our chef friends coming to visit during that time. The line-up will be announced soon but as well as the restaurants, there will be street food, stalls, pop-up bars and demos, great kids' cookery and talks.
After the last year's challenges, it's great to support all these people, all the independent producers and suppliers. Come along and see why it's so good."

What's next for Rockfish – any new restaurant openings?
"We've got exciting plans coming up very soon to launch fresh delivery of seafood nationwide to people's doors. We had Experience Boxes during lockdown and it gave us the realization we can do something much bigger and we are! More details coming soon but you can sign up and be the first to hear.
And a new restaurant! Salcombe Restaurant is coming spring 2022 - a beautiful 100 seater restaurant overlooking Batson Creek."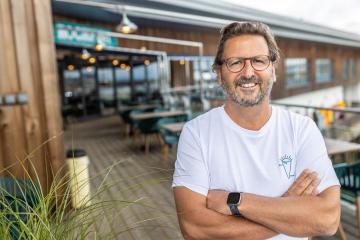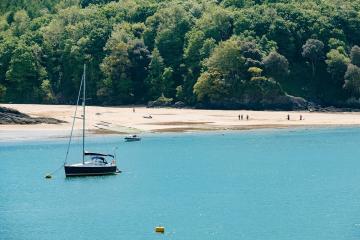 Featured in this post
Salcombe, Devon
Sleeps: 6 - 8
Bedrooms: 3 i
Bathrooms: 3
Set right on the water's edge and featuring a cinema room plus three coastal inspired bedrooms, Waterside enjoys sensational views over the Salcombe Estuary. The elevated terrace and open plan living space invite sociable evenings with friends and family, while the beautiful beach at Mill Bay sits just across the water.
Dog Friendly
Sea Views
EV Charger
Hot Tub
Swimming Pool
Games/TV Room
Bigbury-on-Sea, Devon
Sleeps: 12
Bedrooms: 6 i
Bathrooms: 6
Overlooking the iconic Burgh Island from its enviable position on the South Devon coast, Avocet features six beautifully styled bedrooms, a bubbling hot tub and a large enclosed garden. Children will love playing on the lawn after dinner while adults relax on the sea-view swing set.
Dog Friendly
Sea Views
EV Charger
Hot Tub
Swimming Pool
Games/TV Room
Hope Cove, Devon
Sleeps: 14 - 16
Bedrooms: 8 i
Bathrooms: 6
A real coastal haven, this large and luxurious home enjoys jaw-dropping views over the golden sands of Hope Cove Beach and the glistening sea beyond. Indulge in sunny lunches on the wraparound terrace or play games with the little ones in the secure garden. Just a short drive to the foodie town of Salcombe, it's the perfect base to explore the wonderful South Devon coast.
Dog Friendly
Sea Views
EV Charger
Hot Tub
Swimming Pool
Games/TV Room