From the Blog
Noordhoek in Porthcothan | A dream coastal home with a "guest to owner" story
Posted by
Sophie Hesp
on
Updated on
Meet Lisa McGrath, owner of Noordhoek
Noordhoek is a majestic home like no other on Cornwall's north coast. The golden sands of Porthcothan lie a mere pebble's throw away, and every aspect of this beachside gem has been designed with its enviable location in mind.
Edged in glass and stone, Noordhoek's grand form impresses all who see it for the first time. Stepping inside, spacious social areas, mesmerising sea views, and striking architecture adorn every turn. Not only is the house visually captivating, it also boasts eco-credentials seldom found in the area. We caught up with owner Lisa McGrath to learn how Noordhoek came to be.

You began your journey as a Perfect Stays guest, what can you tell us about your experience?
We first visited Cornwall 15 years ago, when our son Finn was a baby, having never holidayed there before. We instantly fell in love with the place. Our relationship with Perfect Stays began back then as we booked solely at their properties across North Cornwall. We stayed mostly in Mawgan Porth, but also in Porthcothan, Porth and Padstow, every May and October half term and for a couple of weeks during the summer too.
The team would come out and do personal visits, show us around the house and explain how everything worked. We built up a great relationship during that time and gained an understanding of how the company works. I never thought that one day we'd be lucky enough to buy our own house, but we knew from the beginning that we would work with Perfect Stays.

What drew you to Porthcothan?
We fell in love with Porthcothan relatively early on. We'd been looking seriously at buying a property for a number of years and visited many places along the north coast in search of the right plot. Eventually, we found the piece of land upon which we would build Noordhoek. It's unusual to find sea-fronting plots for sale, especially one acre of land so close to the beach. There was a little house on the land originally, owned by an elderly gentleman whose father had built it.
It was completely overgrown, with tamarisks obscuring most of the land. We fell in love with the place – the location was perfect, and we found it at just the right time. Porthcothan is perhaps one of the lesser-known beaches along this stretch of coastline and is simply beautiful, particularly when the tide is out and the stunning array of rocks are revealed.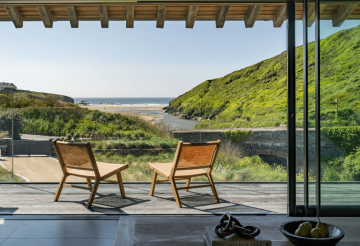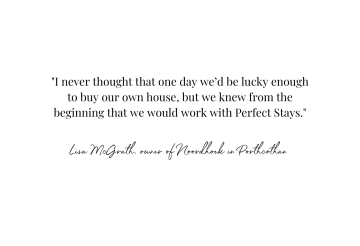 What were your initial steps when designing Noordhoek?
We had a strong concept in mind, having spent many years thinking about a potential building project. We were very clear about our desire to create a family-friendly beach house which would optimise the amazing location and lend itself to the beautiful surroundings. The upside-down living arrangement was a key element of the design concept, facilitating views of the sea from the living space. It was important for it to be a place you could run back into from the sea.
Above all, we wanted it to be a functional home, practical and no-nonsense.We worked closely with the brilliant team at CFD Architects to make our vision become a reality.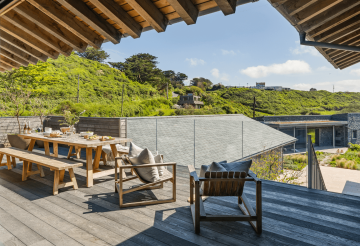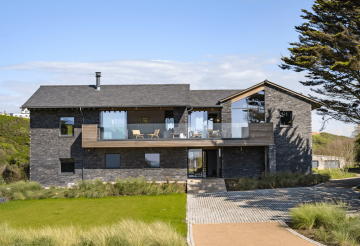 What was your vision for the design?
In terms of design, we were very clear about wanting to build something that both fitted in with the local landscape and reflected the natural beauty of the area. From the outset, we were passionate about using Cornish materials and craftsmen and the extensive use of local stone, both on the house and in the garden, has created an overall feel of a modern collection of Cornish farm-style buildings.
We were also very determined to utilise green technology as far as possible, and we're proud to have developed a highly energy-efficient building, complete with a borehole, a ground source heat pump and solar panels, amongst other environmentally-friendly adaptations. The borehole, something of a rarity in this area, provides the home with almost all of its water, and during the summer months, most of our energy is derived from the solar panels.
Of equal importance was the outside space. Having grown up in Cape Town, my husband was very keen to optimise the outside living and dining space, and we have a large indoor-meets-outdoor barbeque space as a result, enabling us to dine al fresco year-round. We have spent many a night eating there and then retiring to the seating around the fire pit to stargaze.
Our brilliant garden designer, Sam Ovens, was responsible for developing a planting scheme which would bring together the outside and inside spaces beautifully. Sam also recommended the grass and plants for the outside areas, all of which can take a battering from the coastal conditions.
Throughout the design process, our architects worked hand in hand with the incredible team at Coastal Construction. They knew exactly what materials worked by the sea. The wonderful stone we used weathers beautifully and has an organic feel to it.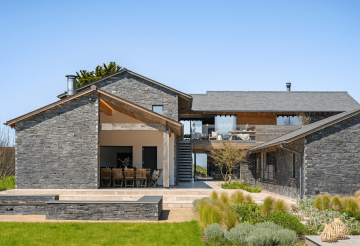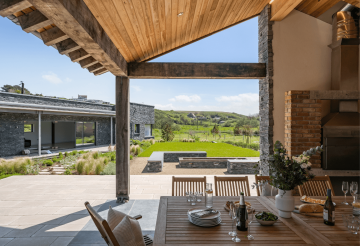 How did you approach Noordhoek's interiors?
I'm very passionate about interiors - and the joy of having a blank canvas in such an amazing location was incredibly exciting. I was very clear in terms of the spaces I wanted to create and was always asking myself how people would want to use the house. We have been great travellers over the years and I have gained inspiration for both living spaces and how they might be decorated from many of our trips.
The kitchen and dining areas were always going to be very important in terms of gathering everyone together, whilst enabling people to spill out and find their own space. Guests can relax on the balcony, enjoy a drink in the bar area or do a crossword in the snug. We have often holidayed as an extended family with a diverse age range, and it was key to take everyone's needs into account when designing the interiors. I was keen to avoid the issue of noise created in very large spaces, hence why we created a quieter lounge off the main upstairs area.
The front and rear balconies are both sizeable and we love to spend the morning with a coffee on the rear balcony, making the most of the sun coming up. Towards the end of the day, the front balcony provides the most amazing space to watch the sun disappear. As both areas are integral to the kitchen and dining area, it's possible for someone to be cooking and to still feel a part of the family - nobody wants to miss out on the fun whilst preparing dinner! There's also a joy in having a huge walk-in pantry - it provides endless space for food and drink storage.
The games room was another important consideration, particularly for our teenage son when his friends come and visit. Meanwhile, having a sizeable wet room meant it was perfect for lots of people returning to the house straight from the beach, either with wetsuits and surfboards in the summer, or from muddy walks around Christmas time.
Throughout the build, we worked with our talented team of architects, builders, and Coast Creative Joinery, who did the most amazing job. An ongoing dialogue with Perfect Stays meant that we received the best advice, such as creating an en-suite for every bedroom.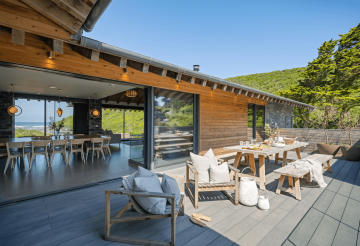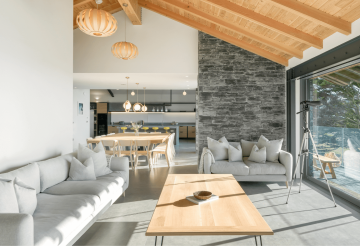 How did you choose the furnishings?
We are travellers, and I've been collecting things over the years from our travels. I had throws and blankets that I knew would fit right in with the feel of the house. We really shopped around too for items that were durable, including reconditioned furniture. We wanted to keep things simple though, ensuring the house remained functional without too much clutter.
The challenge with really big spaces is knowing how to fill them. I'd ask myself, "What would I do there? How would I use this space?" You can spill out into every room. My dad comes down and loves to relax in the hallway seating area with a morning coffee. It's lovely there with the light coming in and the view of the courtyard. Every space is used.
Nothing is ever finished, though, and the house is always evolving. While I had a very specific style in mind, in the end, it's the surroundings that speak. It was important not to go over the top and to keep it simple. You don't want to stay in a house that's filled with someone else's clutter.

How do you envisage the annex being used?
We had planning permission for the annex to be a pool room but realised that we would be unlikely to use it very much, being so close to the sea. One of the joys of being located so close to the ocean is going in it. It also felt that both pools and hot tubs weren't particularly environmentally-friendly. A stream runs along the length of the property, and we would have been very anxious about discharging any water into it.
We decided to retain the area as a studio space instead, which can be used for a number of functions, and we're happy to let it evolve over time. It's already been used as a pilates studio by ourselves and our Perfect Stays guests.

What was the greatest challenge of the build?
The Covid pandemic caused delays in the build, restrictions in us being able to visit, and increasing costs. Work had just begun when it broke out, and meant we couldn't visit for periods of time. The construction work continued, but we were, essentially, building a house at arm's length. Thankfully, the sense of 'team' was brilliant from everyone involved. We became very adept at using Zoom!
The design and build team really were superb in keeping communications on track and maintained a solution-focussed approach at all times. Despite not being on-site, we always felt involved. The overall build time was around two years.

Describe Noordhoek in three words.
Dream coastal home. We never thought we'd be lucky enough to build our own home in such a beautiful location. It's everything we had hoped it would be, and we're always noticing new things about it every time we come down, such as the flowers in bloom in the garden.

What's your favourite feature?
What I love more than anything about the interior of the house is the kitchen space and the pantry. I had such a clear vision of what I wanted and realising that part of the interior was amazing. As for the exterior, it would be the stonework, which is absolutely beautiful. For me, it's the best feature of the house and it was lovely to watch the craftsmen build it. It took them hours and hours to piece it all together – it's a real art.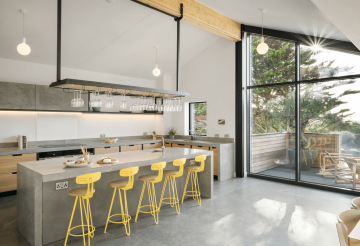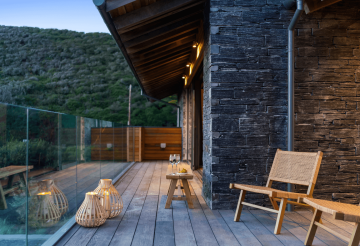 How would you describe your relationship with Perfect Stays?
We'd known Perfect Stays for a long time and had established a very trusting relationship, so there was never any doubt who we would turn to when it came to marketing our house. Everything about our previous experience with Perfect Stays worked for us, from the concierge service to their outstanding collection of houses and the support throughout the customer journey.
We have great confidence in them and knew they would do everything required to advertise the house. They also know the clientele and are very experienced in letting big houses. You can get protective over a house after spending a long time building it, so it's a relief to be able to walk away from Noordhoek and know that Perfect Stays will handle everything.
Of course, we also want guests to have a brilliant time, and Perfect Stays have the experience to deliver that. It's been a relationship built on 15 years of trust that has come full circle, and it's wonderful to be able to say that they're now managing our house.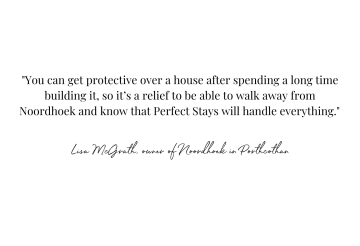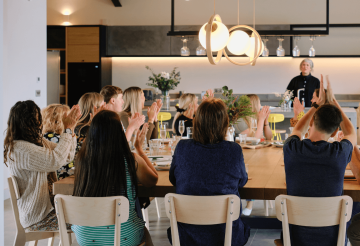 Book your stay
Noordhoek sleeps up to 16 guests, making it an unforgettable sociable setting for large get-togethers with family and friends. The sea lies seconds from the front door, promising coastal bliss for beach-lovers and their canine companions. Secure your retreat today.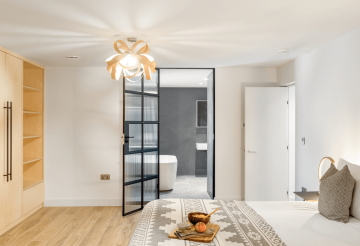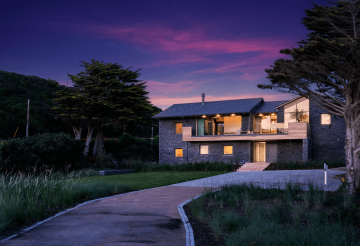 Image credits: All images are our own.
Featured in this post
Porthcothan, Cornwall
Sleeps: 12 - 16
Bedrooms: 6 i
Bathrooms: 7
Fronted in glass and Cornish stone, Noordhoek is a commanding eco-friendly retreat on the edge of Porthcothan Beach. With six ground floor bedrooms, a separate yoga studio, an outdoor kitchen and fire pit, it makes a sociable setting for large family get-togethers. Have your feet on the sand within seconds of leaving the house - beach-lovers and dogs will cherish every moment.
Dog Friendly
Sea Views
EV Charger
Hot Tub
Swimming Pool
Games/TV Room