From the Blog
Our Devon Christmas gift guide 2023
Posted by
Holly Brookes
on
Updated on
Gift your loved ones something special this Christmas
As thoughts of Christmas shopping scramble to the top of our agendas, we've put together a selection of our favourite Devon-based businesses to help you find a truly unique gift for your loved ones. From tasty tipples to fanciful interiors, here are some ideas to get your shopping list started.
Food and drink
1. Salcombe Gin Company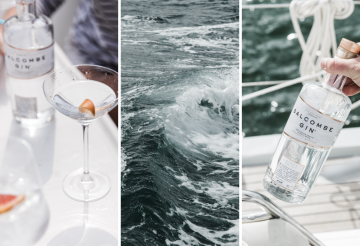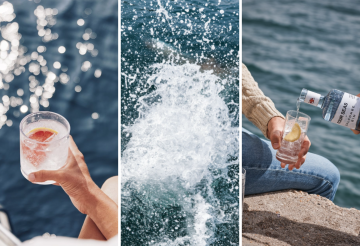 © Salcombe Gin Company via Instagram
Located on the banks of the Salcombe Estuary, this waterside distillery is home to a plethora of multi-award-winning curated coastal gins. Treat loved ones to a bottle of their flagship citrus infused gin and pair with smoked salmon and cream cheese canapés on Christmas morning. Alternatively, bottles selected from the limited edition range are encased in a sleek copper detailed box and come with a cocktail recipe card, adding an extra special touch to your gifting. Browse their full collection online or visit the store.
2. Hogs Bottom Preserves
Grown from humble beginnings in the Devonshire countryside, Hogs Bottom Preserves have earned numerous accolades for a variety of unique chutneys, jams and flavoured vinegars. For the perfect boxing day snack, pair their famed Christmas inspired chutney with left over cold meats or smear sharp lemon curd over a fresh slice of toast for a festive sweet treat. Shop the full range online for the best sweet and savoury pairings.
3. Devon Hampers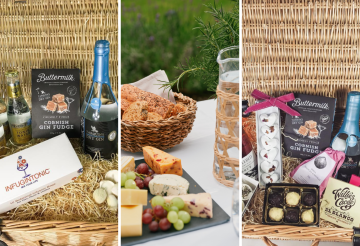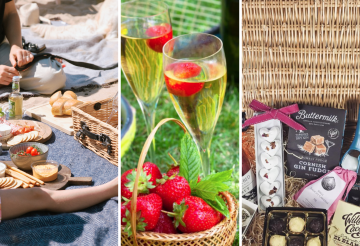 © Devon Hampers via Instagram
Packed full of award-winning local food and drink, these curated hampers are produced on a small scale using the highest quality ingredients found across the South West. Choose from a selection of the county's favourite sweet and savoury delights including Devonshire scones, strawberry jam, cider chutney and apple and brandy fruit cheese. Make your selection online and have the goods delivered straight to your door before the festivities commence.
4. Lloyd and James
Based in Torquay, these delicious fairtrade chocolates including truffles, ganache and praline are tempered and hand crafted by in-house chocolatiers. Choose from a range of moreish cocoa treats including marshmallow-topped milky bars perfect for little ones, or mouth-watering liquor infused truffles. For an extra special sweet treat, create a bespoke hamper full of your loved one's favourites.
Something for the home
5. Nkuku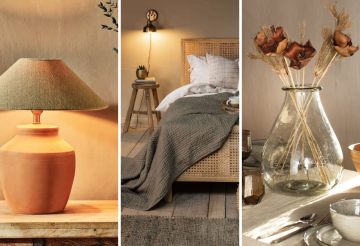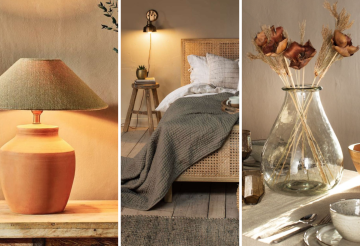 © Nkuku via Instagram
Tucked away in the beautiful South Hams countryside, this ethical, eco-friendly lifestyle store is home to a selection of unique and curated pieces. Choose from a range of items across collections such as outdoor living, home décor and lighting, perfect for those who've just moved house or are redecorating. Browse the online store or head to Dartington on your next Christmas shopping trip.
6. Rhool
Taking inspiration from countries across the globe, this soft furnishing emporium based by the sea is designed for the boho enthusiast. Ginger coloured velvet cushions, tufted cotton throws, and rattan lampshades are guaranteed to go down a treat with your interior design loving family and friends, or for the gift that keeps on giving, purchase a piece of ethically made furniture to pass down through the generations for Christmases to come.
7. Gardentime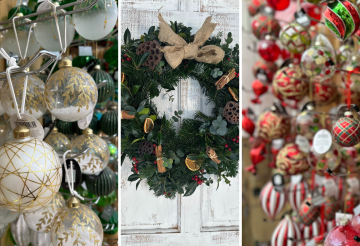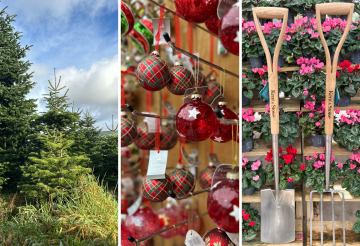 © Gardentime
Shopping for green fingered grandparents or plant loving friends? Head to this independent family-run garden centre for a touch of inspiration. Housing a fantastic range of gardening goodness, browse hanging house plants and Mediterranean palms before a traditional cream tea in the Glasshouse Café, or select a gift card online for home delivery straight to your recipient.
8. Hyde and Seek
This bright and quirky boutique located in the centre of Exeter is packed with lots of joyful gifting options including children's cuddly toys, puzzles and craft making kits. Once you've danced around this colourful shop, choose from a selection of printed paper in preparation to start wrapping your presents under the tree.
Stocking fillers
9. Harbour Bookshop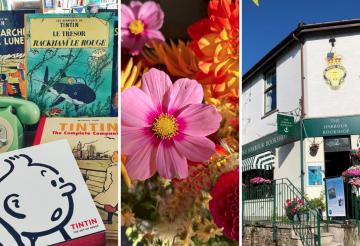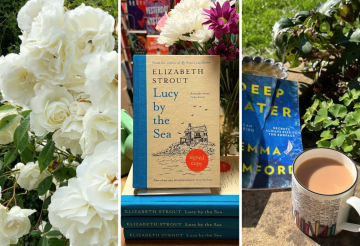 © Harbour Bookshop via Instagram
Surrounded by pretty pink blooms and lilac wisteria, this quaint little store nestled in the heart of Kingsbridge houses a selection of carefully curated books. A great spot to pick up something extra, teens will love devouring the latest fantasy fiction in front of a roaring Boxing Day fire while adults can enjoy flicking through the pages of the latest Devon-inspired novels. With everything available to buy through their online shop, start ticking off those smaller items on your list.
10. Devon Wick Candles
With a shared passion for home fragrances, Sophie and Craig head up this thriving Devon-based business. Everything sold is hand selected and tested by the team, including wax melts, whipped soaps and linen sprays, before being crafted into products. Fill your home with the scent of candyfloss using hand crafted snap bars, or for those who love a bubble bath, line the tub with rose infused soy candles for a relaxing soak.

11. The Clovelly Soap Company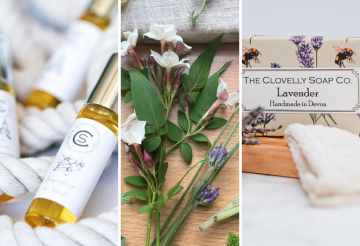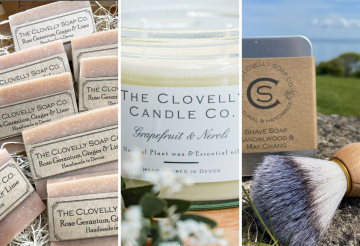 © The Clovelly Soap Company via Instagram
Made and packaged in Devon, this award-winning soap company is dedicated to creating simple yet effective products using natural ingredients. From mandarin and ylang hair bars to pulse point aromatherapy oils, select something special from the online store or head to Clovelly's famed cobbled streets to sample before you purchase.
12. Tor Allen
For those looking to commemorate a recent trip to the county, Tor Allen is on hand to transport all your favourite holiday memories onto paper. Based in South Devon, Tor creates bespoke pieces of artwork including commission pieces for all ages. For those who have welcomed new additions to the family this year, browse a selection of children's artwork on the online store or bring some festive cheer to December's mail by sending an illustrated Christmas card to a loved one's door.
Gift an experience
13. Amelia's Flower Farm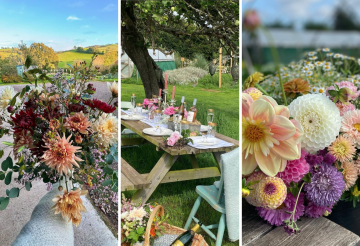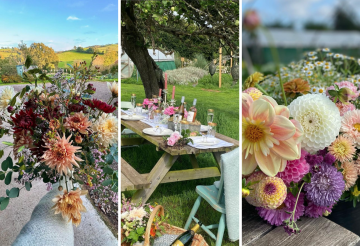 © Amelia's Flower Farm via Instagram
Set on two acres of land, this independent family run flower farm nestled in the valley of Combeinteignhead houses a variety of colourful and unique blooms. Perfect for nature lovers and garden enthusiasts, gift a bouquet workshop this Christmas for an immersive guided lesson or purchase a voucher for a budding florist to while away the hours picking their very own floral delights.
14. Coombe Farm Studios
This small scale rural centre located in an Area of Outstanding Natural Beauty has been dedicated to inspiring creativity since 1983, providing visitors with a relaxing atmosphere to switch off and learn something new. Led by experts, gift an aspiring artist a pottery making retreat as they get to grips with the basics of the craft, before taking home their newest creations. Hosting a range of retreats, head to their website for more information about upcoming workshops.
15. Sandridge Barton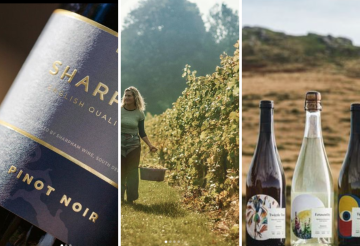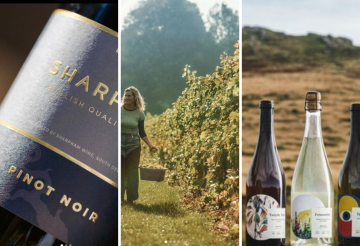 © Sandridge Barton via Instagram
Situated in the heart of Devon's rolling hills, this vineyard and working farm offers in depth guided tours of the grounds, perfect for those who are eager to learn more about the wine making processes. Taking you from vine to wine, each tour gives its visitors the opportunity to sample four types of wine alongside pairings of local cheeses and charcuterie. Purchase via the website and browse a selection of their award winning beverages all available for home delivery.

16. Devon Rum Company
For those who enjoy a spot of healthy competition, Devon Rum Company's cocktail masterclass is the perfect place for gathering family and friends in the new year. Watch mixologists take you through the basic steps before you whip up your own rum-based creations. Notes of caramel, smoky oak and banana linger in the air as you go head to head to be crowned cocktail champion. Alternatively, purchase a bottle of honey spiced rum via the online store for a special Christmas Eve or New Year's Eve tipple.
Fall in love with Devon this Christmas
If you're looking to spend the festive season hugged by the Devonshire coast, let us grant your Christmas wishes with a stay at Avocet. Sitting within an Area of Outstanding Natural Beauty, this modern muse benefits from views over Burgh Island and Bigbury Beach's blonde sands. Arrive from the 20th December, just in time for Yuletide celebrations to commence. For those looking towards your 2024 getaway, discover more of our dream homes in Devon.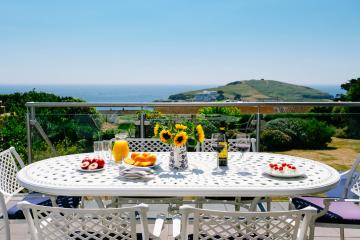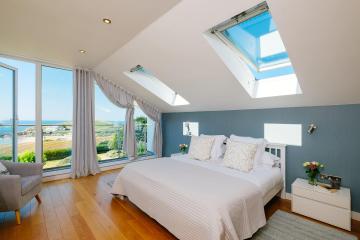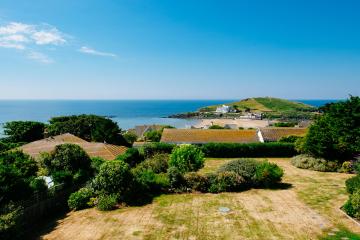 Image credits: © Salcombe Gin Company | © Devon Hampers | © Nkuku | © Rhool | © Harbour Bookshop | © The Clovelly Soap Company | © Amelia's Flower Farm | © Sandridge Barton