From the Blog
Six simple ways to refresh your interiors this spring
Posted by
Rebecca Jackson
on
Updated on
Breathe new life into your interiors
After a long, stormy winter, spring is finally around the corner. With a few simple tweaks, you can revitalize your home decor in moments; which is great news for those short on time. Inspired by the beautifully stylish Tregoose in Polzeath, our design guide will help you refresh your interiors ready for the imminent arrival of spring.
1. Introduce pops of colour into your living area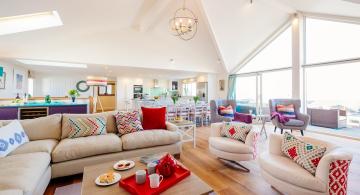 Just a few bold and bright splashes of colour will have an immediate effect on the character and feel of a room. For a quick and easy revamp, clear away heavier soft furnishings and introduce lighter materials like cottons and linens. A scattering of vivid, patterned cushions will brighten up a neutral palette in seconds. Don't be afraid to mix and match your colours and accessories; according to Country Living, casual bohemian interiors evoke a new kind of appealing elegance this season.
2. Fill your house with freshly cut flowers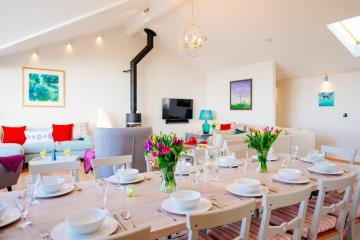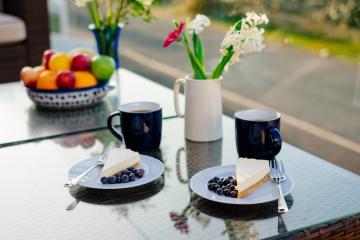 Celebrate the arrival of spring by bringing the garden inside and filling your home with beautiful freshly cut flowers. A vase full of colourful tulips or delicate wildflowers will immediately transform a bare entryway or dining table. What's more, they'll help you feeling invigorated and positive whatever the weather.
3. Embrace the outdoors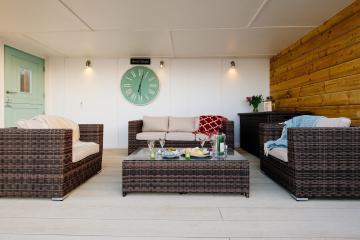 Spring promises the return of longer evenings and warmer weekends, so make the most of your precious time outdoors and set up an inviting exterior haven. According to Ideal Home, this year is all about artisan textures and natural, handmade materials. With this in mind, why not revamp your terrace, balcony or patio with some new rattan or wicker outdoor furniture? Add a few hardy throws and rustic lanterns and you've got the makings of an alfresco paradise.
4. Refresh your tableware for the new season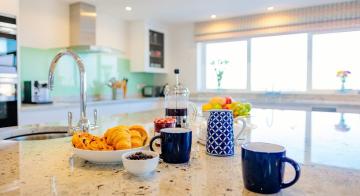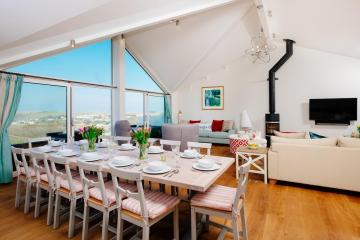 If you can't face overhauling entire sets of tableware, updating a few key pieces will make a big difference to your kitchen and dining table. From a new, colourful jug to a trendy set of snack and dip bowls, you can inject style and fun into entertaining with minimum effort.
5. Declutter your bedroom
A clean and serene bedroom will work wonders on the quality of your sleep and general feeling of wellbeing. Pack away bulky, wintry throws, declutter your bedside tables and tidy up those towering piles of books. Good Homes magazine is celebrating refined coastal interiors this year, which we think are perfect for spring. Simply add a nautical bedspread or new, bright lampshades to immediately transform your bedroom into a fresh and stylish seaside sanctuary.
6. Add quirky design pieces to unloved spaces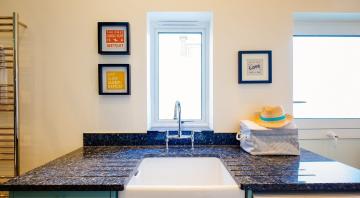 It's easy to neglect smaller, practical spaces like utility rooms and cloakrooms. Spring is the perfect time to clear away unnecessary clutter and take a fresh look at all areas of the house. Why not add a few quirky design pieces to unloved spaces? Collections of colourful prints from your travels will help brighten any day. Alternatively, you can re-frame well-loved artwork for an instant new look.
Featured in this post
Polzeath, Cornwall
Sleeps: 8 - 12
Bedrooms: 4 i
Bathrooms: 4
A five minute walk from the restaurants, shops, cafés and beach at Polzeath, this inviting family retreat has plenty of space for large groups. Sea views and a feature wood burner command the living space, while lofty ceilings and vibrant interior design make Tregoose feel instantly welcoming.
Dog Friendly
Sea Views
EV Charger
Hot Tub
Swimming Pool
Games/TV Room