From the Blog
Spectacular coastal walks in the South West
Posted by
Rebecca Jackson
on
Updated on
Calling all hikers, ramblers and dog walkers
There's nothing better than dusting off your walking boots and getting outdoors. When it comes to the South West, the myriad of spectacular coastal walks will leave you spoilt for choice. In fact, there are so many different options and recommendations online, it's often challenging to decide on one particular route.
That's where Perfect Stays comes in. We've done the research for you and hand-selected our seven favourite coastal walks in the South West. Whether you're an experienced hiker seeking your next challenge, a family of ramblers needing to blow off some steam, or a dog walker looking for a safe route, our guide includes the perfect walk for you. What's more, many of our luxury holiday houses are located on or near the South West Coast Path, so they'd make the ideal base for your outdoor escape. Without further ado, here are our top seven coastal walks in the South West:
North Cornwall: Park Head, Bedruthan
One mile | 30 minutes | Dog-friendly | Breathtaking coastal landscapes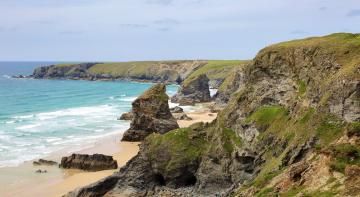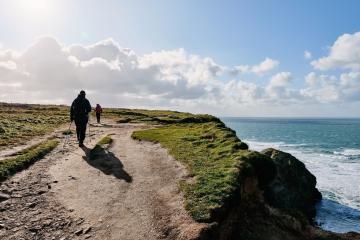 This lovely easy walk to the clifftops at Park Head is ideal if you love a view but don't have the time for an extended hike. Simply park and follow the coast path down to the cliffs. You'll be blown away by the incredible views over the cliff stacks and the iconic Bedruthan Steps. There's even a little seat so you can relax and take in the spectacular North Cornwall scenery. Visit this National Trust page for more details on the route and nearby facilities.

Insider tip: if you're looking for a memorable meal nearby, the luxurious Scarlet Hotel offers a sample lunch menu from £20.95 for two courses. Alternatively, for the best scones still warm from the oven, pop into the legendary Carnewas Tea Rooms on your way back to the car.
South Cornwall: Fowey Hall Walk
Four miles | Two and a half hours | Dog-friendly | Ancient woodlands and iconic harbour views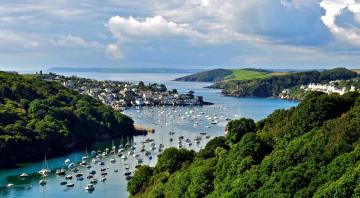 This delightful walk takes you through charming coastal towns, ancient woodland and iconic harbours. You can park at Caffa Mill car park in Fowey, jump on the local ferry and head over to the starting point in Bodinnick. Make sure to look out for Daphne du Maurier's house on the right where the ferry lands. This route is ideal for families, as there's so much to see and do along the way; it really does offer a unique glimpse into the best Cornwall has to offer. There are also plenty of opportunities to refuel at the fabulous cafés and restaurants in Fowey and Polruan. Simply follow these detailed instructions, and enjoy this walk of exceptional beauty.

Insider tip: head to Lazy Jacks Kitchen in Fowey for incredible ice-cream flavour combinations. Additionally, for the shopaholics, the Pink Lemons Boutique specialises in an eclectic range of fashion, homeware and gifts.
West Cornwall: Cape Cornwall Walk
Five miles | Three hours | Dog-friendly | Rugged hills and historic mines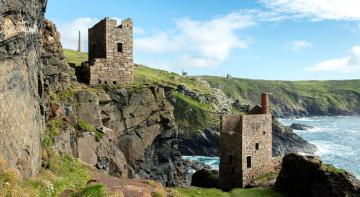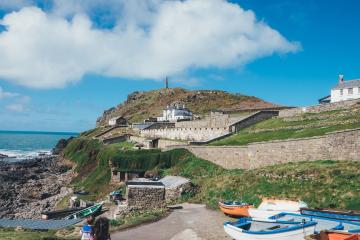 This incredible coastal walk starts in St Just, and takes you past the historic Botallack mines. Less visited (and quieter) than Lands End, the spectacular Cape Cornwall is where the Atlantic Ocean meets the English Channel. With it's rugged landscape of old mines and mills, you'll feel like you're on the set of Poldark; in fact, Botallack mine regularly featured in the BBC series. This challenging walk is perfect for experienced hikers and fitness fanatics. Plan your route here.

Insider tip: if you're desperate to visit the Botallack mines but can't face the full walk, this shorter 30 minute route makes a great alternative.
North Cornwall: Tintagel
Two miles | One hour | Theatrical terrain and legendary medieval structures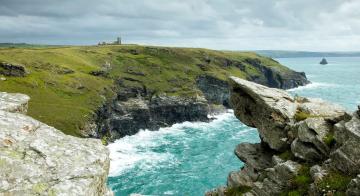 You'll experience a touch of magic at Tintagel in Cornwall, the legendary home of King Arthur. This circular walk starts from the Tintagel visitor centre, past Tintagel Castle via the coastpath, and up to the cliff-top medieaval church on the return route.

Due to the sheer drops and multitude of steps, we wouldn't recommend this route to dog walkers or families with young children. However, it's worth bearing in mind that you can park nearby and explore Tintagel without undertaking the whole circular route. If you're looking for a base nearby, The Yellow Cottage in Trebarwith Strand is a beautifully finished coastal haven perfect for walkers.

Insider tip: to indulge in a true taste of Cornwall, head to Tintagel's Beach Café.
South Devon: Froward Point Walk
Three miles | One hour | Dog-friendly | History, conservation and military icons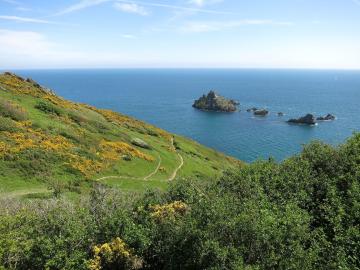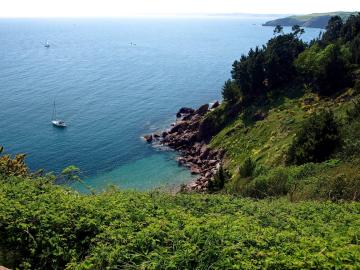 © David Biggins and Simon Wilkinson via Flickr
This intriguing walk combines history with conservation, coastal views with military features. At just three miles, it's perfect for families, or a quick Sunday afternoon stroll. You'll also get the chance to enjoy spectacular views along the coastline and over the Mewstone nature reserve; just make sure to keep an eye out for seals. Find out more and plan your route here.

Insider tip: the nearby village of Kingswear is well worth a visit before or after your walk. You'll find a range of boutique shops, restaurants and pubs to choose from.
North Devon: Peppercombe Bothy to Bucks Hillfort
Four miles | An hour and a half | Dog-friendly | Valleys and sea views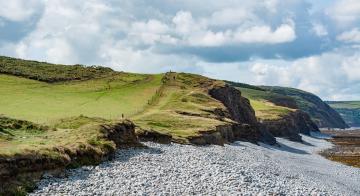 This stunning four mile circular route starts and finishes at the wonderfully secluded Peppercombe. Meander through beautiful wooded valleys and quiet lanes, then take in the incredible views of Bideford Bay and out towards Lundy. If you're not feeling up to walking the whole four miles, there is a shorter, alternative route available. Simply follow these instructions and enjoy this tranquil trail.

Insider tip: just a ten minute drive away you'll find The Pig on the Hill gastropub. They specialise in family-friendly service and tasty home-cooked meals.
South Devon: Salcombe Hill Walk
Five miles | Three hours | Dog-friendly | Dramatic views of the Jurassic Coast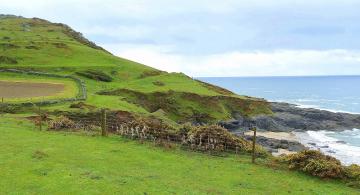 If you love dramatic landscapes and varied terrain, this walk is for you. Starting at Salcombe Hill, you'll walk down through tranquil woodland and alongside the River Sid, then you'll brave a winding cliff path all the way up to a stunning view point, overlooking Lyme Bay and out towards the Jurassic Coast UNESCO World Heritage Site cliffs. These detailed instructions will help you plan your thrilling trek.

Insider tip: if you love seafood, you'll be spoilt for choice in nearby Sidmouth. Pop into Neil's Restaurant for the freshest Devon food made from local, seasonal produce.

When it comes to coastal walks in the South West, you really are spoilt for choice. What's more, if you're looking for a luxuriously comfortable base for your walking holiday, our friendly team of local experts can help. From stunning beach-side holiday homes near the iconic Bedruthan Steps in North Cornwall to exceptional retreats near Salcombe Hill in South Devon, many of our properties are on or near the South West Coast Path. Browse our properties here.
Featured in this post
Trebarwith Strand, Cornwall
Sleeps: 9
Bedrooms: 4 i
Bathrooms: 5
Set in a superb seaside location, this New England style beach house has lovely nautical interiors and a charming patio garden that's ideal for taking in the view from the headland. A bright and airy lounge, Stephen Graver kitchen and four inviting bedrooms make it versatile for varying group sizes.
Dog Friendly
Sea Views
EV Charger
Hot Tub
Swimming Pool
Games/TV Room