From the Blog
The best art galleries, exhibitions and experiences in the South West
Posted by
Sophie Hesp
on
Updated on
Rainy day recommendations across Cornwall, Devon, Somerset and Dorset
From renowned national galleries to local exhibitions by the sea, the South West is home to some fantastic art collections and experiences. The perfect activity for a rainy day, discover a whole range of sculpture gardens, traditional galleries and characterful workshops. Whether you're a budding artist or a complete novice, we've rounded up our top nine favourites to enjoy on your next South West staycation.
Tremenheere Gallery in West Cornwall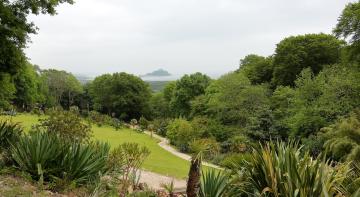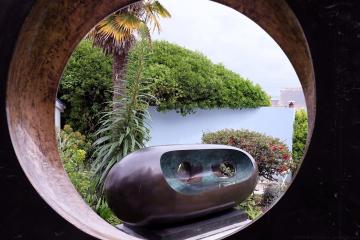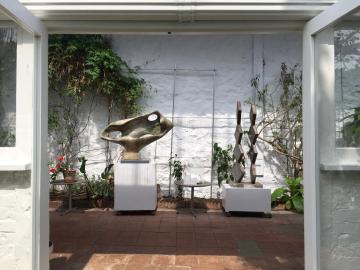 © Mike Dales via Flickr
Surrounded by subtropical plants, Tremenheere is one of the largest purpose-built galleries in Cornwall. Located near Penzance, the striking oak-framed building houses two exhibition spaces, with the upper gallery featuring work inspired by landscape and the lower showcasing a mixture of solo and group exhibitions.
Pay a visit after hours to see the illuminations of James Turrell's 'Skyspace at Dusk' or learn how to make paint with pure pigment and traditional techniques. A walking and drawing tour is a lovely way to appreciate the hidden corners of Tremenheere's gardens, while botanical monoprinting workshops and theatre productions are open to guests of all ages.
Nearest property: Ednovean House
Hauser & Wirth in Somerset
Situated in the trendy market town of Bruton, a visit to Hauser & Wirth in Somerset is the perfect chance to experience the South West's thriving art scene. Framed by wildflowers and landscaped gardens, the modern gallery hosts an impressive collection of talks, seminars, workshops and screenings, attracting thousands of visitors each year. See the 'Unconscious Landscape' exhibition from the Ursula Hauser Collection or admire David Smith's solo debut 'Field Work' – the gallery has plenty of pieces to capture your imagination.
The Young Artists Summer School encourages children to make their own art as part of a two-day workshop, while heading to a Saturday sculpture class is a great way to bring the whole family together. If you're making a day of it, the on-site Roth Bar and Grill comes highly recommended and serves locally made lunches with pretty garden views.
Dart Gallery in South Devon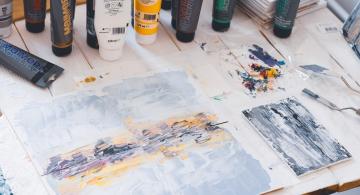 Featuring an incredible selection of British artwork, the Dart Gallery hangs some of the UK's finest pieces on its walls. Championing the work of local contemporary artists, the gallery sits on Dartmouth's bustling harbourside, set across two floors. From captivating woodland scenes crafted from oil on canvas to exuberant seascapes and limited edition botanical pieces, the gallery focusses its collection on striking pieces that make an impact.
Sculpture by the Lakes in Dorset
Nestled in 26 acres of luscious Dorset countryside, Sculpture by the Lakes is an oasis for lovers and collectors of art. Offering not only thought-provoking architectural pieces but a full restorative escape, the gallery regularly holds meditation sessions, shiatsu treatments and even tai chi – with the lakes providing a fitting Arcadian backdrop.
Enjoy a half day yoga retreat, take a walk through the botanical gardens or stop to admire the work of the exhibiting artists in the Barn Gallery. One of Britain's leading contemporary sculptors, see the work of site owner Simon Gudgeon up close in Studio 1, or discover his sculptures as you weave throughout the lakes. Gallery Café offers a relaxed and cosy setting for lunch by the water, with ingredients picked fresh from the kitchen garden.
Tate St Ives in West Cornwall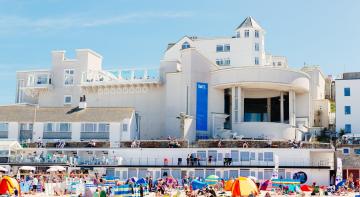 One of the UK's most loved galleries, the Tate St Ives is a popular day trip for art aficionados and curious visitors alike. Overlooking the Atlantic Ocean from its enviable position on Porthmeor Beach, the Tate offers a tasteful combination of contemporary and modern art, with the exhibition space having doubled in size since 2017.
Enjoy an evening of Caribbean food and music as the sun sets with August's 'Rum and Fire', or see the unique journey of Allard Van Hoorn's iconic 'Silver Ball' rolling through Cornish streets. Tours of the Barbara Hepworth Museum and Sculpture Garden run daily, while guided art tours, bookbinding workshops and the 'Rise and Shine Yoga Brunch' can be enjoyed on selected dates throughout the summer.
Nearest property: Shun Lee
Dorchester Art Gallery in Dorset
Home to a growing collection of signed limited editions, original pieces and sculpture, Dorchester Art Gallery is the place to go for contemporary fine art near the Dorset coast. The showroom boasts a string of featured artists that change regularly, including Samantha Ellis and John Waterhouse. See the 'Passion and Poise' exhibition by Mark Spain, meet Fabian Perez – one of the world's most collected artists – or retreat to the viewing room to discover a new favourite.
Newlyn Art Gallery in West Cornwall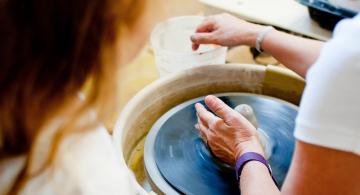 © Baz Richardson via Flickr
Celebrated for its café as well as its boutique collection of local artwork, Newlyn Art Gallery is set on the seafront, looking out across the water. Although on the smaller side, the gallery has plenty of events and exhibitions to look forward to throughout the year. The creative social group 'Tea, Cake and Art' is designed for older visitors, while the Caspyn Gin cocktail evening and Rock Pool guided walk are ideal for those hoping to experience a slice of Cornish life.
If you'd prefer to indulge your creativity from the comfort of your holiday home, Blue Elvin provides a blissful setting for an artist's retreat. Set up an easel on the balcony and sketch the harbour just moments away or walk down to Newlyn School of Art and book into a group class.
The Old Brick Workshop in Somerset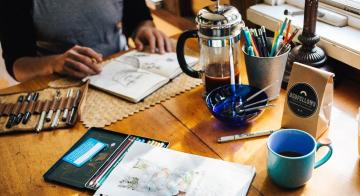 A versatile space combining artist studios with an in-house gallery, The Old Brick Workshop near Taunton is a creative outlet with a twist. Available to book for exhibitions, focussed work or sharing ideas, the workshop features community spaces and communal rooms to bring local artists together. After launching as venue no.1 for Somerset's Art Weeks Festival, the contemporary gallery now hosts member's exhibitions showcasing diverse and thought provoking pieces.
Perfect for an arty weekend, Upcott Farm sits less than an hour away on the edge of Exmoor. It's pretty countryside settings and rustic interiors are sure to provide inspiration in abundance.
Devon Sculpture Park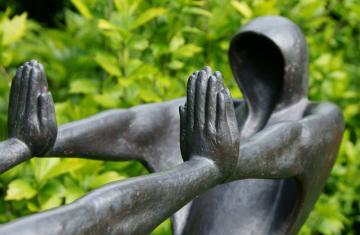 Describing itself as an outdoor centre for the arts, Devon Sculpture Park is a spectacular open-air gallery spanning 100 acres. Located a few miles south of Exeter, the Capability Brown gardens, Mediterranean terraces and mixed media exhibitions provide visitors with an immersive art experience. Hour-long artist talks run every Saturday from 12pm, while a stroll through the gardens on Wellbeing Wednesday is great for a mid-week pick-me-up.
Dogs on leads are welcome to wander the park's lakes, streams and historic buildings, including the famed Robert Adams Orangery, while the inaugural 'Art Wilded' exhibition promises a series of contemporary sculpture installations.