From the Blog
Where to find the best cream tea in Cornwall: hidden gems and local favourites
Posted by
Bethany Walton
on
Updated on
Lesser-known destinations for a traditional Cornish sweet treat
It's well-known that the Cornish take a great deal of pride in their cream teas, and it's more than likely you will be in search of one while in the South West. After all, there's nothing like the taste of sweet strawberry jam and a spoonful of clotted cream on top of a freshly baked scone.
With National Cream Tea Day taking place on 25th June this year, we're celebrating by sharing some of our favourite places for a cream tea in Cornwall. Aside from the big names like The Headland and Duchy of Cornwall Nursery, we thought we'd highlight some lesser-known gems. From off the beaten track cafés to farm shops with beautiful views, find a taste of Cornwall with our insider's guide.
Hidden treasures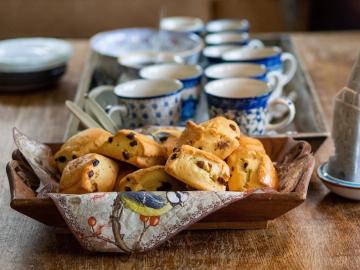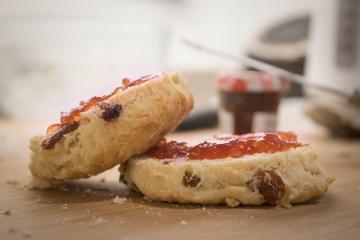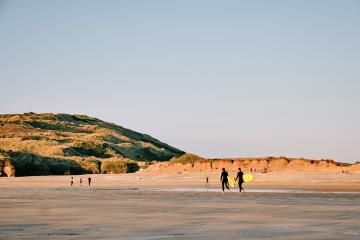 Truly Cornish and utterly delicious
St Just in Roseland is one of Cornwall's delights with a creekside church and luscious sub-tropical gardens. In the summer, locals love to take a walk through the magical church grounds before paying a visit to Miss V's. Greeted by the heart-warming smell of freshly baked cakes and steaming pots of tea, find a sunny seat outside to enjoy a traditional Cornish cream tea with plenty of homemade strawberry jam.
Beautiful riverside stop off
Tucked away in the tiny parish of St Winnow, near Lostwithiel, is a charming café with views over the riverside church and sparkling Fowey Estuary. Angie's is known by many locals as the best cream tea spot in Cornwall. Open in the summer months, you'll find local lady Angie serving beautiful cakes made with fresh ingredients, some even from the farm a few yards away. We recommend walking through the woodland at Ethy Woods to St Winnow, where you'll be treated to stunning views, making the reward at the end even sweeter.
Always jam first at Sunset Surf
Gwithian is one of Cornwall's most beautiful locations. With a soft sand beach backed by sand dunes and shallow rockpools, it's a popular day trip for surfers and families alike. When hungry bellies are calling, shake the sand off your feet and go in search of warm fruit scones with jam. Sunset Surf sits further back from the buzz of the beach and provides a haven for a delicious afternoon treat.
Something different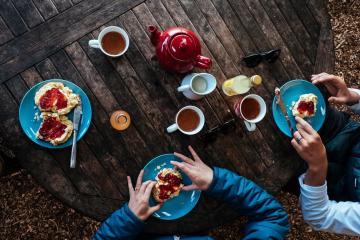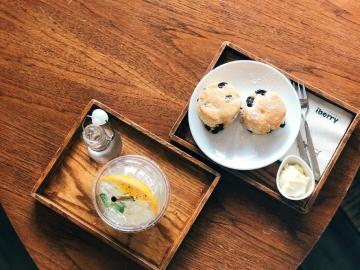 Decadence in Dolly's
Nestled away in the heart of Falmouth is a tearoom like no other - Dolly's Gin Palace is a favourite amongst locals for its quirky style. As you enter the Georgian building, you'll be blown away by its unique 1920s vibe. By day, Dolly's is open for traditional cream teas, freshly baked cakes and decadent afternoon teas, all served in vintage crockery. If you are lucky, you may be greeted by deputy manager, Queenie, a beautiful sprocker spaniel puppy.
Feed your fancy at Freddo's
Situated moments from Newquay's Towan Beach, you'll find a friendly café serving unusual ice cream flavours and delicious cream teas. Sourcing ingredients from the best of Cornwall's suppliers and made on site, Freddo's will be sure to satisfy your sweet tooth. If curiosity gets the better of you, try their chilli and chocolate ice cream for a fiery treat.
A traditional twist
With views over the Camel Estuary and a favourite destination for locals, Paul Ainsworth considers The Mariners in Rock his 'Cornish jewel.' If you fancy something a little different from the usual scone, berry jam and clotted cream, The Mariners has a few more interesting options to choose from. We love their cinnamon scones topped with maple syrup and orange zest, or why not try it The Mariner's Way with their savoury cheese and piccalilli alternative.
Cream tea with a view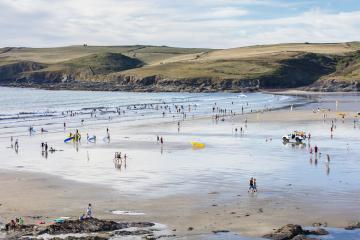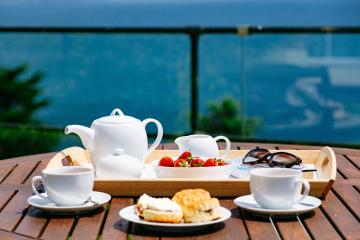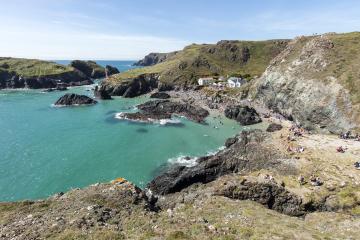 Refuel at The Polpeor Café
As Cornwall's most southerly café, it's no surprise the views are nothing but spectacular from this little tearoom. Sitting on the edge of The Lizard Peninsula, Polpeor is one of the most beautiful places to enjoy a tradtional cream tea in Cornwall. We recommend walking the coastal path to Kynance Cove on a sunny day or opt for a shorter walk to nearby Housel Bay if you haven't got your walking boots on.
Perfectly placed in Polzeath
A popular spot for seafood suppers, The Cracking Crab is also one of our favourites for a scone in the sun. From the restaurant's spacious decking area, enjoy uncompromised views over the beach and watch as the waves roll into shore. Polzeath is one of the best beaches in the country to learn to surf, so why not spend the morning out on the water before refuelling with something sweet. Or stay long into the evening to watch the most spectacular summer sunsets over the ocean.
Always homemade and fresh off the farm
Take in panoramic sea views over Cornwall's north coast from the much-loved Boscastle Farm Shop positioned on the hill above Boscastle. Surrounded by National Trust Farmland, the menu is sourced as nearby as possible and is treasured by locals. Enjoy a generous cream tea before stocking up the pantry with the delights on offer in the farm shop. In the summer months, take someone special to enjoy a decadent afternoon tea – complete with fresh sandwiches, savoury pastries, and mini desserts.
Image credits: Kynance Cove and Polzeath Beach from Visit Cornwall and all other images are our own or from Unsplash.
Speak to our Concierge Team to start planning your Cornish staycation: 01208 895 570