From the Blog
Embrace the nip in the air with these winter walks for Boxing Day and New Year's
Posted by
Sophie Hesp
on
Updated on
Stretch your legs in the great outdoors
Maybe you've overindulged during the festive period or you're simply looking forward to starting the new year with South West air in your lungs. Either way, a winter walk does plenty for body, mind and soul. Perfect for Boxing Day, New Year's, or just an exhilerating winter ramble, keep your fingers crossed for crisp, cold days and head out on some of the South West's most beautiful winter walks.
From Somerset's countryside to Devon's rolling hills and Cornwall's famed coast path, we've handpicked some of our favourite routes for you to try out.
Lynton and The Valley of Rocks in Devon
Three miles | Easy | Dog-friendly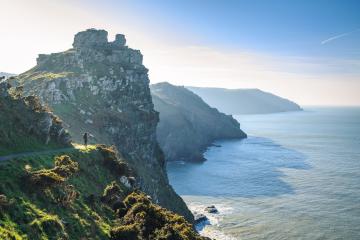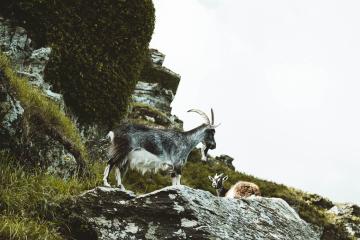 At just under three miles, this is a great family-friendly walk taking in beautiful sea views in North Devon. Starting out at the Lynton station of the cliff railway, the route is mostly flat from beginning to end. Following the track onto Lynton's main street, take a left and descend towards the church, before turning left again down North Walk Hill.
At the bottom, you'll reach a bridge to cross the railway and join the South West Coast Path. From here, there are lovely views along to the lighthouse at Foreland Point. Strolling on past the craggy Rugged Jack tor and the towering Castle Rock, you'll enter the magnificent Valley of the Rocks. Famed locally for its feral goats ambling daringly along the cliffs, this unique dry valley runs parallel to the sea, and the views are nothing short of spectacular. For a bite to eat before turning back, Charlie Friday's Coffee Shop will be a welcome sight for the hungry and achy-legged.
See full details of this walk here.
Dunkery Beacon and Horner Wood in Somerset
Three miles | Moderate | Dog-friendly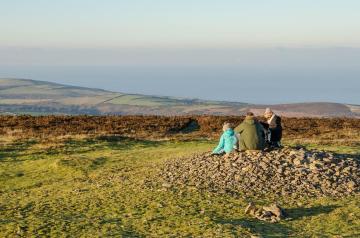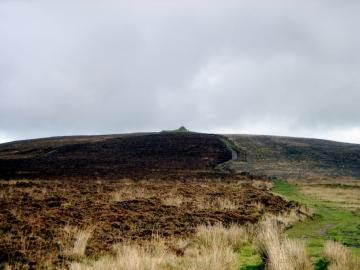 © Exmoor NP and Jason Goldman via Flickr
Sitting at the summit of Dunkery Hill and surrounded by the iconic Exmoor National Park, Dunkery Beacon is the highest point in Somerset. With views stretching across the moorland all the way to Bristol Channel, this moderate circular walk is just what you need if you're looking to reconnect with nature. Set off from the National Trust car park at Webbers Post and cross the road in the far left-hand corner. Climbing gently, the route will lead you along the side of Dunkery Hill, then down into Hollow Combe.
As you emerge through the trees, you'll follow bridleways and amble down steep sided valleys, weaving between footbridges to cross rivers and streams. A great chance to break in new Christmas boots, keen walkers will love the varied terrain underfoot, as the rocky path brings you to the top of Horner Hill and back towards the car park.
See full details of this walk here.
Pentire headland and The Rumps in Cornwall
Three and a half miles | Moderate | Dog-friendly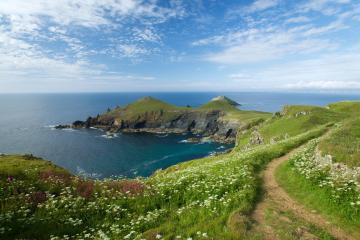 © Pete Lonsdale via Flickr
If you're visiting North Cornwall over the festive period, an exhilarating walk around Pentire headland is a must. On a clear day, this spectacular portion of the South West Coast Path will treat you to panoramic views across Stepper Point, Trevose Head lighthouse and the vast ocean beyond. We recommend heading off from Lead Mines car park and following the coast path for two miles until you reach Pentireglaze Haven. A lovely spot for children to go rock pooling at low tide, this small beach sits opposite Polzeath and is ideal if you're tempted by a Boxing Day swim.
Continuing on towards The Rumps, take a moment to appreciate the remains of the Iron Age hill fort as they peep across the 'neck'. Enjoying some of the best views in Cornwall, wildlife watchers will jump at the chance to spot grey seals basking by The Rumps in the winter sun, while historians will relish the views of Doyden and Tintagel Castle to the north.
See full details of this walk here.
East Soar to Overbeck's Garden walk
Two miles | Easy | Dog-friendly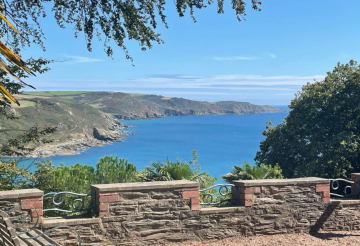 © ntoverbecks via Instagram (right)
For those visiting Salcombe over the festive period, there's no better way to enjoy panoramic views of the South Hams than a walk through a hidden paradise of subtropical gardens. Short but sweet, follow signposts for Overbeck's as you pass through the gate to the left of East Soar Farm. Stroll across the tracks bordered by the former RAF Bolt Head airstrip, once used during the Second World War to launch fighter planes such as the Spitfire.
Continue walking down the hedgerow path, across the stile and straight ahead towards several large tree stumps. Finishing just outside the entrance to Overbeck's Gardens, glance over miles of coastline and across the Salcombe estuary.
See the full details of this walk here.
Porthcurno to Land's End in Cornwall
Five miles | Moderate | Dog-friendly beaches along the way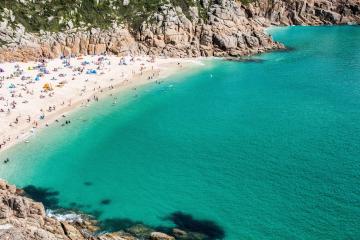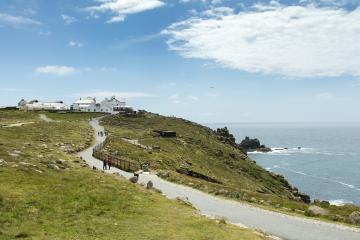 Starting in the West Cornwall village of Porthcurno, this five mile walk crosses beaches, coastal paths and the world famous Minack Theatre, before arriving at Land's End. Starting out at Porthcurno Beach, take the coast path and you'll soon pass Cornwall's iconic open-air theatre on the clifftop. Enjoy the stroll around St Levan, before passing through the sand and shingle beaches of Porthchapel, Porthgwarra, Gwennap Head and Porth Loe.
The path then becomes gentler as you walk into Folly Cove and Pendower Coves, before a steep descent into and a climb out of Nanjizal. Approaching Britain's most south westerly point, you'll spot the spectacular rock formations of Enys Dodnan and Armed Knight – the perfect reward for a long day's walk. Within a few minutes, you'll reach Land's End, where far reaching sea views and a 'first and last' refreshment house await.
See full details of this walk here.
Bantham to Thurlestone in Devon
Just over three miles | Moderate | Dog-friendly beach at Thurlestone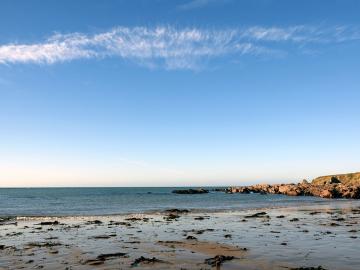 This mostly circular walk begins from Bantham Sands car park, with a gentle beach stroll leading straight onto the South West Coast Path. Passing Thurlestone Golf Course and the small beach at Warren Point, there are fantastic views right from the start. The iconic Burgh Island sits just across the water, while Thurlestone Rock waits a little further down the coast. Passing through picturesque thatched villages, quiet churchyards and rolling fields, the route features narrow Devonian lanes and gently flowing streams.
Bird watchers may spot gulls and plovers during autumn and winter, and dogs can stretch their legs on the beach when they reach Thurlestone. The perfect remedy to quench a walker's thirst, stop by at the fourteenth century Sloop Inn for a pint of something local before heading back towards the beach car park in Bantham.
See full details of this walk here.
Gribbin Head walk at Fowey Estuary
Four miles | Moderate | Dog-friendly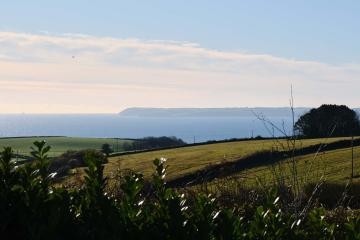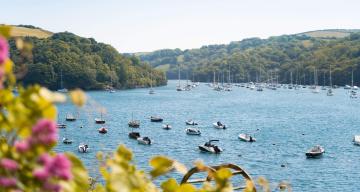 Starting at the National Trust car park at Coombe Farm, this circular four mile walk covers rich landscapes, notable sights, and smatterings of maritime history. Follow the track waymarked towards Readymoney across two fields bordered by Covington Woods. Once you reach the paths junction take a left towards the cove once believed to have been the inspiration for Daphne Du Maurier's novel Rebecca. Continue along the footpath and onto Allday's field, keeping an eye out for St Catherine's Castle, built in 1542 by Henry VIII as a way of protecting Fowey Harbour.
Follow the coast path through Coombe Haven, before crossing the stream at Polridmouth and up the hill towards Gribbin Daymark, an 84ft high red and white milestone built in 1832 to prevent mariners from getting caught in St Austell Bay's shallow waters. As gulls cry overhead, follow the path back down to Polridmouth across the stream and back down the path up to Coombe Farm.
See the full details of this walk here.
Image Credits: © Exmoor NP | © Jason Goldman | © Pete Lonsdale | © ntoverbecks | All other images are our own.