From the Blog
10 Cornish Instagram accounts you need to be following
Posted by
Sophie Hesp
on
Updated on
Life in Kernow through a local's lens
Cornwall is one of the most Instagrammable locations in the world, with its sparkling oceans, white sand beaches, cobbled streets and majestic sunsets.
To give you a local's perspective ahead of your next escape to Cornwall, we've scrolled, followed and double-tapped our way through Instagram to bring you our top 10 Cornish accounts. From jaw-dropping sea views to fairytale landscapes, you'll find authentic local insight woven into each nine-by-nine square.
1. @our.cornish.life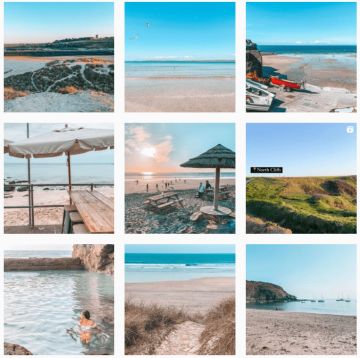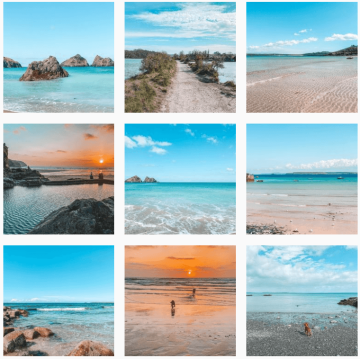 Having recently swapped hectic London life for time by the sea, Em and Jonny set up @our.cornish.life to share their county-wide recommendations with the online world. Think bright blue seas, golden sunsets and rolling sandy beaches – all complete with cute-as-a-button captions that sum up life in Kernow to a tee. Holidaying foodies will love their 'Eats' highlight which is well worth a flick through if you're planning a road trip.
2. @annac42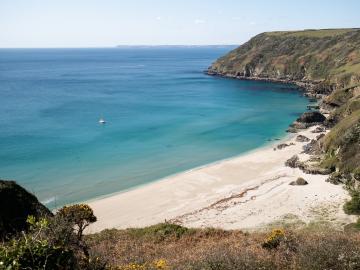 © Anna Clark
Anna from The Cornish Life Blog celebrates everything that Cornwall has to offer, from the popular tourist hotspots like Porthcurno to lesser-known gems like Lantic Bay on the south coast. With a love for the outdoors, her stories and reels often see her taking the plunge with a wild swim, clambering aboard a kayak, walking the coast path or stopping for lunch at an up-and-coming restaurant.
Usually accompanied by her four-legged friends Pepper and Maizy, Anna is a must-follow for those on the lookout for dog-friendly recommendations.
3. @stucornell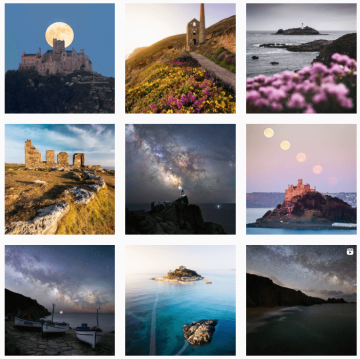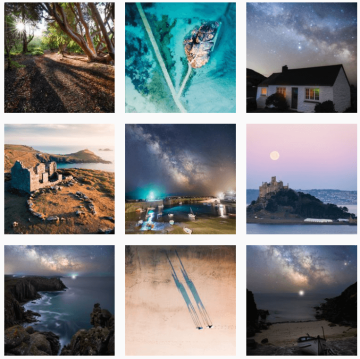 Photographer Stuart Cornell fills his feed with beautiful shots of Cornwall's land, sea and night sky. From striking drone shots to astrophotography, his account promises to take you on an Instagram tour of Cornwall, from Wheal Coates in the north to St Michael's Mount way down west. Stu's posts are accompanied by fun historical tidbits from behind the lens, and the age-old 'anyone recognise this view?' will put even the most discerning Cornwall lovers to the test.
4. @cornwall_lover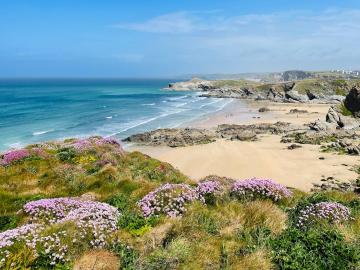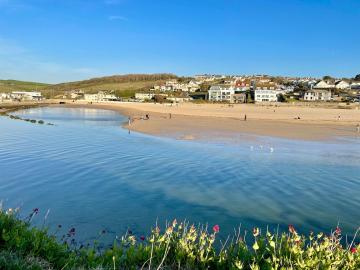 © Lowenna Pascoe
Speaking of Cornwall lovers, this beautifully curated account run by Lowenna Pascoe is one of our longtime favourites. Expect regular grid posts, stories, guides and reels from a 'travel junkie with a lust for adventure and a head full of plans'. We'd recommend tapping through the highlights on Lowenna's page to find fun new places to explore, whether it's beaches like Polly Joke or historical sites like St Nectan's Glen near Tintagel.
5. @ginaincornwall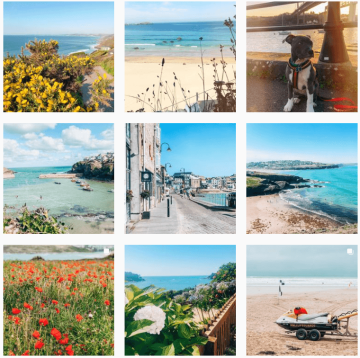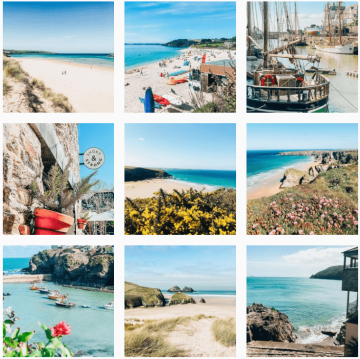 What we love about this account is how beautifully it captures Cornwall's quiet side, even in some of the much-loved tourist hotspots. Scrolling through @ginaincornwall's feed, you'll be treated to hazy blue-sky shots from all across the county – think tallships lining Charlestown Harbour, boats bobbing on the water in Port Isaac and walks down the cobble brick streets of St Ives.
While Gina isn't a daily Instagrammer, it's well worth checking in to see where she's been, to add new recommendations to your holiday itinerary.
6. @eatdrinkcornwall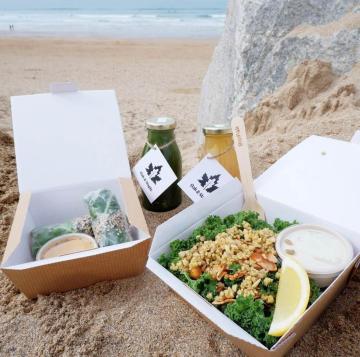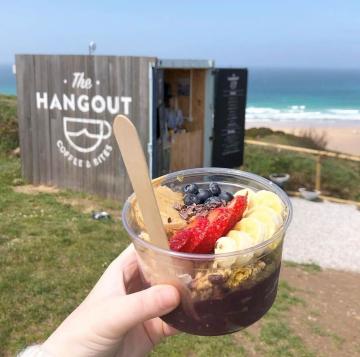 © Jenifer Masters
Offering a complete foodie guide to Cornwall, this account isn't one to be scrolling through on an empty stomach. Full of ideas and snippet-style reviews, each post showcases the county's best cafés, restaurants, pop-ups and watering holes. Our favourites include Sushea on the beach, cocktails from Pentire Drinks, cream teas at Berryfields in Porthcothan and fresh and fruity açai bowls from Watergate Bay's Hangout that look so at home on the grid.
The lady behind the lens, Jenifer, also shares beautiful Cornish landscapes over @cornersofcornwall – where you'll find inspiration for walks, photo opportunities and day trips aplenty.
7. @kernow_from_above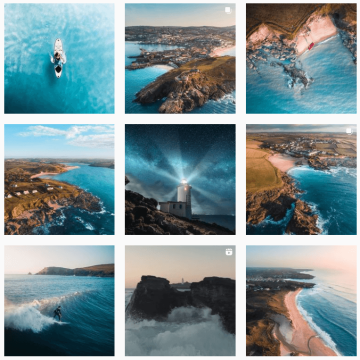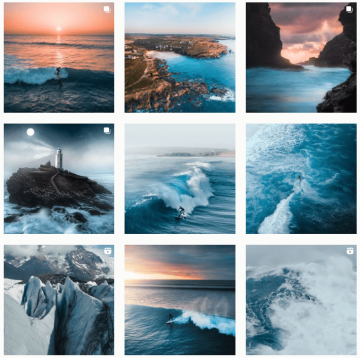 Just as the name suggests, @kernow_from_above offers a whole new perspective of Cornwall. Matt Warren is an award-winning aerial photographer who sends his drone high above sea and shore. His iconic shots capture everything from lighthouses and sun-kissed beaches to wave-battered surfers and bobbing boats, tied together on the feed with a signature blue and orange colour palette.
Matt also sells his photographs as prints in his online shop – the perfect way to take a piece of Cornwall home with you if you're not quite ready to say goodbye.
8.@spaniel.adventures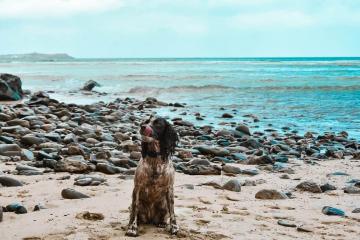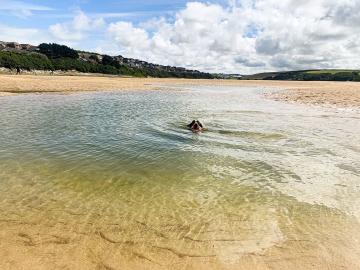 © Meg Richards
Explore Cornwall from a dog's perspective with the wonderful @spaniel.adventures. Sharing their life through idyllic beach walks come rain or shine, meet Maisie the seafaring spaniel and dog mum, Meg.
This account sums up everything there is to love about a dog's life in Cornwall – kayaking through glassy waters, snuffling around in rockpools and cosying up by the fire at the end of the day. Meg's posts are always loaded with inspiration for anyone looking hoping to holiday in Cornwall with their four-legged friends, and those fluffy spaniel ears are sure to bring a smile to your morning scroll.
9. @igcornwall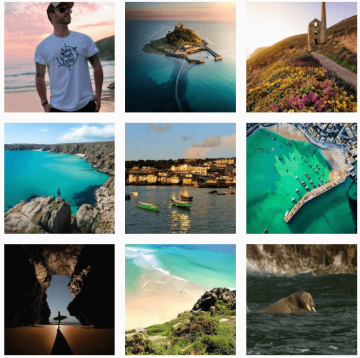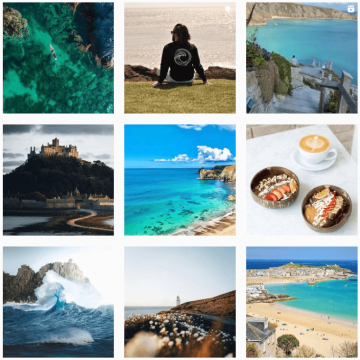 Showcasing photos from Cornwall's best creatives, @igcornwall is a must-follow if you're hoping to discover lots of new accounts in one place. From striking wildlife shots to underwater scenes, the picture-perfect grid might just help you find a new favourite lunch spot, quiet beaches to sunbathe on or local landmarks to plan a day trip to.
10. @perfectstays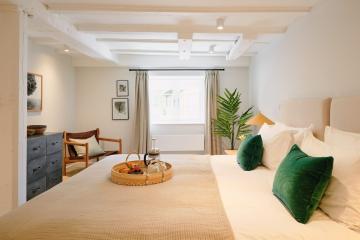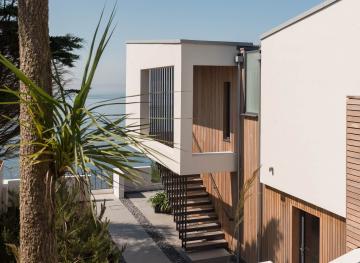 Left: Mawgan Porth Beach. Centre: Harbour Walk, Padstow. Right: Sea Edge, Downderry
We couldn't help ourselves! Join our Instagram family and follow along @perfectstays for beautiful Cornish views, UK holiday inspiration and behind the scenes sneak peeks inside our newest properties. We love a giveaway too, so be sure to keep an eye on our grid posts and stories.
Image credits: @annac42 | @cornwall_lover | @eatdrinkcornwall | @spaniel.adventures | All other images are our own or screenshots from the mentioned Instagram accounts.