From the Blog
Private dining in Cornwall: an evening with Duchy Grub
Posted by
Bethany Walton
on
Updated on
Locally sourced and inspired by the Cornish coastline
Newcomers to Cornwall's private dining scene, Joe and Jas are the young culinary power couple behind Duchy Grub. Having 15 years of hospitality experience between them and a rich culinary knowledge under their belts, the couple decided to branch into the world of private dining during the uncertainty of 2020 and haven't looked back. With their diaries booking up and weekly pop-ups in Trevone every Tuesday, Duchy Grub are dishing up small plates of deliciousness for lucky diners across the county.
Last week, a few members of the Perfect Stays Team were lucky enough to do just that and we paid a visit to their chef-in-residence event at Trevone Beach Café. Tucked away in a quiet corner of North Cornwall between Padstow and Harlyn Bay, Trevone is an idyllic setting for an evening meal with the beach providing a beautiful back drop. Welcomed by Jas and Joe, we enjoyed chatting away to them both while the tables filled up and small plates were served. Informed, polite and charismatic, it's easy to see why they come highly recommended by our guests and that's before mentioning the food.
To find out a little more about Duchy Grub, we asked Jas about their foodie influences, where they find inspiration and what they get up to behind the scenes.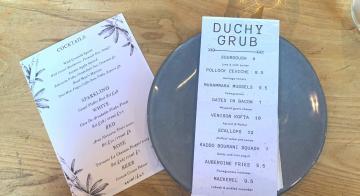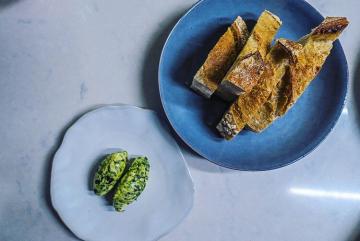 How did Duchy Grub come to be?

We decided that we always wanted to work together, we were both working in the hospitality industry when we met, and the pandemic gave us an opportunity to explore and be creative. Joe was working as a sous chef, and I was working front of house – it seemed like a natural progression to try and make something work together. We started off by creating takeaway menus in lockdown ranging from Caribbean jerk chicken to loaded hassle back potatoes, so we thought we'd run with it and began offering private dining in spring this year.
The menu looks amazing! How do you source your ingredients?
A big ethos of ours is to source all ingredients locally and only through local businesses – it's all about supporting our local community. We source the meat and vegetables we use from Padstow Farm Shop which is just two miles from our home. During the summer, Joe would actually go out on a kayak and catch a lot of the fish for our private dining events, you can't get fresher than that! One of our menus focuses on foraged food, all sourced a mile from our home and celebrates the abundance of amazing wild food in Cornwall.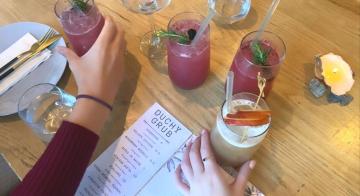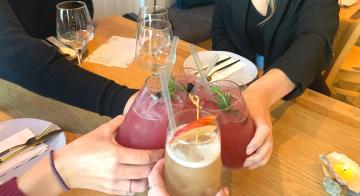 Having settled into our seats, we ordered our drinks on Jas's recommendations. Influenced by the season, we chose their Wild Cornish Blackberry and Autumn Apple Spice cocktails. With the dishes being served as they were ready, the evening flew by with an array of different tastes and flavours, all presented beautifully.
Your menu changes regularly, where do you find your inspiration?
For our private dining guests, we are guided by what they like – we love to chat to them beforehand to understand what food they enjoy and how we can best cater for them. We also love to use what's in season, because we source all our ingredients locally, we want to make sure we're using what's in abundance at the time. Joe also loves to experiment with ingredients and is inspired by the different ways to cook and use them. He also loves chatting about food and finds inspiration and ideas from people he meets along the way.
What's your favourite dish to cook?
Joe's real passion is for fish and shellfish and he loves to experiment with different flavour combinations to really make your taste buds 'zing'. I enjoy making ceviche because I feel that you can get the best taste out of a lot of fish when it's raw. There's a lot of scope for being creative with the flavours and how you present it.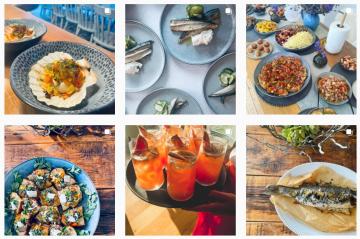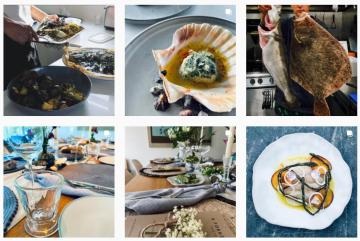 Joe's natural ability to combine flavours is evident throughout the menu, with mussels served alongside pomegranate seeds and squash paired with kaddo bourani – a Middle Eastern cinnamon mint yoghurt. Using local ingredients and inspiration from further afield means the menu is fresh and offers something completely different for diners.
What do you find the most rewarding part of cooking for people?
There are two things I love; number one is getting people to try something that they'd never usually eat and then seeing them fall in love with a new dish. Secondly, food is universal, everyone loves food, so I love seeing people of all walks of life coming together over food and enjoying themselves.
You've recently moved to Cornwall, what's your favourite thing about life here?
No matter what time of year it is, there's always outstanding beauty everywhere. Being close to the ocean gives us a sense of direction and focus. We're both from cities originally so for both of us, we feel that the quality of life is way better here in comparison. When we're not working, we're off exploring the Cornish coastline with our two pups and we love to spend a lot of our free time in the sea either swimming, surfing or fishing – it doesn't get much better than that!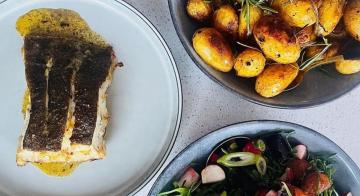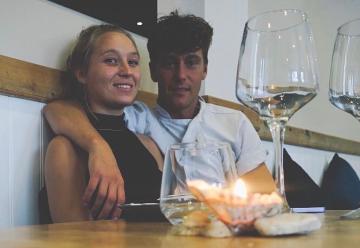 To round off the evening, we chose a couple of desserts to share between us and they were just as delightful as the rest of the menu. Firstly, we tried the Cornish cheese board complete with Truffler, Helford Blue and Cornish Smuggler and paired with delicate chilli jam and matzo crackers. Secondly, the dessert of the desserts, we delved into a chocolate mousse paired with candied almonds and lavender clotted cream – as delicious as it sounds.
What's next for Duchy Grub?
At the moment, we're focusing on our pop-up events every Tuesday in Trevone, it's a great opportunity for people to enjoy our food and find out what we're about. By this time next year, we hope to open a small premises somewhere in Cornwall, with our private dining events also keeping us busy – there's something in the pipeline, so watch this space!
All in all, our evening with Duchy Grub was a foodie dream – we've been craving their muhammara mussels and aubergine fries ever since. Catch Duchy Grub at their pop-ups every Tuesday at Trevone Beach Café or make a private dining enquiry by contacting them via Instagram or if you've already booked a stay with us, get in touch with our Concierge Team to arrange the details for you.