From the Blog
The best dog walks in Cornwall
Posted by
Sophie Hesp
on
Updated on
Beaches, woodlands and National Trust routes
Dog-lovers rejoice; we've found the best dog walks in Cornwall to try on your next staycation. Including National Trust dog walks, circular woodland routes, and trails to take you across beaches and coast paths, each one's been handpicked with four-legged friends in mind.
Covering some of Cornwall's most-loved holiday destinations, from Fowey and Falmouth to views over St Ives, you'll find our dog-friendly holiday homes close by. Browse our dog-friendly holidays here.
The best National Trust dog walks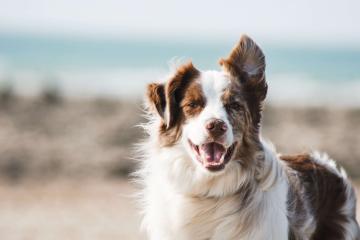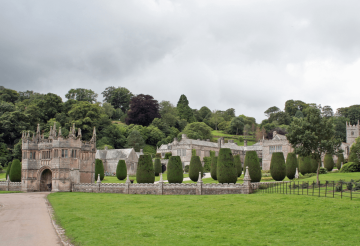 Lanhydrock

• Post code: PL30 4AB
• Nearest town: Bodmin
• Difficulty: Easy (Great Wood Walk is 2.5 miles)
• Full details: Here
Home to a handful of the best dog walks in North Cornwall, Lanhydrock is a haven for dogs. We love it for its varied scenery and acres of open grassland.
Take a stroll down the tree-lined avenue towards Respryn Woods (also owned by the National Trust) or curve up above Lanhydrock House and follow the wooded paths – it's just as beautiful on warm summer evenings as it is on crisp winter days.
What's more, the National Trust has recently developed its own pawprint rating system, where visitors can assess how suitable each location will be for their dog before visiting. Lanhydrock is rated the full three pawprints, with its Park Café allowing dogs to dine indoors beside their owners. You'll find water bowls and biscuits for post-walk refreshment, and dogs are welcome in the plant centre and outdoor shop too.
What should I bear in mind? Between April and October, some sections of the parkland welcome grazing livestock so dogs on leads are advised. But fear not – there are acres of fields, streams, trails and bathing areas where dogs can roam free.
Godolphin

• Post code: TR13 9RE
• Nearest town: Helston
• Difficulty: A moderate climb (Godolpin Hill walk is 2 miles with some uneven paths)
• Full details: Here
Welcoming well-behaved dogs on leads throughout the garden and tea rooms, Godolphin is home to over 500 acres of open countryside. It's set within a UNESCO World Heritage Site and rated two pawprints by the National Trust.
Dog-friendly routes include the Godolphin Hill walk (two miles, taking roughly one hour) and the Trencrom Hill trail (one mile, 30 minutes). Both promise far-reaching views over the West Cornwall landscape, which on clear days, are said to reach as far as St Michael's Mount and St Ives Bay.
The Piggery tearoom has water bowls on hand after tiring woodland escapades, while the wider estate is the perfect place for dogs to explore off-lead before heading home for a fireside nap.
Where can I stay nearby? All of our holiday homes in nearby Porthleven are dog-friendly, and less than a 15 minute drive from Godolphin. Seathrift has a large, tiered garden that looks out across the ocean, while The Old School House shares the same sea views and sits within walking distance of Porthleven Harbour.

Trelissick

• Post code: TR3 6QL
• Nearest town: Feock
• Difficulty: Easy – moderate (there are some hills depending on your chosen route)
• Full details: Here
Walking your dog at Trelissick promises estuary views, open parkland and sandy paws aplenty. Another of our favourite National Trust dog walks, you'll find it on a gorgeous stretch of coast-meets-country between Falmouth and St Mawes. It's loved by Truro dog walkers for its proximity to the Punchbowl and Ladle pub, as well as the King Harry Ferry.
Leaving the car behind in the National Trust car park, head towards the sprawling green fields and follow the sloping path as it guides you down to the estuary. Stop to throw sticks for energetic pooches, or continue into the woodland where longer and slightly more challenging walks await. We recommend the Roundwood Quay route, which features an Iron age fort, an 18th century quay and views over the River Fal.
At Trelissick there are plenty of grassy spots for dogs and owners to lay down a blanket, as well as shaded areas with benches for picnics after paddling in the estuary. In the outdoor Crofters café, you'll find water bowls and dog-loving staff.
What should I bear in mind? A peaceful spot for wildlife-watching, our team have often seen herons and cormorants drying their wings on the rocks. If you know your dog gets a kick out of chasing birds, scan the beach before letting them off the lead to explore.
The best coastal dog walks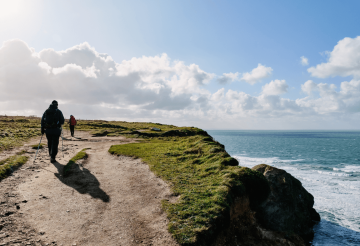 Carnewas

• Post code: PL27 7UW
• Nearest town: Padstow
• Difficulty: Easy
• Full details: Here
Naturally, some of the best dog walks in Cornwall are by the sea. Home to the world's longest coast at 422 miles, you don't have to venture far to find incredible sea-view walking routes.
Carnewas at Bedruthan Steps in North Cornwall is no exception. A truly breath-taking jaunt along the rugged clifftops leads dog walkers past the striking rock formation of Bedruthan Steps, then onto Redcliff Castle, Park Head and Porth Mear. Soak up views over Trevose Head and the iconic lighthouse, pass through kissing gates, then enjoy a jam-first cream tea as a reward when arriving back at Carenwas' tearoom.
Looking for more inspiration? Click here for four more Mawgan Porth dog walks as recommended by our team.
Poldhu to Mullion Cove

• Post code: TR12 7HW (Mullion village car park)
• Nearest town: Mullion
• Difficulty: Moderate (4.6 miles)
• Full details: Here
Down in West Cornwall, the Poldhu to Mullion Cove walk promises sandy beaches, beautiful harbours and striking landscapes. Points of interest include the Marconi Monument, Angrouse Cliff and the Pol Glas chasm, which takes its name from the Cornish for "blue pool".
What makes this walk good for four-legged friends is Poldhu Cove. Backed by dunes and surrounded by coastal foot paths, the expanse of golden sand means there's plenty to explore with four-legged friends, even when the seasonal daytime ban is in place from July until August.
With sleepy dogs outstretched, Poldhu Beach Café is also well worth a stop before heading home. It serves a selection of drinks and snacks which are best enjoyed after playing in the rockpools at low tide.
Does Poldhu sound familiar? Taking its name from the dramatic Cornish landscape, our property Poldhu enjoys sparkling sea views and a hot tub, plus a secure garden for dogs.

The best beach dog walks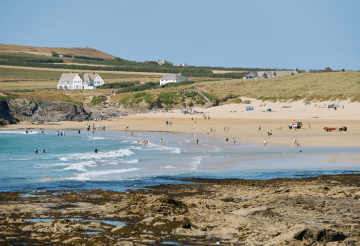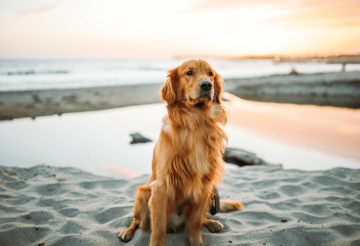 Constantine Bay

• Post code: PL28 8JJ
• Nearest town: Constantine Bay
• Difficulty: Easy
• Full details: Here
Just one of the beautiful sandy stretches that make up the Seven Bays in North Cornwall, dogs will love tearing around the beach, snuffling in the rockpools and paddling in the shallows at Constantine Bay. This beach isn't far from Padstow and is dog-friendly all year round, with a small beach car park tucked behind the dunes.
A popular spot for surfers, Constantine offers sensational views over the coastline, and can be reached on foot from nearby beaches like Booby's Bay in one direction and Treyarnon in the other. Choose between short stints for little legs or longer hikes for more energetic breeds.
Where can I stay nearby? Our newest addition in Constantine Bay, retreat to sea-view Shorebreak for a well-earned retreat with four-legged friends. Striking architecture and a short walk to the beach make it one of our up-and-coming hideaways.


Perranporth Beach

• Post code: TR6 0JL
• Nearest town: Perranporth
• Difficulty: Easy
• Full details: Here
Salty sea dogs will feel instantly at home here. With its glorious three-mile stretch of sand and sea, Perranporth combines gorgeous views with easy beach walking. Park up in the nearby car park, cross the bridge and have your paws on the sand within minutes.
Dogs can discover the freshwater Deadman's Pool, chase tennis balls in front of Perranporth's signature grassy dunes, and even wash off sandy paws before heading home, thanks to the dedicated dog showers.
When it's time for a drink, call into the dog-friendly Watering Hole – one of the UK's only beach bars that's set on the sand. Or, book a table at The Summerhouse, a family-owned and female-led restaurant serving small plates and seafood.
What should I bear in mind? Perranporth is dog-friendly year-round, however in July and August dogs are required to be on leads between 10am and 5pm, on the main beach only.

The best woodland dog walks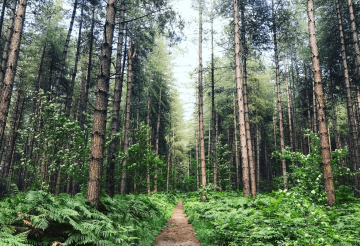 Tehidy Woods

• Post code: TR14 0HA
• Nearest town: Camborne
• Difficulty: Moderate (4.3 miles, taking roughly 90 minutes)
• Full details: Here
The largest area of woodland in West Cornwall and home to over nine miles of foot paths to discover, Tehidy Woods is a great spot for longer dog walks. We love the North Cliffs circular walk – it's signposted from beginning to end and tracks through shady woods, making it particularly perfect in the summertime. As well as a café and picnic area, there are two routes marked as accessible for wheelchair users.
For those hoping to combine their walk with coast and country, the South West Coast Path between Portreath and Godrevy can be accessed from Tehidy Woods. There are some unfenced drops around this section of coast, so we recommend keeping dogs on leads if you're tempted by the longer route.
Penrose

• Post code: TR13 0RD
• Nearest town: Helston
• Difficulty: Easy
• Full details: Here
Paw-friendly Penrose is a National Trust-owned site that's home to some of the best dog walks in Cornwall, not far from Porthleven. Dogs are welcome across the whole site, including the beach at Loe Bar, which is dog-friendly year-round.
Especially pleasant during the spring and summer, the wooded country park wraps around the largest natural lake in Cornwall, known as Loe Pool. Savour glorious views over the water as the route curves in and around the lake, and dogs go off in search of sticks, stones, and exciting new smells. The route from the main park towards Loe Bar is safe for dogs to explore off-lead (just be aware of the rip tides as marked on the signs) and you'll find a few benches along the way for thirsty pit-stops.
When hungry tummies rumble on the return journey, the Stables café has an outdoor courtyard where four-legged friends can relax in the sunshine, lap chilled water, and be treated to biscuits from the counter.

The best circular dog walks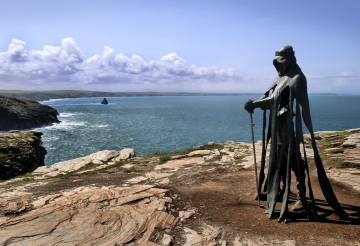 Gribbin Head

• Post code: PL23 1HW
• Nearest town: Fowey
• Difficulty: Easy (4 miles)
• Full details: Here
Not far from Fowey in South Cornwall, the Gribbin Head route is one of the most picturesque circular dog walks in Cornwall. Famed for inspiring local author Daphne du Maurier in many of her novels, this stretch of coast is rich in beauty.
The walk is relatively straight-forward with no stiles along the way, and the beach at Polridmouth welcomes dogs year-round. Take photos with four-legged friends beside the striking red and white stripe of the Gribbin Daymark, or splash around in the shallow, crystal-clear waters at Menabilly to cool off. If you're looking for a dog-friendly pub to stop for a drink nearby, we recommend The Rashleigh in Charlestown.
Where can I stay nearby? Taking their names from the glistening coast they overlook, Daymarker, Lantic Barn and Little Polkerris have recently joined us in Fowey. With two outdoor pools and a sea-view hot tub, look no further for a dog-friendly escape later this year.

King Arthur and the Slate Coast

• Post code: PL34 0AJ
• Nearest town: Tintagel
• Difficulty: Moderate (3.4 miles)
• Full details: Here
North Cornwall dog walking doesn't get better than this. Loved by poets including Lord Tennyson, the 3.4 mile circular 'Tintagel King Arthur Walk' features sensational views over Tintagel and Trebarwith Strand – the former being listed as a Site of Special Scientific Interest for its intricate rock formations.
Following a mixture of well-trodden grass paths and a few craggy stretches, it's sure to tire out energetic dogs. Combining rich Arthurian legend with vibrant blue seas, dog walkers will be instantly rewarded from their elevated vantage point.
Setting off from Tintagel's visitor centre, the route passes points of interest like the Norman St Materiana Church, the beach at Tintagel Haven, and a geological site at Barras Nose – all photo-worthy locations to capture.
Where can I stay nearby? A stone's throw away in Trebarwith Strand, our property The Paddock is ideal for dog-friendly breaks. Its large grassy lawn and wraparound veranda provide plenty of space for sleepy pooches to relax after days on the coast. After all, it's their holiday too.
A quick note on safety
While Cornwall has plenty of beautiful coast paths, beaches and woodlands to explore, please keep an eye out for potential dangers while out walking with your four-legged friends. Be particularly mindful of:
• Livestock
• Cliff edges
• Adders in dunes
• Rip currents and tides
We'd also recommend...
• Letting someone know what time you're setting off and when you'll be back, especially if you're walking alone. Mobile reception can be hard to come by.
• Checking the tide times before crossing beaches.
• Taking your own food and water – this goes for yourself and your dog!
• Sticking to clear marked paths. While we're all up for some adventure, it's not worth taking the risk on a tricky route that you're not familiar with.
• Dressing sensibly for long walks – whether it's a summertime stroll or a more rugged winter hike.
• Keeping your dog on a short lead and under close control until you're able to assess the safety of the area.
• Keeping an eye out for potential uncapped mineshafts hidden in undergrowth.
• Ringing 999 or 112 and asking for the coastguard in case of an emergency.