From the Blog
From macarons to meze: our favourite cookery schools in the South West
Posted by
Perfect Stays
on
Updated on
Perfect a family favourite or try something new
Whether you're a sophisticated home cook or a self-confessed novice, the South West is home to some of the best cookery schools and courses in the UK. With a collection of child-friendly options on offer, there's ample opportunity to plan a fun day out with family or friends. Varying from French patisserie to a taste of Italy, discover a few of our favourite cookery schools.
Le Frog, Devon and Somerset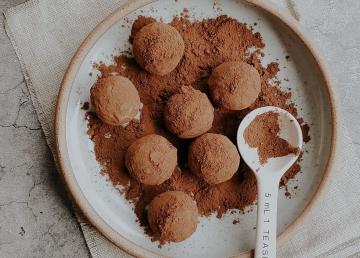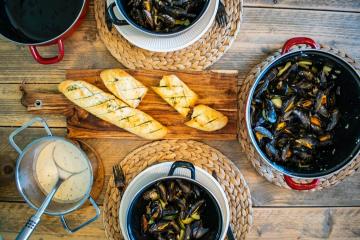 Wonderful for family events or celebrations, Le Frog offer several unique courses. Pipe truffles and crush cocoa beans in a chocolate masterclass or embark on a fully fledged experience, perfecting quintessentially French dishes such as cauliflower soup and confit duck leg.
Sourcing ingredients from Britain's best suppliers, Le Frog pairs classic dishes with a delicate French twist. Incorporating local produce where possible, many vegetables are picked from National Trust gardens while the eggs are from free-range Devon farms.
Courses start from £35 per person.
Where to stay: Upcott Farm
Rick Stein's Cookery School, North Cornwall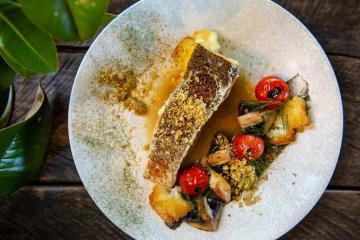 Inspired by global travels, Rick Stein's Cookery School cover an eclectic mix of cuisine. From Asian street food to squid, cuttlefish and octopus cookery, the workshops are either season-focused or themed around worldly flavours, including Singapore, India and Mexico.
Several of the courses are holiday-centred to tempt the little ones, with pumpkin cupcake classes for Halloween and yule log workshops during the festive period. If you're on the lookout for a more intense affair, the school also offer four day courses in Rick's speciality – fish, shellfish and seafood.
Courses start from £45 per person.
Philleigh Way Cookery School, South Cornwall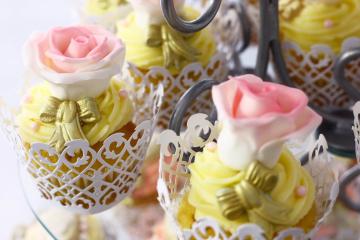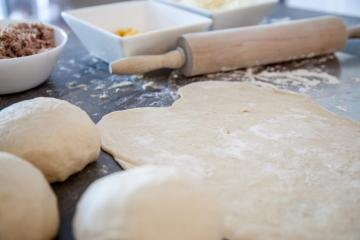 Inspired by recipes handed down over the generations, Philleigh Way offer evening dining demonstrations and immersive courses to get stuck into. Home to ten state of the art workstations, each student will be well equipped to create something delicious.
Whether you're rolling out the dough in a family pizza workshop, learning about the world of spices with an Indian Cookery Masterclass or elevating your butchery skills with a Game course, there are plenty of ways to inject something new into your go-to recipes.
Courses start from £49 per person.
Where to stay: Daymarker, Lantic Barn and Little Polkerris.
The Olive Tree, Dorset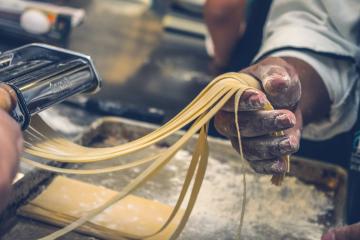 Featuring a collection of one-day speciality courses, The Olive Tree cater to all levels of expertise and cuisine preferences. Take a trip to Sicily with a culinary tour of family favourites, such as arancini and ricotta cassatelle, or simply scrub up on your pasta making skills.
Budding bakers will want to sign themselves up to the Pasta, Pizza and Italian Breads course where you'll make classic pizzas, foccacia and grissini.
Courses start from £80 per person.
Ashburton Cookery School, Devon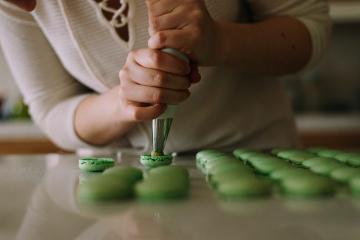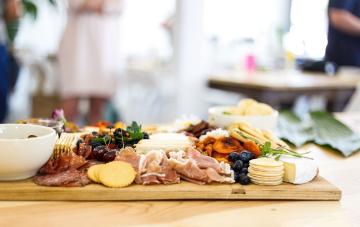 Ashburton Cookery School is one of the South West's top cookery schools with a friendly team of expert chefs and an impressive alumnus, including celebrity Masterchef winner Liz McLarnon. From a half-day of creating canapes to a week-long fine dining excursion, let your creativity run wild on the plate.
Those with a sweet tooth will love creating a beautiful box of macarons, while keen foodies can roll their own sushi with a hands-on masterclass or perfect the key elements to a Greek meze platter, including tzatziki and lamb meatballs.
Courses start from £99 per person.
If you're staying in one of our homes, make the most of our inclusive concierge service and let our team plan the perfect foodie getaway to the South West.
Featured in this post
Downderry, Cornwall
Sleeps: 6
Bedrooms: 3 i
Bathrooms: 3
With a relaxing spa-like feel and sensational ocean views spanning Cornwall's south coast, Sea Edge is a stunning, contemporary home sitting just a moment's walk from the beaches at Seaton and Downderry. With a Mediterranean-inspired garden, cosy window seat and glass-fronted terrace, it's a tranquil hideaway come rain or shine.
Dog Friendly
Sea Views
EV Charger
Hot Tub
Swimming Pool
Games/TV Room
Dulverton, Somerset
Sleeps: 12
Bedrooms: 6 i
Bathrooms: 6
A countryside haven for those hoping to get back to nature, Upcott Farm is located on the edge of Exmoor National Park. Enjoy sprawling country views, beautiful interiors, elevated balconies and two luxurious hot tubs.
Dog Friendly
Sea Views
EV Charger
Hot Tub
Swimming Pool
Games/TV Room