From the Blog
Eating in: the essential guide to in-house dining
Posted by
Sophie Hesp
on
Updated on
The perfect excuse to indulge in luxury food and drink
Whether you're looking forward to a lavish long weekend or a two-week stay in the sun, there are fond memories to be made with friends and family gathered around the breakfast, lunch or dinner table. But you don't have to venture far from your holiday home to discover award-winning cuisine or enjoy fresh local produce. Our essential eating in guide will give you some inspiration on how to make the most of Devon and Cornwall's popular food scene, with these exceptional in-house dining options.
Hire an in-house chef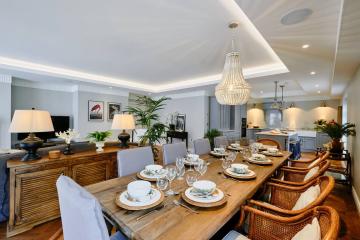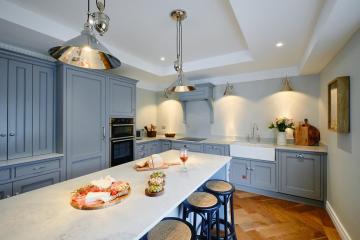 Morning Tide, Constantine Bay
Make the most of our in-house chef service and let a talented local chef cook up a storm from the comfort of your holiday home. Our in-house chefs cater for a range of dietary requirements and favourite dishes, so whether it's a vegetarian banquet or a seafood speciality that works up your appetite, it's all organised to suit your stay by a member of our concierge team.
Get involved with cookery classes
If you'd like to get more involved in the kitchen and prepare a feast for the family, our concierge team can go one step further and organise in-house cookery classes. Our selection of talented chefs will help budding gastronomists perfect a signature dish, or work with those simply looking to broaden their culinary horizons.
Enjoy bespoke wine tastings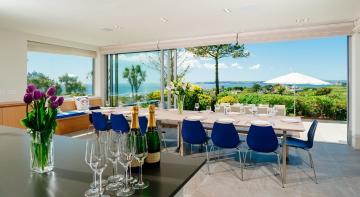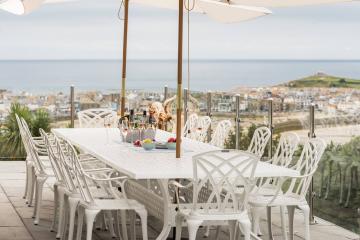 Left: Ednovean House, Marazion. Right: Shun Lee, St Ives
Sample a selection of high-quality and award-winning Cornish wines, based on your personal preferences. Our knowledgeable team of local experts are on hand to organise and recommend exclusive in-house wine tastings – perfect for a hassle-free mid-break treat, or celebrating a special occasion while you're away. Since the wine tasting comes to you, there's no need to fret about transport. Simply relax with a glass of wine and settle in for the evening – you're on holiday, after all.
Order recipe boxes to your door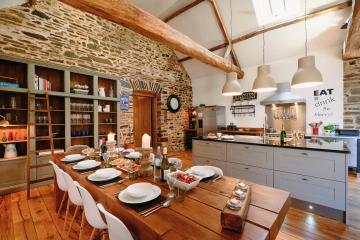 Upcott Farm, Dulverton
Take it easy and let dinner come to you. Cornwall Recipe Box provide great quality, locally sourced ingredients and deliver them straight to your doorstep – taking the hassle out of holiday hosting and giving you more time to spend with the family. With similar services like Riverford Organic Farmers operating throughout Devon and Croft and Cottage delivering chef prepared meals to your door in Somerset, you'll be spoilt for choice with great local produce and straightforward recipes.
Dine al fresco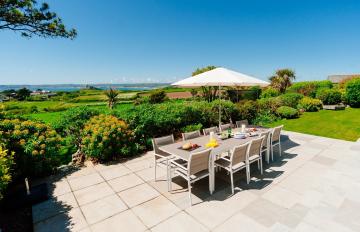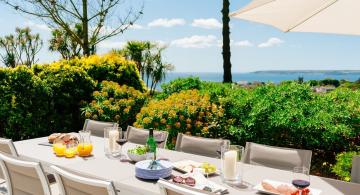 Ednovean House, Marazion
Spending your summer in the South West is a great opportunity to transform your dining experience and bring the kitchen outdoors. Set up an al fresco brunch overlooking the sea or take your early morning coffee in the garden and let the fresh South West air fill your lungs. As evening falls, fire up the barbecue and toast marshmallows while you plan tomorrow's adventures.
From the moment you book your luxury break, our dedicated concierge team are on hand to help make your stay all the more perfect. Whether it's booking taxis or hiring exceptional private chefs, our team of local experts are happy to help.