From the Blog
Six luxury holiday homes with beautiful gardens
Posted by
Sophie Hesp
on
Updated on
Above: Blue Elvin, Newlyn
Luscious lawns, tropical planting and glorious sea views
Faced with so many tempting options, choosing the perfect holiday home to suit your group can be tricky. With the first of our property round-ups, we're here to narrow down the search and offer a handpicked selection of stunning homes with postcard-worthy gardens. Set across coast and country in Cornwall, Devon and Somerset, garden-lovers can enjoy wildflower planting, tranquil lawns and bountiful vegetable patches, each with a touch of luxury.
1. For a snapshot of Cornish life
Best suited to: couples and small families
The Watermill in Withiel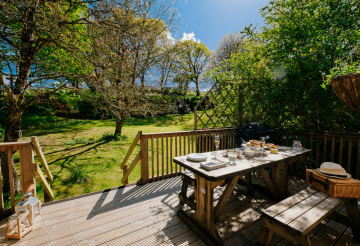 Set within 65 acres of countryside, this North Cornwall retreat dates back to the 1800s, complete with a tennis court and croquet lawn. Upstairs, the cottage's lofty living area leads straight onto a lovely decked terrace, which makes the perfect setting to enjoy a ploughman's in the sun. From here, little ones can explore the grassy wraparound garden or enjoy a paddle in the shallow stream with mum and dad. Inside, the working watermill can be seen and heard from the kitchen, making lunch prep all the more relaxing.
Once owned by Teddy Goldsmith (environmentalist and founder of The Ecologist Magazine), the gardens and grounds surrounding The Watermill have featured in three Rosamunde Pilcher films. Ever-changing with the seasons, they come alive with snowdrops in the colder months, transforming into brilliant yellows and pinks with daffodils and cherry blossom come spring. In the early morning, enjoy a walk through the estate while the dew still sits on the grass - discover the beautiful orchard planted with 142 species of apple and pear trees, or listen to the birds sing with a stroll along the river walk - a favourite of the owners.
Holding its own amongst Italian villas and Australian escapes, The Watermill sleeps two to four guests and was featured by House & Garden as a must-visit recommendation for garden-lovers. Part of the Whitehay Estate, we recommend staying here during spring to see newborn lambs in the surrounding fields.
2. For the perfect blend of coast and country
Best suited to: multi-generational groups
Porth Enys House in Mousehole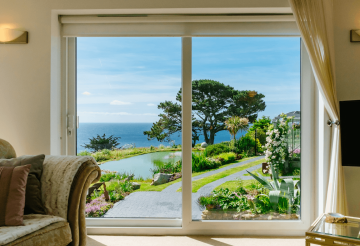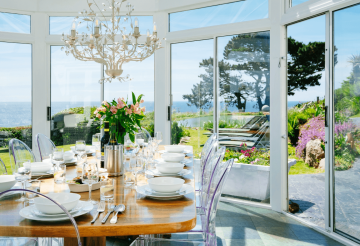 With 20 acres of grounds to explore, including a private shoreline, this coast-meets-country home sleeps up to 10 guests. Porth Enys House has a rich history as a former flower farm, where its seasonal blooms would be shipped across the sea from Mousehole and around to Penzance Harbour, before completing their journey by train on to London.
Spread across the sprawling estate, you'll find a greenhouse growing fresh fruits and vegetables, plus a pretty woodland that envelopes the house – best explored on clear, bright days. When it's time to gather everyone together, dinner in the conservatory is a lovely way to invite the outdoors in. Looking out across the statement pond and glistening ocean behind, let the fragrant scent of the garden come flooding in.
Meanwhile, true garden-lovers will relish a stay at The Lookout, a cosy hideaway for two that's separated from the rest of the house and designed with seclusion in mind.
As well as our guests, Porth Enys is well-loved by the Mousehole locals, who use the grounds to support their local businesses. From local potters to vegetable growers and even a small-scale vineyard, the house has created a real sense of community in this part of West Cornwall.
3. For a dog-friendly stay in Somerset
Best suited to: those who love the great outdoors
Nightjar in Somerset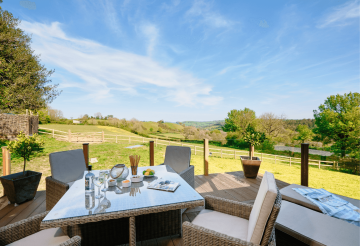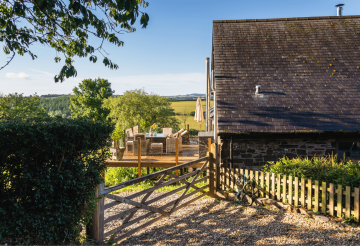 Discover a pocket of paradise with a stay at this one-of-a-kind barn conversion. Sleeping up to eight guests, or 12 when booked as part of our Upcott Farm estate, Nightjar is surrounded by rolling hills and grazing ponies, meaning idyllic views from almost every room.
While the rustic-luxe interiors make it tempting to hunker down indoors, it's the outside space where children and four-legged friends will have the most fun. Lay down blankets for a family picnic, cool off in the shade overlooking the pond, or take to the elevated balcony for evening tapas.
There are hot tubs and fire pits which take full advantage of their location beneath Exmoor's Dark Sky Reserve – perfect for stargazing. Gather together with glasses of chilled champagne and plan muddy dog walks through Exmoor National Park – dogs will love exploring the nearby Tarr Steps and River Barle valley.
4. For fascinating history
Best suited to: large foodie families
Tamarisks in Hope Cove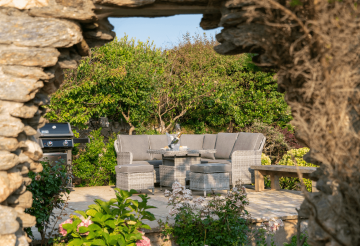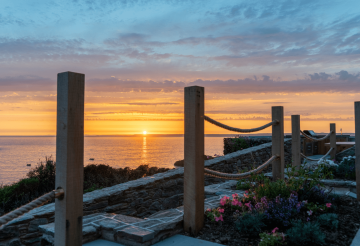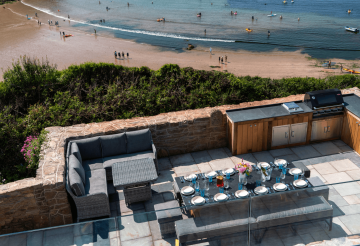 With a panoramic sea-view terrace to the front and a quiet flower-filled garden to the back, Tamarisks' outdoor space is truly unique.
Brought to life by a previous green-fingered owner who dedicated much of her life to it, the rear garden was once open to the public during summertime, loved for its weird and wonderful plants, and subtle South African influences. Something we admired more recently during our team stay is the striking arched wall, finished in intricate mussel and oyster shells that were collected from Hope Cove's Harbour Beach, just below the house.
While the back garden promises peace and quiet with its shaded hanging chair, on the two-tiered terrace you'll find a large dining table to seat all 14 – 16 guests. There's also an outdoor kitchen with a pizza oven and built-in barbeque – perfect for enjoying dinner al fresco after a sea swim.
5. For garden views from your bedroom
Best suited to: nature-lovers hoping to relax
Blue Elvin in Newlyn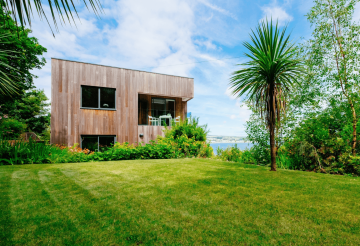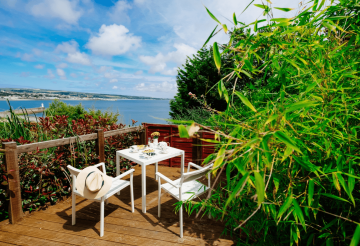 With luscious lawns to the back and expansive sea views to the front, Blue Elvin's garden is an enclosed, picturesque space that's ideal for families. Dotted with palm trees, the Mediterranean planting comes alive in summer, making the grassy lawn a total suntrap. Follow the decked walkway to find the dining table, barbeque and fire pit, or take to the sea-view bistro set for an incredible snapshot over Newlyn Harbour.
On sunny mornings, open the double doors from bedrooms three and four and tiptoe into the garden, or watch from a super king bed as bees and butterflies zip through the wildflowers. Just above in bedroom two, a glass-fronted balcony provides the perfect lookout spot, while being sheltered from the breeze.
6. For views over St Michael's Mount
Best suited to: large families celebrating special occasions
Ednovean House in Perranuthnoe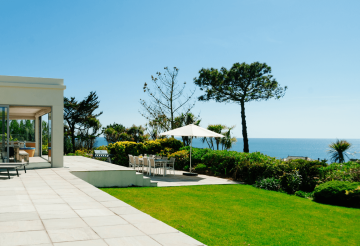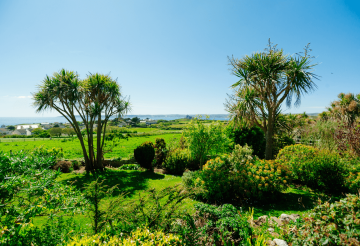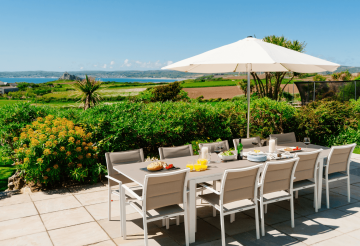 Accessed down a quiet country lane in West Cornwall, Ednovean House promises total tranquility. An acre of grounds features two large landscaped gardens, a paved terrace for sea-view lunching, plus a child-proof fishpond that's sure to entice curious minds.
The real showstopper though, is the captivating view across St Michael's Mount. Framed by tropical-looking trees and green fields, the water stretches as far as the eye can see. Owing to its west-facing position, the garden also enjoys spectacular sunsets over the bay, so we recommend bringing everyone together on long summer evenings to see it dip over the horizon.
Ednovean House sleeps 12 – 14 guests, making it an ideal setting for large group celebrations, only a 10 minute walk from Perranuthnoe Beach.

Planning a garden getaway?
If you're still undecided about where to host this year's special event or family gathering, take a look at some more of our holiday homes. Featuring dog-friendly retreats and sea-view cottages, you'll find the perfect setting for your next staycation.
Image credits: All images used are our own.