From the Blog
Where to eat in and around Mousehole
Posted by
Bethany Walton
on
Updated on
Seafood suppers and family-friendly dining
Nestled on the very edge of Cornwall's west coast and kissed by salty seas, Mousehole is synonymous with fresh-off-the-boat seafood and postcard-worthy views. For those wishing to sample a little bit of both, we've rounded up the best restaurants, delis and traditional pubs to try during a trip to this beautiful corner of the coast.
From handpicked crab linguine to exquisite shellfish dishes in nearby Newlyn, let us take you on a foodie tour of Mousehole and its surrounding areas.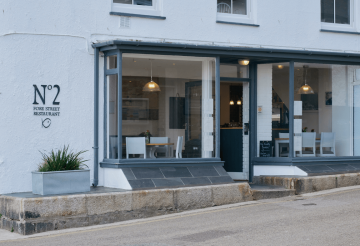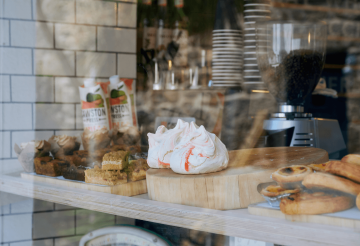 Sitting on the edge of the harbour, 2 Fore Street is renowned for its delicious fresh fish and elevated wine list. Taking inspiration from French bistros, this small restaurant is beautifully romantic with candlelit tables and beamed ceilings. In the summer months, dine al fresco in their palm-lined garden or opt for artisan lunches on the beach from their latest venture, No.1 Millpool Deli Store.
Their menu changes regularly depending on the season and the fisherman's daily haul, but it always places an emphasis on local produce and high-quality ingredients. Begin with zingy salt and pepper squid or smoked mackerel pâté before moving on to the shellfish risotto, paired with a glass of crisp pinot grigio. Catering to every taste, they also have an array of vegetarian and vegan dishes with delicious curries, burgers and soufflés often on the menu. For those visiting with little ones, their children's menu includes fresh pesto linguine, crispy fish goujons and mini moules marinière.
Also open for breakfast, make 2 Fore Street your first port of call before a day spent exploring the ancient fishing village. Serving up warm pastries, French toast and smoked salmon scrambled eggs, there's no better place to savour an early start than here.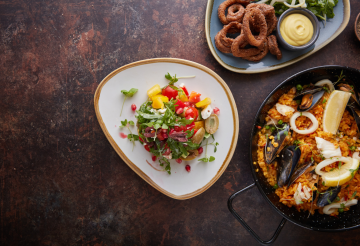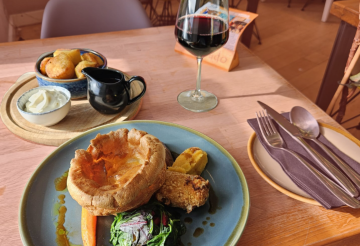 © Mousehole Deli & Kitchen
Often found with a long queue out the door, Mousehole's Deli sits right on the waterfront and is known for its friendly service and carefully curated menu. Recognisable for its soft pink exterior and well-stocked bar, it's easy to see why this has become one of Mousehole's most-loved foodie spots with many travelling from further afield for its superb menu and drinks list.
Sourcing their ingredients from nearby waters, fields and dairies, expect toasty pasties, filled sandwiches and beer-battered scallops on their takeaway menu. Meanwhile, the restaurant is open from breakfast through to supper. Whether it's a flat white and poached eggs that you're after or a fresh crab salad served with salty skin on fries, their menu is full to the brim with delicious all-day plates.
With autumn now in full swing, it's worth booking a table on a Sunday. Serving up hearty roast lunches with seasonal veggies, fluffy potatoes and enviable Yorkshire puddings, it's well worth a visit. Offering two courses for £25, be sure to delve into their sticky toffee ginger cake for afters too.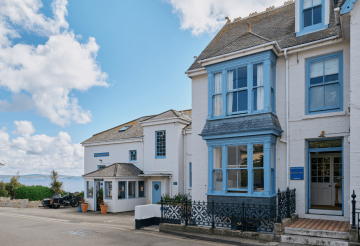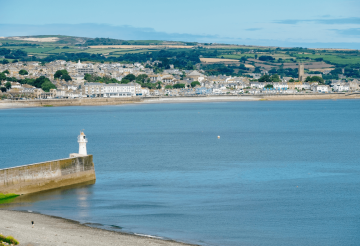 Located not far from Mousehole's idyllic sea pool, The Old Coastguard enjoys elevated views above the water with a suntrap balcony ready for summer dining. Having been featured in many Good Food Guides over the years, it's no wonder it also received a Gold Award from Taste of the West in 2020 too. Headed up by Danny Garland, the menu has been developed to capture its setting beside the sea, while introducing subtle flavours of faraway lands. Fresh fish is delivered daily, so be sure to check the specials menu before deciding on your starter and main course. For those wishing to delve into the finest seafood dishes while in Mousehole, begin with their fish stew served with warm sourdough before moving onto dayboat sardines and tangy labneh.
Their wine list is also a thing of beauty. Extremely knowledgeable about wine pairings and profiles, the front-of-house staff are on-hand to recommend the perfect drink to accompany your meal. With many of their wines supplied by local merchants, it's unlikely you'll have sampled their exclusive list of wines before.
© Orange Café Bar via Instagram
Mousehole's home for plant-based breakfasts, laid-back lunches and homemade cakes, the Orange Café Bar is a new addition to the town having opened its doors at the start of 2023. True to its name, the café is a vibrant space blending eccentric orange walls with cosy vintage décor. Open throughout the day, their breakfasts come complete with tofu scrambled eggs, roasted tomatoes and meat-free sausages and bacon. Once afternoon arrives, settle in for a freshly brewed coffee and a healthy slice of carrot cake or stay until late for phish and chips or creamy mushroom linguine.
Their website will be revealed soon but head to their Instagram to reserve a table.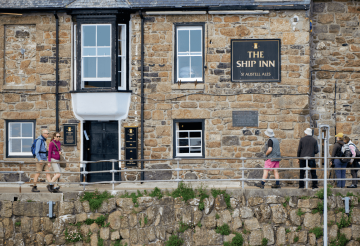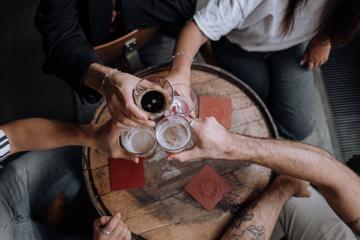 It wouldn't be a foodie round-up without the mention of a traditional coastal pub - a must-have for every seaside town. Ran by St Austell Brewery, the Ship Inn sits along the harbourfront and has seen many fishermen stop here for a post-haul pint over the years. With low beamed ceilings, chalkboard menus and award-winning beers on draught, head here for a traditional pub supper after windswept days walking the coast path.
Open every day from 11am to 11pm, their menu features succulent steak, freshly landed hake and hearty burgers, all served with a side of fries. For smaller appetites, they have a selection of fresh salads, filled wraps and ploughman's lunches to keep everyone refuelled. As with all St Austell Brewery inns, the drinks list features lots of local beers, ales and stouts with a pint of Korev being one of the most popular choices. They've also recently introduced their 'no and low' menu, so sample the decadent tastes of Tangueray gin and Lyre's rum without the alcoholic kick.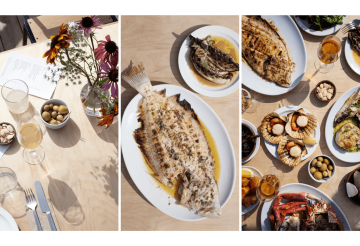 © Argoe via Instagram
Having opened its doors in 2021, Argoe is known for its fine wine and decadent seafood dishes. The restaurant sits within two former lifeboat cabins with its outdoor seating hugging the water's edge in nearby Newlyn. Their menu changes every month, with their produce fresh from the sea every day. Expect exceptional seafood plates with the likes of witch, brill and ray wing often on the menu.
With wines sourced from a small selection of organic vineyards, pair your seafood supper with a carefully chosen glass of white, rosé or orange wine. Made from white wine grapes, orange wine features a variety of tannins similar to red due to its fermentation process. Pair with a starter of radicchio, hazelnuts and goat's cheese before moving onto a crisp chardonnay with a main of monkfish tail.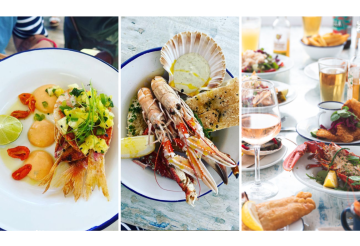 © Mackerel Sky Seafood Bar via Instagram
One of Newlyn's most recognisable restaurants and known countywide for its excellent seafood and service, this small glass-fronted bar is often found with a queue around the corner. A sign of food worth waiting for, the menu is comprised of tasting plates and zesty cocktails. Dine al fresco on one of their bright blue bistro tables or head indoors when cooler evenings arrive, order a few dishes to share – not forgetting the grilled mackerel, as is tradition.
If you'd prefer to dine at home (or on the harbour wall), order from their exquisite takeaway menu or visit their 'shack' just two doors down to pick up a selection of fish tacos and crab-loaded fries.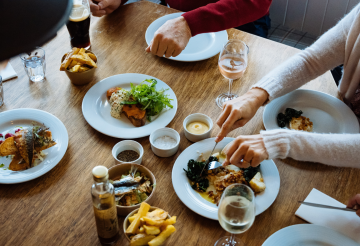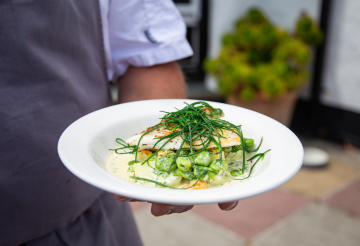 © The Tolcarne Inn
Loved for its 'ode to the sea' menu and humble setting in a 300-year-old pub, restaurateur Ben Tuncliffe heads up the famous Tolcarne Inn in Newlyn. Having previously held a Michelin star at The Abbey in Penzance, Ben took over The Tolcarne Inn in 2012, with glowing reviews ever since. Sitting beside the sea wall, the beer garden is idyllic for summertime dining while the traditional pub restaurant sits beneath low ceilings and has a wood burner ready for chilly days.
Having perused the sample menus, highlights include pancetta seared scallops, home-cured gravlax and roasted red pepper gnocchi. Their summer menu introduces delicious additions straight off the hook, including mackerel toast and ceviché, while autumn brings with it hearty chowders, fish stews and terrines. There are always vegetarian menus available and every meal is ready to be made smaller for younger diners too, making it a perfect location for family-friendly dining.
Where to stay nearby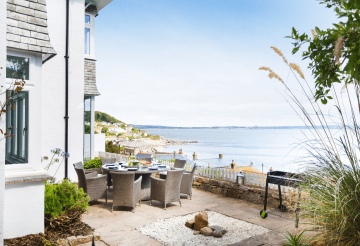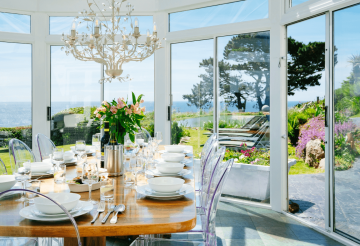 The Mouse House (left) and Porth Enys House (right).
For those longing for a stay beside the sea, make The Mouse House your next staycation spot. Set just moments from the harbour, it's a traditional Cornish cottage with sparkling sea views to match. Sleeping up to eight guests, look forward to gathering the whole family together for coastal adventures, garden lunches and restful sleep with the sound of the waves never too far away.
If a larger gathering is on the cards, head to Porth Enys House. A beautifully restored flower farm, this grand home sits within acres of blissfully private gardens and enjoys endless views out to sea. With its own cinema room and suntrap balconies, Porth Enys House is a perfect setting for year-round getaways.
Book a stay in picture-perfect Mousehole by calling our Property Advisors on 01208 895 570.
Image credits: Orange Café Bar, Argoe and Mackerel Sky Seafood Bar via Instagram. All other images are from Mousehole Deli & Kitchen, The Tolcarne Inn, our own or from Unsplash.
Featured in this post
Mousehole, Cornwall
Sleeps: 8 - 10
Bedrooms: 5 i
Bathrooms: 6
Boasting its very own private coastline, Porth Enys House enjoys some of the finest views in the country. Set above Mousehole Harbour, the house is surrounded by 20 acres of flower-filled gardens and is complete with a cinema room, first floor balcony and a separate 'lookout' sleeping two guests.
Dog Friendly
Sea Views
EV Charger
Hot Tub
Swimming Pool
Games/TV Room
Mousehole, Cornwall
Sleeps: 6 - 8
Bedrooms: 4 i
Bathrooms: 3
Endless sea views, stunning coastal walks and a picturesque harbour: just three things that make The Mouse House so special. Located in Mousehole, soak up the captivating views over the West Cornwall coastline, Mount's Bay and St Michael's Mount.
Dog Friendly
Sea Views
EV Charger
Hot Tub
Swimming Pool
Games/TV Room