From the Blog
Spring-ready garden trends for 2021: five themes to update your outdoor space
Posted by
Sophie Hesp
on
Updated on
Bring a little holiday sunshine to your garden this spring
With flowers in bloom, temperatures slowly climbing and evenings growing lighter by the day, spring has officially sprung. Many of us have spent more time in the garden this past year, so we've pulled together five fun ideas to update your outdoor space for the sunnier seasons.
Whether it's a place for al fresco dining, green fingered projects or simply a restful spot for soaking up some vitamin D, get inspired with the ideas below and create the spring-time garden of your dreams.
Bringing the indoors outdoors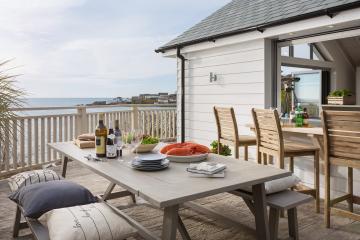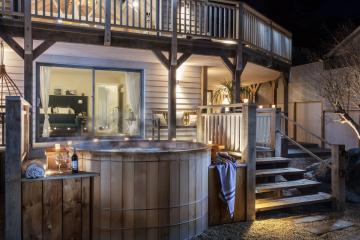 A frontrunner in the list of 2021 garden trends suggests that more of us are beginning to treat our outdoor spaces like an extra room in our house. Especially common amongst the younger generations, garden expert Joe Perkins tells Ideal Home how blurring the boundaries between the two can be done by adding colourful outdoor sofas, rugs and cushions to 'dress our patios in the same way we would our living rooms'.
With this saught-after trend in mind, we asked Cornwall-based interior designer Nicola O'Mara for her top tips on bringing the inside out and updating a springtime garden:
I'm a big fan of festoon lights, which brighten up and add fun to a garden. They can define different areas and are ideal around a dining table. Make sure you purchase good quality lights and opt for a warm light over a white light.

Add interest by carefully hanging exterior mirrors on plain walls or fences. This creates light in darker and smaller spaces, making it ideal for courtyard gardens.

Don't be scared to add a paint colour to your exterior walls or fence, this can help to lift a plain area. Then add some contrasting plants, which will look especially good in the summer.
A touch of the Mediterranean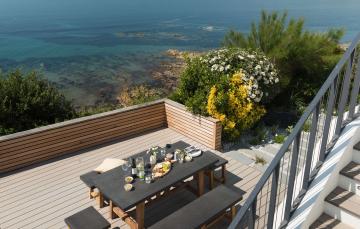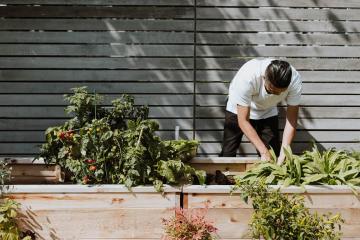 Sea Edge, Downderry
Gone are the days of neatly maintained lawns – this year, we're predicted to see a huge shift in the textures and materials we choose for our outside spaces. So-called 'crazy paving' is looking forward to its 2021 revival, loved for its ability to blend effortlessly with materials like concrete and timber. With a range of unique shapes, sizes and colours available on the market, the granite-like stones at Sea Edge make a versatile canvas for any cool-toned Mediterranean garden.
And you needn't limit your creativity to just ground level – if you're working with a smaller space, why not work a tiled motif into other areas too? We love this hands-on DIY from Instagram's @linsdrabwell, which cleverly upcycles plain ceramic tiles and gives them a new lease of life as a statement outdoor coffee table. The highlight of projects like these is that they're totally customisable – you can design them to complement your existing garden by keeping to a muted colour palette, or go bold with vibrant springtime hues.
If it's a calming outdoor oasis you're going for, opt for a Grecian-inspired blue and white theme, where oversized terracotta planters and natural earthy tones will look instantly at home. Hardy outdoor succulents like agave and sempervivums will grow to an impressive size when planted in a sunny spot with free-draining soil, so consider incorporating a gravel garden into your design too.
For the added 'wow' factor in larger south-facing gardens, growing citrus trees like lemons and limes will add a distinct feel of the Med. While they'd need to come inside during winter, their wonderful zesty aroma through the warmer months will transport you to faraway lands.

A child-led playground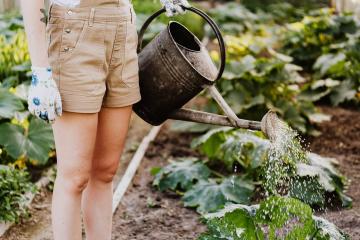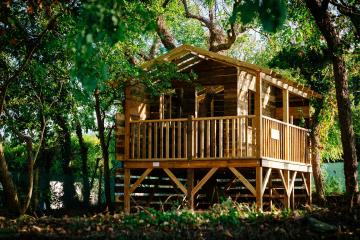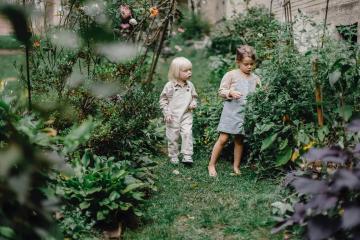 If 2020 taught us anything, it's that we should never take our loved ones or the healing power of the great outdoors for granted, so child-led gardening is a wonderful way to combine the two.
According to Homes and Gardens, this year there's a growing demand for using garden-turned-playgrounds to encourage children away from their screens and into the fresh air: 'We have been asked to integrate outdoor play in many of our gardens in recent months and have been incorporating blackboards, sand pits, hammocks, balance beams, climbing frames and even mini wildlife ponds. We design them so that they are integral to the garden layout, repeating the material and use of colour.'
Adding extra elements of fun – like Pentyak's treehouse and trampoline – will be loved by children of all ages, but on a smaller scale, it can be as simple as taking them with you on your next trip to the garden centre. Ask your children to choose their favourite fruits and vegetables to take home and plant in the soil, or draw a picture of which flowers should go where in the garden. Now's the time to be planting tomatoes, strawberries and peppers on the windowsill ready for planting out later in spring, so get the little ones involved in the process early on and they'll soon reap the benefits with their homegrown fruit and veg.
For children who love getting their hands dirty, make some DIY bug hotels. They're easily put together with a few materials found in the garden or out on your daily walk. It's a great opportunity to teach children the importance of protecting our UK species like bees, butterflies and hedgehogs, and will have even the littlest gardeners dashing outdoors for weeks to come.

In an English country garden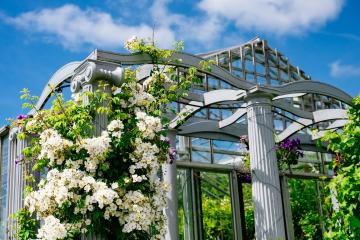 Right: Porth Enys House
While a cascading country garden may look perfectly placed next to a grand English home like Porth Enys House, with a few key changes, it's possible to evoke a sense of country living in an urban garden too.
A strong trend for 2021 involves transforming your outdoor space into an al fresco feast for the senses – combining beautiful vibrant colours with sweet-scented blooms and natural, relaxing sounds, whether it's trickling water, the buzzing of bees or the welcomed chirp of birdsong. Water features are a great way to add both sound and movement to any garden, where you can start small with solar-powered fountains or for a bigger space, make a statement with a sensory waterfall.
When it comes to planting, the more whimsical the better so scatter wildflower seeds and watch them run riot in a frenzy of colour. Ideal Home believe 2021 is set to see an increased demand for plants that attract bees and butterflies to our gardens, so consider planting varieties like Buddleja Berries and Cream.
If you already have a greenhouse in your garden, make the most of the outside as well as the inside, and encourage climbing plants like wisteria to drape across the structure. A top tip from Country Living: it's important to think vertically when designing your spring garden, so introducing a small trellis or metal obelisk is a charming way to add height and bring the focus up to eye level. Finally, be sure to add a chair or two if your space allows, so you can sit back and admire your handiwork on balmy spring evenings.

Something a little less permanent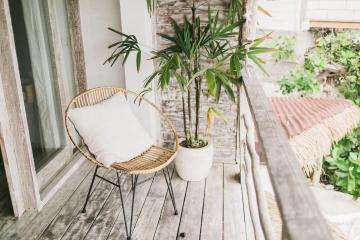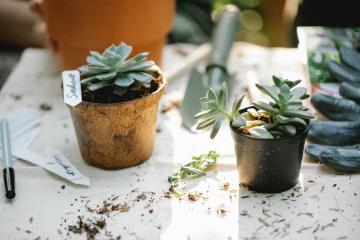 Instagram's most popular gardening hashtag in 2020, #balconygardening is a fantastic low maintenance option for eager horticulturalists who find themselves limited on space. Not only are container plants a lovely way to soften harsh walls and uninspiring balconies, they make a great renter-friendly alternative so you can take your garden with you from house to home.
For suntrap balconies, the possibilities are endless – build your own tropical oasis with dwarf fan palms and Japanese aralia, or for shadier spots, opt for something like a golden shield fern, which thrives even in lower light. For a splash of colour, Gardener's World recommends 'summer bedding plants like begonias, petunias, osteospermum and busy Lizzies, which are all great container plants and will brighten up your balcony from late spring right through summer and into autumn'.
When it comes to choosing the right container, there are plenty of options, whether you're hoping to buy, make or upcycle. Something like a wooden crate or unwanted palette can be easily livened up with a lick of paint, while corrugated metal troughs create an eye-catching industrial look, and add interest to an empty space when hung over railings or balustrades.
Of course for those still new to gardening, there's nothing wrong with introducing a couple of faux plants as well as live ones – it can be a lovely way to make sure your balcony stays beautiful all year round.
Image credits: all property photography is our own. Lifestyle images are from Pexels and Unsplash.