From the Blog
Top tips for holiday hosting: your dinner party guide
Posted by
Sophie Hesp
on
Updated on
Drinks, desserts and decorations to impress your guests every time
Hosting a dinner party is the perfect way to bring everyone together, especially when you're on holiday. Whether it's an intimate evening on the first night of your stay or a more elaborate affair to celebrate a special occasion, we've got plenty of hints and tips to keep your guests happy. Plus, a little help from our inclusive concierge service will take care of all the details, from booking private chefs to arranging showstopping flowers for your table.
1. Every good party starts with a theme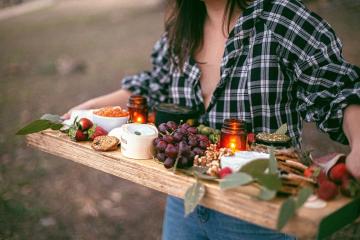 Whether it's a 1920s murder mystery, a carnival inspired soiree or a laid back cheese and wine night, a great theme can make any dinner party twice as special. Keep things simple with themed decorations and establish a colour palette for your tableware, or get into the spirit with fancy dress, a drinks menu and party games to bring out the fun in everyone. Getting the group into character will create unforgettable memories, and is just as fun for grown-ups as children.
Our in-house concierge team are the experts at holiday organisation, and can arrange for the property you're staying in to be decorated before you arrive. From balloons to banners, they'll keep plans under wraps for special surprises and arrange all the details for the big day.
2. Go all out with a champagne reception or wine tasting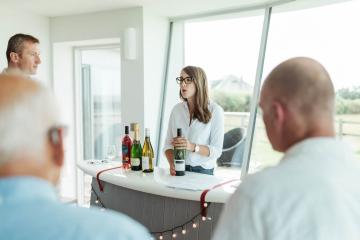 Nothing says 'party' quite like a glittering champagne reception. If you're welcoming dinner guests just for the evening, a glass of local fizz will provide a wonderful welcome.
On hand to recommend the best food and wine pairings that'll beautifully complement your meal, an in-house wine tasting is sure to prove a hit before dinner. If you're staying in Cornwall, sit down with your sommelier and taste a few of the best local wines around, all hand-selected from nearby vineyards. Whether you've a soft spot for sparkling or love a good red, their local knowledge will prove invaluable throughout the evening, topping up empty glasses and making sure everyone is catered for.
3. Set the table with personal touches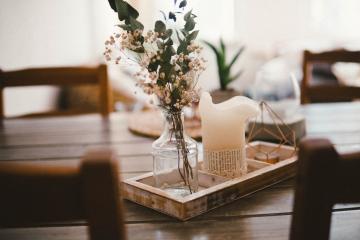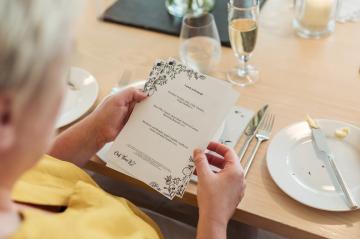 When it comes to hosting an unforgettable dinner party, a good eye for detail will serve you well. With your plates, glasses and cutlery beautifully laid out for each guest, it's the little things like personalised place cards or handwritten menus that everyone will remember. The novelty of finding their seat at the table will add an extra special touch for your guests, and works especially well for Christmas lunches and birthday banquets.
Perfect for a sociable supper, a floral display will make a pretty addition to any dinner party table too, from Easter-time yellows to birthday cake pinks. What's more, our concierge team can arrange for fresh flowers to be delivered to your door – ready for you to make your own.
4. Enlist the help of a private chef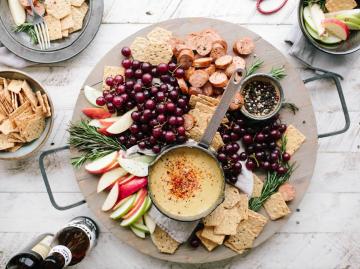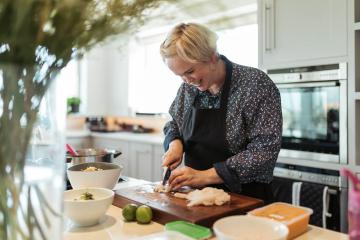 Leave all the details to a trusted local chef or pick up fresh produce from farm shops, fishmongers or delis near your holiday home. However involved you choose to be with the cooking, a little help from a private chef is sure to take away your stress on the night. Some of our South West favourites are Fiona Were, Natasha Osborne, Le Frog and Chef on the Roseland.
If you'd rather be more involved and put your own stamp on dinner, why not learn to cook your favourite dishes with an in-house cookery lesson? Whether it's seafood, Thai, or a patisserie lesson to bake a cake for your birthday guest, you'll be able to whip up a feast by day and sit down to dine with friends and family.
If you're envisioning something specific, our local private chefs can also come prepared with bespoke detailed menus to bring your dinner party dreams to life.
5. Take inspiration from the seasons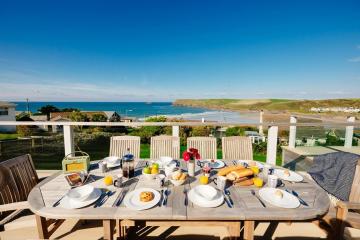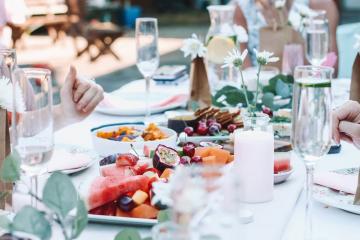 Left: Waders, Polzeath
Dinner parties aren't an indoors-only affair, so set up a table in the garden come summertime for an al fresco evening while the sun still shines. For a more casual event, lay down blankets on the grass for a large group picnic, while children run wild and grown-ups catch up over tapas.
Once the colder months creep in, there's nothing like cosying up by the fire after a hearty roast dinner. Embrace the winter wonderland theme and choose decorations in white, red, silver or gold, and opt for a festive playlist to hum gently in the background.
With a wonderfully sociable layout, Nightjar makes the perfect setting for an autumnal feast for the senses. Sit down to eat in the open plan kitchen, let four-legged friends snooze by the fire and head out to the terrace for a night under Somerset stars.
6. Cater for everyone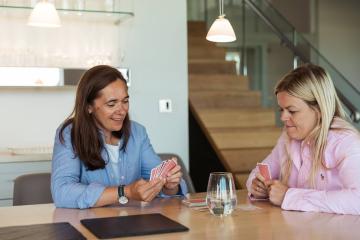 Pentyak, Harlyn Bay
While the adults mingle with a drink in hand, little ones might not be so keen to sit at the table all evening, so give them space to play away from the group. Ideal for multi-generational parties, we recommend having some fun with activities – whether it's a mocktail making masterclass, a game of croquet on the lawn or some good old-fashioned parlour games after dinner. Once the children are tucked up in bed, a glass of red and a cheese board never goes a miss.
Both ideal for holiday hosting, Pentyak in Harlyn Bay and The Quarter Deck in Trevone offer plenty to keep younger guests entertained after dinner, from dens and treehouses to trampolines and games consoles.
__________________

If you'd like to arrange a dinner party for your next holiday, speak to our concierge team and get all the details pencilled in. From decorating the property ready for your arrival, to arranging flowers and balloons for special occasions, they're our in-house experts when it comes to planning.
Call: 01208 895570
Featured in this post
Harlyn Bay, Cornwall
Sleeps: 12 - 14
Bedrooms: 6 i
Bathrooms: 5
One of the most sought-after holiday homes in North Cornwall, this family-friendly property affords shimmering sea views from almost every room. The open plan living and dining area is the perfect special occasion setting, while the den, treehouse and indoor slide provide endless fun for younger guests.
Dog Friendly
Sea Views
EV Charger
Hot Tub
Swimming Pool
Games/TV Room
Trevone, Cornwall
Sleeps: 11
Bedrooms: 6 i
Bathrooms: 4
From its powder blue façade to the lookout lounge and sociable garden, The Quarter Deck was made for idyllic family holidays by the sea. With six spacious bedrooms, a modern kitchen and a feature wood burning stove, it sits only minutes away from the popular sandy beach of Trevone.
Dog Friendly
Sea Views
EV Charger
Hot Tub
Swimming Pool
Games/TV Room
Dulverton, Somerset
Sleeps: 8
Bedrooms: 4 i
Bathrooms: 4
With a magnificent feature wood burner at its heart, this beautifully restored hayloft is bursting with all the charm of a rustic Somerset hideaway. Complete with four delightful bedrooms, a spacious kitchen, indulgent hot tub and an elevated balcony.
Dog Friendly
Sea Views
EV Charger
Hot Tub
Swimming Pool
Games/TV Room