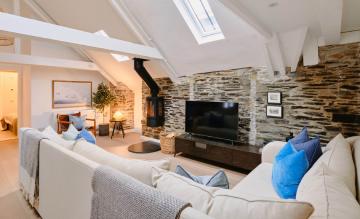 Owner Testimonials
We know that without our homeowners placing their trust in us, we wouldn't have a successful business. We're delighted to share some of the lovely comments owners have made about working with us.
Noordhoek, Porthcothan, North Cornwall
"Having finally realised our dream of building our house, we were faced with the challenge of finding the right partner to work with us as we entered the holiday rental market for the first time. Having enjoyed wonderful holidays in Cornwall for over a decade of renting with Perfect Stays, we already recognised their knowledge and understanding of what the discerning holidaymaker was looking for. However, they have exceeded our expectations in partnering us along this particular journey!
From the outset whilst our house was still very much under construction, Perfect Stays were able to provide expert guidance and advice so that we were fully prepared for the reality of renting a house in this part of the world. Their willingness to provide sensible advice and honest feedback has been most welcomed and highly valued. Ultimately, we have found a trusted partner who not only understands the intricacies of this market, but who brings both professionalism and expertise to the day-to-day interaction with both owners and guests. We feel very strongly that our much-loved home is more than safe in their hands and that Perfect Stays will always do their utmost to ensure that both ourselves and our guests are rewarded with a wonderful, hassle-free experience. I would recommend them to anyone looking to take this leap!"
Pentyak, Harlyn Bay, North Cornwall
"We have used Perfect Stays for more than five years now and we love everything about them, they are superb. Their professional approach is world class. We feel like we are in a genuine partnership with them, our interests in looking after our property and marketing it are completely aligned. They are responsive, personable and completely in touch with the market."
Sea Breezes, Daymer Bay, North Cornwall
"We would highly recommend Perfect Stays. They have an unrivalled portfolio of the best quality properties. They thoroughly deserve their reputation of having scrupulous attention to detail and the highest quality standards. They are very strong at all round years sales and the team are excellent at resolving any problems that arise."
Overcombe, Bigbury-on-Sea, South Devon
"We have owned Overcombe for 16 years, during which time it had been our wonderful family retreat. We decided to rebuild the property, make it fabulous and enter the luxury holiday rental market. When the project was close to completion, we knew our most important decision would be who to market it with.
The best website, with the most similar properties in our opinion, was Perfect Stays, but there was an issue – all of their properties were in Cornwall. Ours would be the first in Devon. We then had a meeting with Perfect Stays and were assured this would not be a problem. They also gave us invaluable advice on many of the finishing touches and furnishings of the property.
We really felt, from our very first meeting with Perfect Stays, that we had found the 'perfect partner'. Overcombe has now been with Perfect Stays since 2014, and by 2016 was renting for 48 out of 52 weeks without a single problem! Nothing appears to be too much trouble; they are super efficient, with a brilliant team who are a pleasure to deal with. Their marketing and website is second to none. We could not recommend them highly enough."
Porth Enys House, Mousehole, West Cornwall
"We have owned Porth Enys House since 1987 and, throughout that time, used it as a family holiday home. In early 2012 we decided, as the children no longer spent their summer holidays there, we would rent it as a holiday property. We approached several companies who we thought specialised in the luxury end of the rental market and had a few meetings. It was obvious that Perfect Stays held the same values as us and they spent a lot of time giving us very detailed advice. We initially thought our house was perfect, but after we had followed their advice, we could see that the advice given was honest and invaluable.
We started renting the house out from mid 2012 and were very pleased with the number, quality and value of bookings. In 2013, after putting up the prices to reflect the addition of more accommodation within the grounds, we have been really delighted with the number of bookings and the revenue. We are also pleased that we are getting quite a lot of repeat bookings, which suggests we have got something right."
The Cove, Polzeath, North Cornwall
"We have rented our Cornish property through Perfect Stays for many years now. We could not ask for a more efficient, friendly and helpful service. We love how they keep us on our feet as owners, ensuring that all their properties are maintained at the high standard they and their guests expect. We could not recommend them more highly."
Prennek House, Mawgan Porth, North Cornwall
"Perfect Stays have always been very responsive and helpful with any queries which we have had. The team are always prompt to deal with any issues which occur, either from our side, or the guests', meaning communication is quick and effective between all concerned, so any niggles can be resolved quickly."
"

My family's experience with Perfect Stays was absolutely perfect. We stayed at Tregoose, which was an amazing property which was extremely well equipped! All information was communicated clearly and timely, if we had any questions, the team were very responsive and helpful. I would fully recommend Tregoose and Perfect Stays to everyone!

"
The Young Family, Colchester | Trustpilot - Stayed at Tregoose