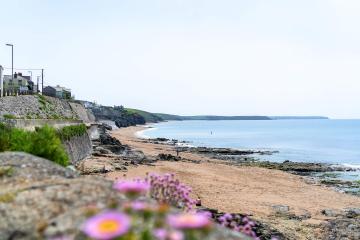 Why Choose Perfect Stays?
If you're thinking about opening up your home and investing in the luxury holiday rental market, then it's important to find an agency that aligns with your values. Here's an introduction to what we feel sets us apart.
For us, it's all about the right properties
We limit the number of new properties we take on each year; this means our portfolio stays exclusive, our service levels remain high and we can concentrate on the homes we're truly passionate about. By ensuring consistently high standards across our portfolio, our guests can go from one house to the other with complete confidence in the Perfect Stays® brand.
We provide a completely personalised service
We understand that renting a home is a very personal process. Every homeowner has different goals and expectations for their property, which is why we offer an individual and flexible holiday letting service. By taking an equal partnership approach, we build collaborative relationships based on trust, communication and mutual understanding.

We work closely with our homeowners at every stage of the set up and rental process, from offering initial advice on purchasing a holiday home, to providing information on legal compliance requirements. This completely personalised service doesn't stop when the rentals start; our dedicated Portfolio Team are always available to discuss queries, concerns and ideas with our homeowners.
Our knowledge, experience and local connections are invaluable
Homeowners often rely on our guidance and advice from the very early stages of the new build or renovation process, through to preparing their home for the rental market. We work with a range of trusted suppliers across the South West and frequently recommend contacts to our owners; these include architects, builders, interior designers, electricians and fire risk assessors.

With a background in property management and housekeeping services, we know what does and doesn't work for luxury rentals. We can help homeowners find the right team for them, so their property is cleaned and maintained to the highest standard. Our implementation guide explains how to achieve this consistent level of service, and our new owners always value this detailed advice.
We pride ourselves on innovative marketing and effective PR
Through sophisticated marketing, targeted PR campaigns and unparalleled customer service, we've built a strong presence and trusted brand reputation within a highly competitive marketplace.

Our sophisticated, intuitive and visually engaging website is constantly developed and enhanced, which places us at the forefront of the luxury travel industry. It's populated with high quality, professional imagery and videos, and is regularly updated with valuable local information and recommendations.

We stay abreast of industry trends by investing heavily in innovative digital marketing. We're always early adopters of the latest online advertising features and technologies, and our dynamic campaigns engage effectively with the core market. We utilise a wide range of digital channels including social media, email marketing, search engine optimisation, video, blogging and pay per click advertising.

Our in-house PR team are experienced at securing compelling national and international press coverage, and we work with specific magazines and newspapers to reach our target demographic with high quality print advertising and editorials.
"

My family's experience with Perfect Stays was absolutely perfect. We stayed at Tregoose, which was an amazing property which was extremely well equipped! All information was communicated clearly and timely, if we had any questions, the team were very responsive and helpful. I would fully recommend Tregoose and Perfect Stays to everyone!

"
The Young Family, Colchester | Trustpilot - Stayed at Tregoose