From the Blog
The 2020 trends are in: six predictions for a year of unique interior design
Posted by
Sophie Hesp
on
Updated on
The Hideout, Mawgan Porth
Say goodbye to 'living coral' and hello to 'classic blue'
While January can often evoke the feeling of 'out with the old and in with the new', when it comes to interior design, the rules don't have to be so hard and fast. Inspired by this year's trends, our interior design guide is all about celebrating the small changes to transform your home in 2020. From investing in quality artwork to being bold with colour and shopping sustainably, here are our favourite ways to update and embrace the spaces you cherish.
1. It's time for an art deco revival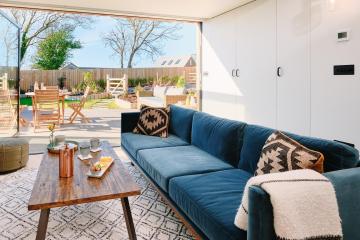 Left: The Nook, St Minver. Right: Bodillian, Praa Sands
Think extravagant wallpaper, statement sideboards and lashings of metallic touches. This year sees the comeback of an opulent art deco style, brought right up to date for the 21st century. According to Ideal Home, many of us will embrace the so-called 'eclectic glamour' in 2020, with harsh lines and striking silhouettes making way for scalloped edges and smooth curves.
To introduce a touch of opulence, fill your home with rich textures and metals – from gleaming gold and burnished copper to brushed brass and bronze. If you're looking for statement pieces, opt for 1920s style occasional chairs, porthole mirrors and cocktail cabinets. When it comes to texture, you can't go wrong with velvet – a true timeless staple that'll never go out of style.
2. The Nordic influence still runs strong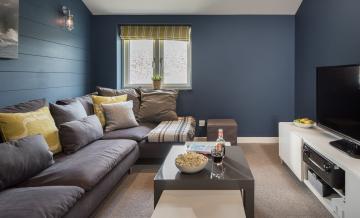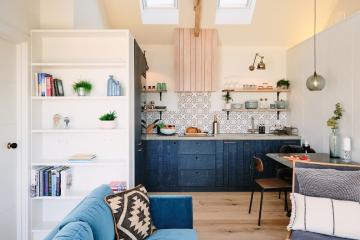 Left: Sea Breezes, Daymer Bay. Right: The Nook, St Minver
Nordic design is facing an overhaul in 2020, so get ready to experiment with texture, shape and colour. 'Classic Blue' replaces 'Living Coral' as Pantone's colour of the year, appearing in our homes in everything from sofas and shelving to scented candles. Whether you introduce it subtly or go bold with an entire room, a colour that represents sea, sky and serenity is sure to bring a moment of calm. Clad in classic blue walls, Sea Breezes' snug offers a cosy and tranquil refuge in Daymer Bay – a coastal nod to the Nordic.
For a new take on Scandinavian style, get acquainted with the 'Japandi' trend. You can create the perfect harmony with a mixture of clean lines and natural colours, and quirky Japanese accents like oriental prints and bamboo furniture. If you prefer a more pared-back approach, sprinkle statement features throughout an otherwise neutral home. This year, warm neutrals are seeing a surge in popularity. Rather than cool beige or grey undertones, a creamy vanilla or oatmeal will bring a cosy finish to any room.
Where Nordic design meets industrial chic, The Nook near Rock is a haven for interior lovers. From the deep velvet sofa to the soft pops of natural wood, you'll find inspiration no end.
3. Show your bathroom some love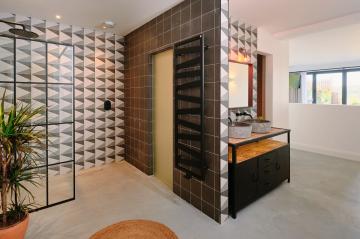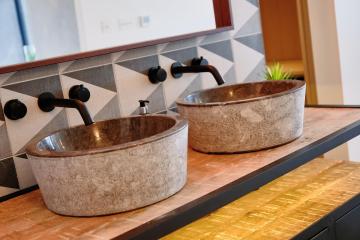 The Hideout, Mawgan Porth
This year, the key to a beautiful bathroom is about combining practicality with style. Interior design takes an industrial turn, with concrete set to be a popular choice for spaces big and small. With a preference for textured over polished, Real Homes predict the material's tough and functional edge which will prove a hit for years to come.
If you're not in the market for a full room redesign, keep an eye out for smaller scale accessories like concrete basins, soap dishes and trinket trays that pay homage to the trend. And for those extra finishing touches that go hand in hand with a concrete edge, think rattan, wicker and plenty of plants. Not only will they soften the space, they'll provide plenty of natural texture to see you through the year.
Lovers of this trend will seek sanctuary at The Hideout in Mawgan Porth. Its striking open plan bathroom is edged in textured concrete, with a sunken bath for evening soaks by the sea.
4. Take a trip to the tropics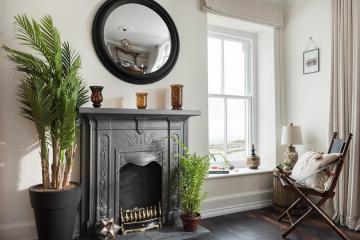 Shun Lee, St Ives
When it comes to buzzwords, this year is all about 'biophilia'. Bringing elements of the natural world inside is set to take 2020 by storm, according to artist and designer Tom Raffield. Suggested to improve air quality, nourish wellbeing and encourage creativity and productivity, a botanical injection will be a welcome addition to any home.
With more people expressing personality through their interiors, plant-inspired illustrations and artwork evoke nostalgia and a playful character. Harking back to the expressionist art movement, this trend keeps the hand-drawn forms and line drawings at its forefront.
5. Experiment with two tone kitchens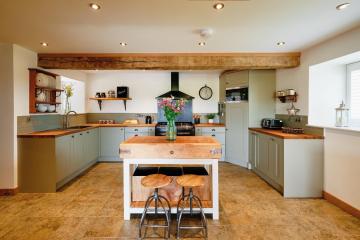 Willow's Rest (part of the Upcott Farm estate), Dulverton
As we enter a new decade, the years of monochromatic and all-white kitchens are fading into the past. Instead, interior designers are combining colours for a characterful twist to the typical kitchen aesthetic. Ideal Home recommends experimenting with a juxtaposing colour scheme, where deep and dark units add depth to the surrounding brighter hues.
6. Shop responsibly and sustainably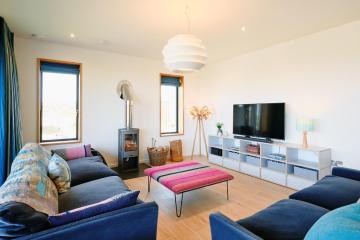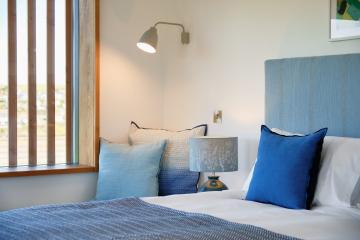 Prennek House, Mawgan Porth
As with any home renovation project, there's always the temptation to fill your space with brand new finds that entice and excite you. But as the eco-design trend continues to flourish, curating a selection of one-of-a-kind pieces can inject a lot more personality. Whether it's investing in a bespoke handcrafted dining table, supporting local creators by buying their artwork or turning to vintage materials, there's plenty of fun to be had.
Showcasing the South West's finest creators, Prennek House in Mawgan Porth is the perfect marriage of old and new. Hand-crafted artwork lines the walls, while upcycled materials give the interiors a story of their own. We particularly love the beautiful handmade rugs; crafted from recycled plastic bottles, they combine eco-friendly with a super soft touch.