From the Blog
Six trending holiday destinations for 2022
Posted by
Sophie Hesp
on
Updated on
Picture-perfect beach towns and countryside retreats
Deciding where to go for next year's big family holiday was likely a topic of conversation over the Christmas dinner table. So while everyone's gathered together, now's the time to start the planning and find the location that ticks all the boxes.
Using website and booking data from our guests and properties, plus local knowledge from our team, we've compiled the top UK holiday destinations that we think will offer an incredible stay in 2022…
1. Harlyn Bay in North Cornwall
In a nutshell: Perhaps the most family-friendly part of North Cornwall. Set within the Seven Bays, the beach is dog-friendly with a local surf school and rockpools for children.
Key trend: Increasingly popular amongst families.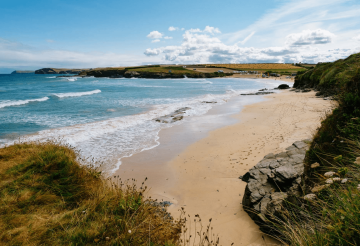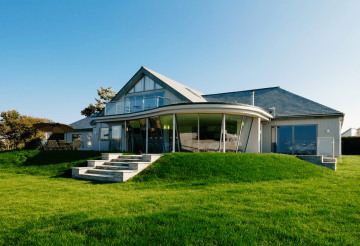 Image right: Pentyak in Harlyn Bay
Harlyn Bay has grown more and more popular with our guests this year, and is now the fourth most visited location page on our website. Its vast expanse of sand and sea makes it a natural fit for family holidays, well worth considering if you'd like to explore an alternative north coast location.
As well as being a top Cornish surfing beach, Harlyn Bay is home to some great dining options. The Pig recently opened its doors to offer lunch and dinnertime meals in a restaurant setting that's perfect for special celebrations, plus, with Padstow on your doorstep offering a little more hustle and bustle to dip into as you wish, it makes for a relaxing beach break.
Where to stay: Pentyak, sleeps 12 – 14. Loved by multi-generational groups, it's no surprise that Pentyak's property page has been the most frequented of its kind on our website since July. While it's almost fully booked for 2022, we've spotted a rare window of availability from October, so don't miss out if you're planning an autumn getaway outside the school holidays. Or for a last minute springtime stay, retreat to Trelawn in March or April.
That said, we know it's mostly summertime stays that our guests have their eye on at this time of year, so we have a couple of options to tempt you. A brand new property will be joining our Harlyn Bay portfolio, early in 2022. Bringing with it sea views and a hot tub, plus seamless Mint House interiors, our latest beachside home will sleep 10 guests. Alternatively, there are a few summer weeks ready to book now at Lizard, situated just opposite the beach.
Top tip: Sign up to our newsletter to be amongst the first to hear about our new properties.
2. Hope Cove in South Devon
In a nutshell: A charming chocolate box village with a peaceful harbour and some excellent local pubs. A favourite spot for paddle boarders.
Key trend: Families crave smaller village life.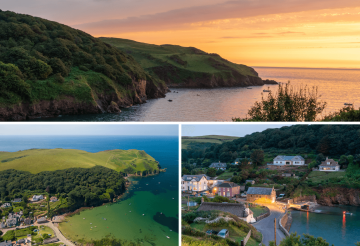 While its South Devon location makes it easily accessible from more well-known areas like Salcombe and Bigbury-on-Sea, it seems our guests are hoping to venture a little further off the beaten track for their 2022 holiday, and Hope Cove offers the chance to do just that.
The village itself is split into two parts, Inner and Outer Hope. With its thatched cottages and small harbour scattered with swimmers and kayakers, it has an olde-worlde feel about it that's tempting more travellers than before. The beach at Outer Hope is lifeguarded during the summer, and the excellent water quality makes it a safe option for families. Originally a smuggler's haunt, the dog-friendly Hope and Anchor pub opposite the beach has recently been renovated. Pop in for the catch of the day if you're walking the South West Coast Path.
Where to stay: As soon as we launched our Hope Cove property, Tamarisks, it proved hugely popular amongst our guests and website visitors. In the first three months of joining our website, it had been viewed almost 8,000 times.
Sleeping 14 – 16 guests and offering eight bedrooms plus elevated views across the harbour, we think Tamarisks will be a bestseller for families next year, so be sure to book well ahead. We've also noticed a surge in property bookings for larger groups in 2022, with clicks to our 'large group stays' being the most viewed 'holiday type' page on our website.
Further reading: Hope Cove: the South Devon fishing village with something for everyone?
3. Porthleven in West Cornwall
In a nutshell: One of the UK's most iconic storm watching towns with great restaurants around the harbour. Not far from Kynance Cove and the historic tin mines at Rinsey Head.
Key trend: The food festival returns.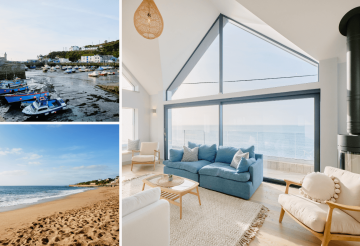 Image right: Seathrift in Porthleven
After a year out due to Covid, those planning a foodie trip to Cornwall will be pleased to hear that Porthleven's annual food festival is set to return from 22nd – 24th April 2022. With a chef's theatre from Sharp's Brewery by day and music sessions in the Shipyard by night, next year's line-up includes Antony Worrel Thompson, Daphne Skippard and Jude Kereama – local celebrity and owner of Porthleven restaurant, Kota.
According to the festival's website, "Jude has been awarded a Bib Gourmand at Kota four years in a row, making it the only restaurant in these parts to hold the accolade. He also has three AA Rosettes, one of only three restaurants in Cornwall to achieve that feat."
Other foodie highlights in Porthleven include Harbourside Refuge, headed up by chef Michael Caines, plus a new coffee roastery and café opened by Origin in April 2021.
Where to stay: Seathrift, our new Porthleven hideaway, received over 3,000 visits to its property page within the first month of being on our website, suggesting there's growing demand for holidays in this area of Cornwall. With panoramic ocean views and a heated outdoor swimming pool, it's the perfect place to unwind. You'll find the bustling harbour and surrounding restaurants a 15 minute walk from the front door.
4. Dulverton in Somerset
In a nutshell: Idyllic country pubs, rolling fields and dog-friendly walking routes. Pony trekking and stargazing opportunities on Exmoor.
Key trend: Guests are swapping life in the city for a countryside detox.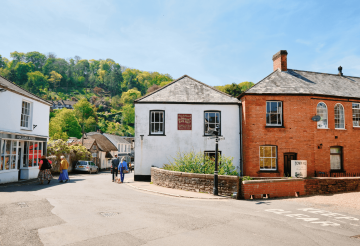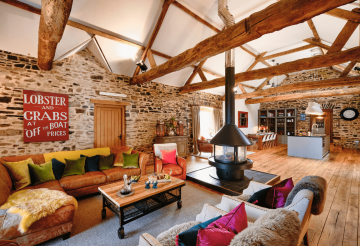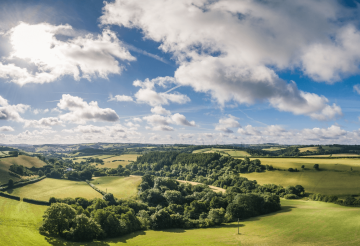 Image centre: Nightjar in Dulverton
In the midst of multiple lockdowns, most of us were itching to get away and dreaming of our next break. Searches for 'where can I travel' were three times higher in 2021 compared to before the pandemic, according to Google Search Trends.
A picturesque portion of Somerset, what Dulverton does beautifully is combine the typical image of country life with attractions that make it practical for family holidays. Whether you're walking the Tarr Steps, kayaking the River Barle or dining at the Michelin-starred Masons Arms, there's plenty surrounding the market town to keep everyone occupied. It's also great if you're looking to support smaller local businesses during your stay, with an independent butcher, bakery, post office and chemist lining the main street.
In 2022, we think the focus will shift from the 'workcation' that proved popular this year, to out of offices being firmly on, and work emails and social media taking a back seat. Following a year of digital burnout and with the work-life balance growing increasingly blurred, we're finding more guests are wanting to be present with friends and family during their upcoming holidays, and that's something the countryside is proven to help with.
As part of Radio 4's '10 most restful activities' survey, it became clear that simply 'being in nature' works wonders for our mind, with 18,000 people ranking it as the second best way to relax. Walking came in at number six, while reading took the top spot.
Where to stay: Nightjar, sleeps eight. An idyllic setting for all of the above, our countryside retreat is a natural fit for those wanting to escape city life. Dog-friendly and set across one level, it's ideal for guests both young and old. It's also perfectly placed near to some beautiful walking routes along the Exe Valley.
5. Marazion in West Cornwall
In a nutshell: Well-placed for wildlife watching and boat trips. Excellent restaurant options nearby for seafood-lovers. The gateway to St Michael's Mount.
Key trend: Recently hit the headlines in a bid for city status.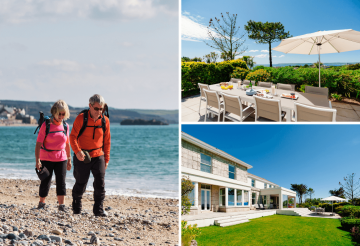 Images right: Ednovean House in Perranuthnoe, Marazion
Marazion is set within Mount's Bay, the section of coastline that sweeps across West Cornwall. The town recently appeared in headlines after joining the campaign to become the next UK city. Competing against Bournemouth and Reading amongst others, it would become the smallest and southernmost city if successful, with just 1,440 residents.
While it's often overshadowed by nearby St Ives and Mousehole, Marazion itself has plenty to offer for holiday entertainment. From booking a boat trip with Marine Discovery to organising tables at local restaurants like Sail Loft, The Godolphin Arms or The Cutty Sark, don't forget to chat with our Concierge team who can arrange day trips and itineraries on your behalf, from the moment you book. We predict this service to be busier than ever in 2022, having noticed a staggering 320% increase in website visits to our concierge page since the start of this year.
Where to stay: Ednovean House, sleeps 12 – 14. Set in Perranuthnoe, a pretty village just outside Marazion, this family-centric home looks out across Mount's Bay, featuring an acre of grounds and a separate media room. Its modern sea-view kitchen makes it the place to be for a 2022 celebration – one made all the better with a private chef.
We've noticed that some of our guests are booking private dining experiences like these up to 12 months in advance, so get in touch for our recommendations before they're snapped up for next year.
6. Padstow in North Cornwall
In a nutshell: A thriving foodie hub known for its chef-named restaurants, vibrant harbour and scenic cycle route. Home to an annual Christmas festival with views over Rock.
Key trend: Some things never go out of style.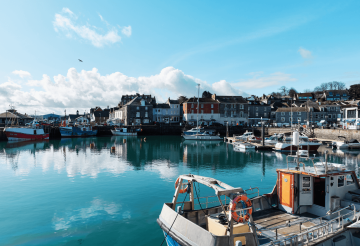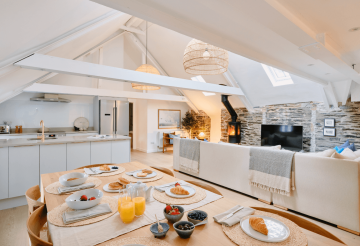 Image right: Harbour Walk in Padstow
The evergreen trend of Cornwall holidays, there's a reason Padstow appears on so many 'must-visit' destination lists: food. If there's one thing we know about how our guests plan their breaks, it's that the nearby restaurants, cafés and pubs play a big part in the final decision. Eight out of our 10 best performing blog posts are food-related, and our 'private dining' page is the third most popular activity page on our website, so we make sure we're never short on inspiration.
Favourites from our recent foodie guide include Barnaby's for small plates, Pucelli's for an Italian twist, and an incredible chef's table at Paul Ainsworth's Mahe.
Where to stay: Harbour Walk, sleeps eight. Nestled behind the town centre, this chic Padstow townhouse has proven popular with our guests since it joined us in December 2020. Now with a crackling wood burner, the main living area features lofty ceilings and luxe interiors, while the upstairs master suite makes a relaxing sanctuary for two.
Coming soon: Set to bring a fresh art deco approach to our Padstow collection, Kilden Mor will be joining us in 2022. Sleeping up to six, and complete with panoramic views across the Camel Estuary, it offers a slice of luxury living with easy access to the nearby shops, restaurants and beaches. Sign up here for more details.
Found your dream location?
Now the fun begins. If you're feeling inspired to book your big 2022 holiday, get in touch with our team for their personal property recommendations. With access to our inclusive concierge service as part of your booking, there's no limit to what you can do in the local area.
Image credits: All images are our own.