From the Blog
Meet eight of Cornwall's best interior designers
Posted by
Bethany Walton
on
Updated on
Discover the designers behind Cornwall's luxury holiday homes
Whether it's timeless coastal, classic contemporary or laid back Scandi, innovative interior design can lift a property from ordinary to extraordinary. Curated and bespoke, each design is brought to life by careful consideration and outstanding originality. To discover the process behind their styling, we spoke to eight of Cornwall's most prestigious interior designers about their inspirations, sourcing and concepts.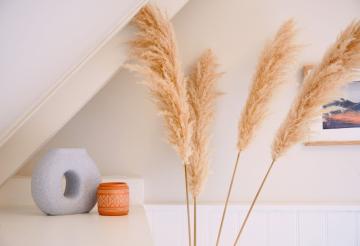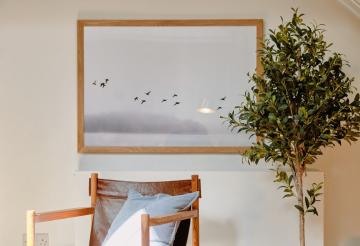 Style: Modern coastal
As seen in: Harbour Walk in Padstow, Tater Du in Harlyn Bay and Eden in Downderry
Instantly recognisable for their soft colour palettes, striped patterns and metallic accessories, Mint House are a firm favourite of Perfect Stays. Founded by Caroline Saulsbury and Lou Ingram, their aim was to create "lived-in luxury, with every room designed to be used and effortlessly enjoyed, not just admired." Based in Truro, Mint House are the creative forces behind Harbour Walk, Tater Du, and most recently Eden, our new addition in Downderry.
To find out more, we chatted to Indie, one of Mint House's interior designers, about how they bring their signature aesthetic to such different properties:
"We work closely with the client to find out what styles they like and are naturally drawn to. Then we consider the design of the home, as this can vary from contemporary new builds to older period properties – so this also has a great influence on our interior decisions."
You can see this throughout their design decisions for Harbour Walk and Eden. Nestled in the heart of Padstow, with stone walls and low beamed ceilings, Harbour Walk's colour palette is designed to feel warm and cosy with plenty of yellows, oranges and greens. On the other hand, Mint House used "a monochrome colour palette, brass finishes, oak wood and blue tones to blend with Eden's surrounding coastal views." In doing this, they're able to curate completely bespoke designs for every client, while staying true to their founding values.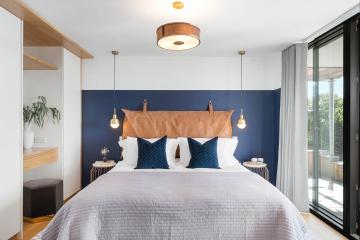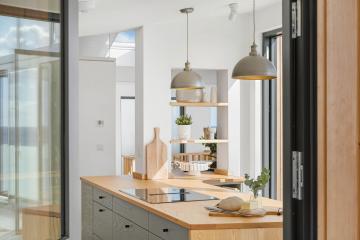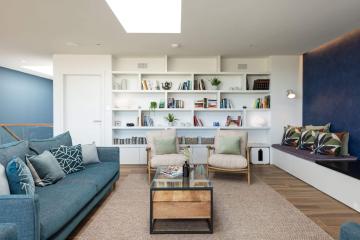 © Doon Williams
Style: Contemporary coastal
As seen in: Trelorna, Polzeath
Taking inspiration from Cornwall's shoreline and surrounding landscape, Pebble Design create effortless coastal interiors that feel laid back and relaxed. Using lots of calming blues in their colour palettes and textiles, Pebble Design recognise the importance of feeling at home as soon as you walk through the door. Having recently designed Trelorna's beautiful interiors, owner Claire talks us through her process:
"The starting point is to talk it through, in detail, with the client. It's essential to understand what they'd like to achieve, and how to make it a comfortable and functional space for everyone to enjoy. I work in layers to achieve the best results, this way I can build up the overall feel of the home with signature pieces, colour schemes and soft furnishings."
Sitting above Polzeath's sparkling waters, Trelorna is a real ode to Claire's immaculate eye for detail. Awash in neutral tones, every room feels instantly welcoming and serene, while the bedrooms introduce playful pops of colour with greens and yellows.
When choosing the right interior pieces for a home, Claire doesn't have one set 'go-to', instead she likes to "shop local as much as possible, and always uses Cornish artists when selecting artwork." In particular, she notes that Iroka and Jo & Co are her first ports of call when shopping for beachy, homely pieces.
Take a closer look at Pebble Design's website or visit her gallery on the Roseland Peninsula.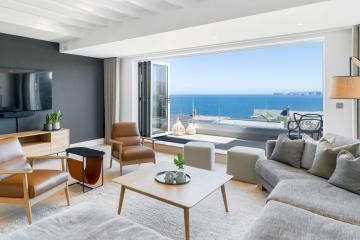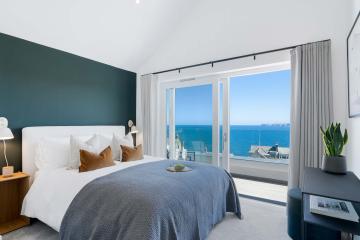 Style: Classic coastal
As seen in: Gwel Arvor in Port Isaac and Ednovean House in Marazion
Known for their calming colour schemes and soft textures, Iroka blend classic coastal design with contemporary pieces. Having recently worked on our new home Gwel Arvor, Iroka created a beautiful colour palette with plenty of blues, greens and greys. Set above the waters of Port Isaac, Iroka knew the importance of embracing the scenery and designed the rooms to make the most of the views.
A complete new build, the owners wanted to create a welcoming feel while staying true to their North Cornwall setting. To do this, Iroka installed white wooden beams to soften the living spaces and used subtle introductions of colour throughout the bedrooms. Iroka have ensured that 'sense of calm' is present throughout Gwel Arvor, while always complimenting its surrounding sea views.
With their very own homeware shops dotted around Cornwall, create your own Iroka home with a few new additions. Or visit their website for more information on their design process.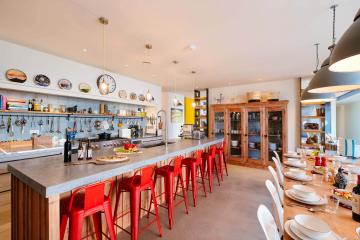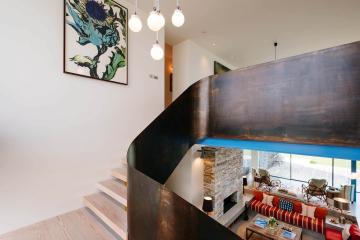 Style: Contemporary
First and foremost, Watershedd are known for their incredible architecture and property development portfolio. But it doesn't end there, their bespoke interior design service is also something to admire. Established in 2013 by founders Marzouk Al-Bader, Adam Casey and Poppy Trevillion, Watershedd is one of Cornwall's most prestigious interior designers. Distinguishable for their relaxed, modern aesthetic, Watershedd work with local artisans and craftspeople to create their designs. To find out more, we asked them to talk us through their interior design process:
"We're always respondent to the architecture of a property. Whether it's an existing building or a new architectural build, the interior spaces are designed so the language flows from the outside in. We do this by taking inspiration from the local surroundings and using a combination of natural materials, fabrics and colours. Then, we balance out light and airy rooms with cosy spaces, so the feel of the house responds well to all weather conditions."
Architecturally, their designs are sleek and contemporary. Often using full-height glass windows, dark timber and stonework, their homes are as impressive as they are homely. To achieve this, Watershedd go on to say that "there always needs to be a sense of equilibrium in a room, so we carefully select each interior piece for its scale and proportion. We like to use a combination of old and new pieces and love exploring markets and auctions to find truly unique pieces."
Follow their new projects over on Instagram or visit Watershedd's website to read more.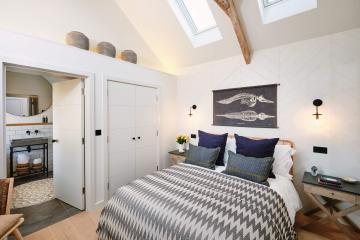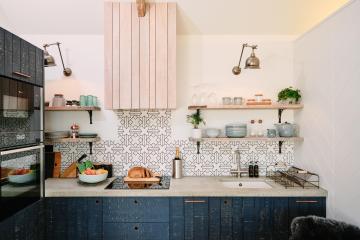 Style: Contemporary coastal
As seen in: The Nook, Rock
With over 23 years of experience, it wouldn't be an interior design round-up without including Nicola O'Mara. Based in North Cornwall, Nicola's designs can be seen across many luxury homes near us, including our romantic Scandi hideaway The Nook.
Using lots of calming greys, whites and blues in her designs, Nicola aims to create balanced and elegant interiors for everyone to enjoy. Understanding the need to be functional, yet beautiful, each project begins with scoping out the property and client's requirements. Secondly, she takes influences from different design styles to build a tonal colour palette, before sourcing furniture and soft furnishings.
Nicola's keen attention to detail ensures a consistent theme and comforting feel throughout. When designing The Nook, Nicola used plenty of geometric patterns, blue tones and industrial accents, to create a 'hygge' home. Inspired by Scandi living, Nicola chose open shelving, concrete worktops and blocks of colour in the kitchen, before adding foliage and house plants to soften the styling.
Read more on Nicola's tips for creating a cosy hideaway or visit her website for some more inspiration.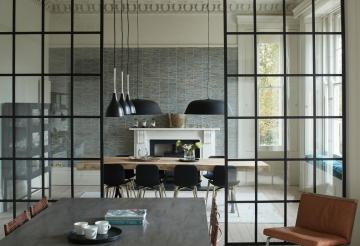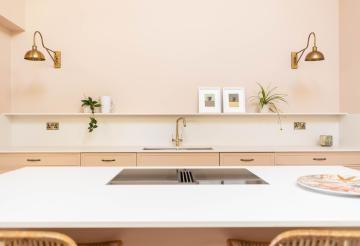 © Boo Homes
Style: Bold and contemporary
Friends of Perfect Stays, Boo Homes are based in St Mawes and are known for their striking, contemporary interior design. Recognisable for their introductions of bold colours, textures and patterns, their design team bring influences from across the globe to their projects.
Speaking to owner Jilly Scott, she explains that when thinking of new design ideas, her inspirations come from "all over, on one level the landscape and seascape here in Cornwall and another, the architects I work with and travelling to new places." This is evident throughout Boo Homes' projects where rich greens and yellows are used to compliment soft pastels and coastal prints – Jilly puts this perfectly, by wishing to "bring joy" to her designs.
When considering a new interior project, she considers "how each room will be used, how it relates to the rest of the house and how the light moves around the space throughout the day." Using signature dark shades and contrasting colours, their designs work as they compliment the room's views while also welcoming lots of natural light.
When it comes to sourcing, for Jilly it's all about small independent shops: "The Square Gallery in St Mawes has some fabulous works from a variety of Cornish artists. No.4 is a wonderful homeware shop, with lots of hidden treasures, perfect for a home's finishing touches."
Discover more about Boo Homes on their website or follow them on Instagram.
Style: Classic and neutral
Focusing on simple forms, earthy colour palettes and minimal styling, Tanith McKenzie's interior design is nothing short of spectacular. Covering the South West, Tanith's designs can be found in many luxury holiday homes in Cornwall and Devon, tied together with soft colour schemes and an effortless layered look.
Chatting to Tanith, she explains a lot of her inspirations come from Vogue's editor-in-chief, Anna Wintour: "as each new season in unveiled, I look to the catwalk. The way they use prints, colours, metallic tones and layer of materials, it's a great insight into new and upcoming styles."
Whether it's a full interior design project or reimagining a living space, Tanith offers a bespoke furniture layout service as well as a sourcing option. With over eight years of experience in the industry, Tanith has an extensive knowledge of interior design. If you're looking for new furniture, linens, accessories or artwork, Tanith can help you upgrade your home with just a few pieces.
With a new website launching soon, keep an eye on Tanith's Instagram for interior inspiration.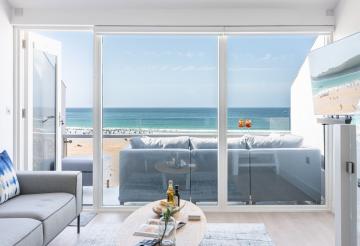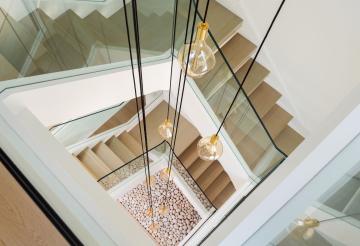 Style: Minimal contemporary
Based in St Ives, Parc Owles pride themselves on their completely bespoke and tailored design service. Taking on every new project with fresh ideas, owner Anthony explains "every design has its own clear identity customised to suit our client's exact requirements. Whether it's the minimal clean lines of a contemporary waterside residence, or a character-filled cottage on the cobbled streets of St Ives, we shape our ideas around the property."
Parc Owles specialise in high-end properties in coastal locations. In order to understand the needs of the client and the property, Anthony explains the first stage of a project always begins with getting to know the home and its surroundings. He goes on to say "we like to incorporate the stunning coastal views of our homes into the overall design. To bring the outside in and maximise the feeling of light and space."
As interior designers, the creative minds behind Parc Owles really value the importance of creating someone's dream property. We asked Anthony why this was, and he explained the design process "is extremely rewarding: we're able to take the stress out of it for the client and be part of a life-changing event." With over 20 years' experience, their enthusiasm is unwavering, and their designs continue to astound. Take a closer look at Parc Owles' interior projects on their website.
If you're thinking about opening up your home for luxury rentals, our Portfolio team would love to hear from you. Contact us on: 01208 895 570.
Image credits: Mint House | Watershedd | Boo Homes | Parc Owles | Doon Williams for Pebble Design | All other photography is our own.