From the Blog
Secret Cornwall: discovering the county's hidden gems
Posted by
Sophie Hesp
on
Updated on
Fall in love with somewhere new in Cornwall
Away from the bustling hubbub of its iconic beaches, popular seaside towns and coveted restaurants, some of the most beautiful areas in Cornwall are yet to be discovered by many. Venture off the beaten track and fall in love with somewhere new on your next coastal escape, with empty south coast beaches, idyllic riverside walks and great local cafés all waiting to be explored.
Lantic Bay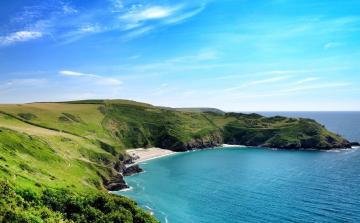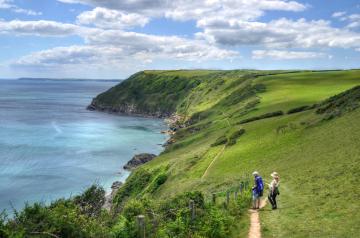 © Paul Cull/Baz Richardson via Flickr
Despite being one of Cornwall's most picturesque stretches of coastline, Lantic Bay remains one of the county's lesser known hidden gems. You can park in the National Trust car park a mile east of Polruan and follow the footpath across luscious rolling fields at Triggabrowne Farm, until approaching the brow of the hill, you'll be treated to incredible beach views beneath.
The steep trek down to the sand and shingle beach takes roughly half an hour, as towering cliffs covered in windswept yellow gorse provide a dramatic coastal backdrop. A versatile beach perfect for games, sunbathing and a picnic, it's a little calmer than the busy North Coast beaches.
The Helford River and Frenchman's Creek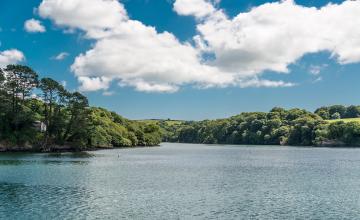 © Steeljam via Flickr
Lose yourself in Daphne du Maurier country and take a wander along The Helford River. Lined with pretty bluebells and wild garlic in the spring months, the walk to Frenchman's Creek is yet to be discovered by many, making it a tranquil portion of Cornwall to explore.

If you're not opting to arrive via the passenger ferry, set off from the lay-by opposite Kestle Barton, head for the large gate and follow the public footpath as it slopes down towards the woods. Before long, you'll be greeted by the beautiful Frenchman's Creek and on a calm day, its resident herons. Walk alongside the gently rippling water and continue up the hill away from the river, taking the path down to Penarvon Cove.

This route will lead you around the coast and into Helford village, where you'll find The Ferry Boat Inn. Serving a menu of fresh fish and seafood, the exposed beams and rustic interiors make for a cosy village pub feel – not to mention the dreamy views over the Helford River.

The Helford River makes a fantastic day trip for those staying at Seathrift in Porthleven.
Gwennap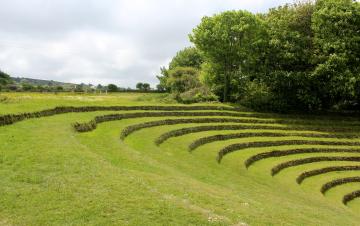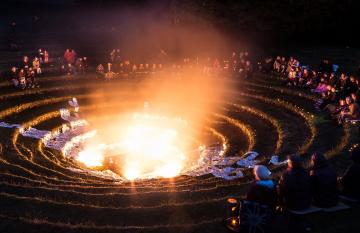 © Sally Luker/Andrew Watkins via Flickr
A huge open-air amphitheatre dating back to the 18th century, Gwennap Pit is one of Cornwall's geographical anomalies. Thought to have been formed by the failings of an old mine, the pit is now considered a place of spiritual, historical and global significance, with its 12 striking grass rings spanning a whole mile.
An interesting day out for families and keen historians, head to the visitor centre to pick up an activity set and some refreshments, and be sure to visit the ancient chapel next door, built in 1836.

After a day spent in the great outdoors, retreat to The Mouse House – a charming seaside bolthole perfect for guests of all ages, with a spacious garden, roaring wood burner and majestic ocean views.
Golitha Falls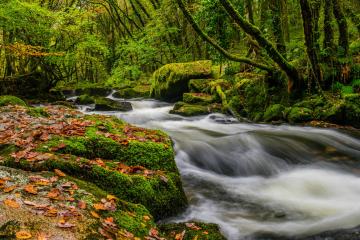 © Luke Gee via Flickr
A spectacular collection of waterfalls located along a peaceful section of the River Fowey, Golitha Falls is a National Nature Reserve with beautifully varied scenery including steep sided craggy gorges, rushing cascades and ancient oak woodland. A quiet and mysterious area steeped in Cornish history, Golitha Falls was once a 19th Century industrial mining complex, and is now perfect for an afternoon stroll.

Wander alongside the river as waterfalls crash against the rocks, before stopping off at Inkie's Smokehouse – hidden amongst the trees at the end of the walk. Serving light lunches and classic hot chocolates, as well as an indulgent low and slow barbecue menu, Inkie's is a lovely after-walk spot to stop by for a chat with the friendly locals.

Ideal for a day out with a difference, Golitha Falls is less than a half an hour's drive from Sea Edge, in Downderry.
Trevibban Mill Vineyard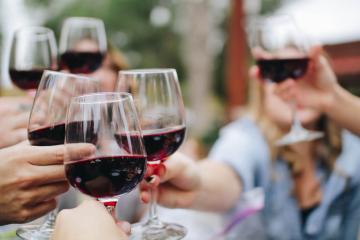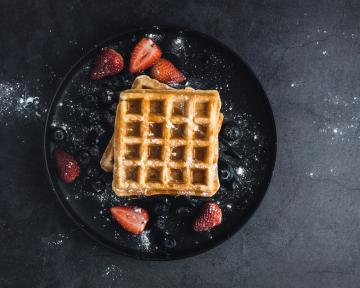 Set within the grounds of an operational winery just outside of Padstow, a wine lover's paradise awaits. Trevibban Mill is one of our local favourites, serving up a tempting selection of wine, beer and artisinal spirits all produced onsite. Pop in to The Winery Bar to sample the a la carte menu with a stunning vineyard view, or for the perfect lazy Sunday, try one of the exclusive brunch options – featuring smoked salmon, Padstow crab and peanut butter waffles.
Nestled in the heart of Harlyn Bay, The Hideaways (Longships, Wolf Rock and Lizard) each sleep six guests just moments from the beach, or up to 18 when rented together.