From the Blog
The best places to spend New Year's Eve in Cornwall and Devon
Posted by
Bethany Walton
on
Updated on
How are you celebrating New Year's Eve this year?
If you're stuck for ideas, take a look at our top recommendations for New Year's Eve in Cornwall and Devon. Alternatively, gather your friends and family together and plan your own celebrations in a luxury holiday home-from-home. With many of our properties just moments away from the fun, view our New Year availability here.
Welcome the New Year in Newquay
Immerse yourself in the vibrant character of Newquay's town centre, as festive music and fancy dress fill the streets and flood local bars, pubs and clubs. As you'd expect, fireworks are due to light up the town. Released from Newquay Harbour, gather with loved ones for the countdown as the clock nears midnight.
If you're looking for the 'wow' factor, The Atlantic Hotel are hosting their annual Black Tie Ball. Dig out your finest eveningwear for a spectacularly classy night and choose between a three or five-course menu. Located in a prime position to watch Newquay Harbour's fireworks, this themed evening is sure to bring in the New Year in the most extravagant way. Fistral Beach Hotel and Spa are also hosting a memorable glitz and glamour celebration from 6pm, filled with a three-course dinner, cocktails and a six-piece rock, pop and soul band.
See the streets of St Ives light up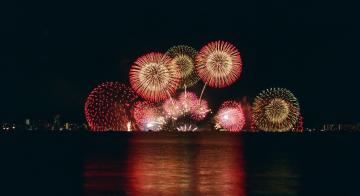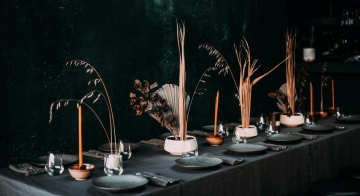 As the road closures take place from 6pm onwards, St Ives becomes home to a wonderful range of fancy dress costumes, where thousands of locals and visitors alike show off their most impressive outfits, filling the streets with character, colour and creativity. Gather on the harbourfront and let your senses soak up the freshly cooked festive treats on offer at the many food stalls or enjoy a tipple at one of the local pubs. As midnight nears, find the perfect spectator spot and watch the fireworks light up the harbour.
The Harbour Hotel offers five-course meals for £85 per person between 7pm and 1am, allowing plenty of time for you to step outside and rejoice in the nightlife and fireworks later on in the evening. Make sure you select your most impressive attire for this event, as there will be a prize for the best dressed.
For something a bit more casual, The Hub and The Seafood Café will satisfy your palette with a range of hearty burgers and fresh shellfish, while Porthminster Café is perfectly positioned for laid back celebrations on the edge of the beach.
Join the party in Falmouth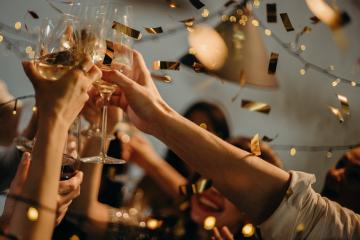 The seaside harbour town of Falmouth is renowned for coming alive on New Year's Eve with a street party that flows throughout. Like St Ives and Newquay, many guests will arrive in their best fancy dress costume, with the boats and buildings also adorned in festive decorations for the occasion. Soak up the live music throughout the town before watching the firework display reflect onto the river from the embankment.
If you're looking for something more, The Greenbank Hotel will be hosting their annual New Year's Eve party. Complete with champagne on arrival, a glamourous gala dinner and plenty of entertainment, it promises a night to remember.
Count down to midnight in Mousehole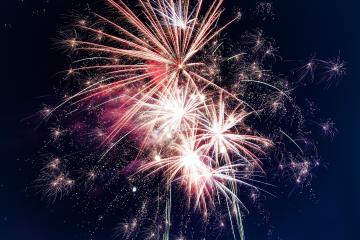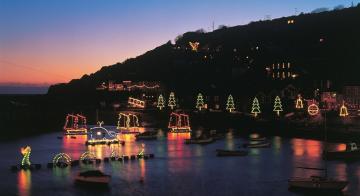 For those hoping for a quieter affair, the enchanting village of Mousehole promises to deliver a calm New Year's Eve. Renowned for the Christmas lights, the fishing port transforms into a festive vision each December, with approximately 7,000 bulbs, floating displays and a 160ft wide Christmas message lit up for all to see. With plenty of cosy nooks in various pubs, hunker down by the open log fire as you feast on hearty platters and the obligatory glass of fizz, counting down to 2024 with ease.
For sociable dinners, 2 Fore Street offers a delicious tasting menu, featuring refreshing local seafood, high-quality organic meats and crisp vegetables to please all palettes. Boasting a relaxed yet luxurious atmosphere, this venue is perfect for welcoming in the New Year with friends and family.
Black tie balls in Truro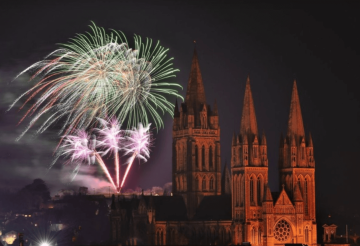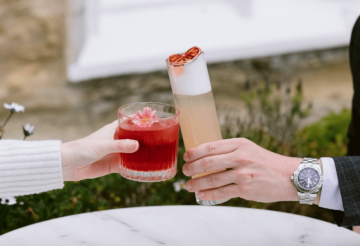 If you jump at the chance to get dressed up, a night of glitz and glamour from The Alverton is the perfect place for you. With celebrations commencing at 7pm in the Great Hall, prepare to dance the night away as resident DJs take you into the early hours. Sip on your favourite tipples before indulging in a six-course tasting menu, featuring Westcountry beef fillet, shallot tart tatin and white chocolate semifreddo. Start the year as you mean to go on and treat yourself to a night of luxury.
Charming nights at Charlestown Harbour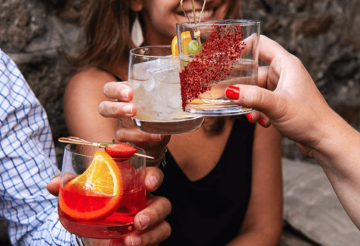 If you're looking to spend the remaining hours of 2023 with a loved one, head to The Longstore for an intimate dinner for two. Serving up a feast of locally sourced goods, replace the bustle and chatter for this sleepy fishing port's relaxed atmosphere. Flavoursome rump steaks and sticky toffee puddings followed by a stroll along the harbour wall promise a peaceful transition into the new year.
Get all dressed up in Devon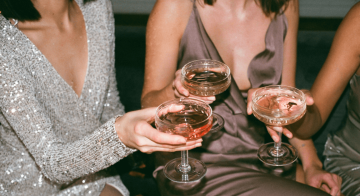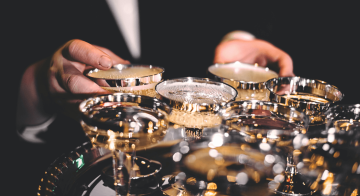 See in the New Year in style with a celebratory ball at Boringdon Hall and enjoy an exquisite five-course menu. Expect beautifully prepared seafood, paired with delicate wines and rounded off with a selection of sweet treats. Before the clock strikes midnight, celebrate live jazz before heading out onto the lawn for fireworks to finish the evening and welcome in 2024.
Or, take to Dartmouth's narrow streets for a night of celebration and admire the skies as they light up with fireworks when the clock strikes midnight. Revellers dressed in a variety of creative costumes flock to the embankment awaiting the chime of church bells - it's a tradition not to be missed.
Alternatively, enjoy an evening of elegance at Deer Park in Weston, South Devon. A beautiful country house, Deer Park is a truly spectacular location for a night of celebration – dress up, wander the gardens in candlelight and take to the dancefloor after supper. Come midnight, clink glasses as fireworks light up the night sky before retreating inside for coffee and chocolates in the lounge.
Join Bideford's 2024 celebrations
For something intimate, The Royal Hotel's grand Gala Dinner welcomes visitors to join the celebrations, with plenty of drinks, dancing and food to enjoy as the night goes on. Promising a memorable and stylish night, this event is sure to bring the glitz and glamour of a fabulous New Year's Eve.
Gather together on the south coast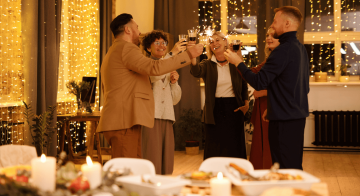 With fireworks launching from Looe town's Banjo Pier, the best seats in the house can be found on the seafront promenade. Expect the cobbled streets to be filled with visitors and locals alike dressed head-to-toe in fancy dress. One of Cornwall's most-loved events, it's an unforgettable way to welcome in the New Year surrounded by family and friends.
For those with young families, make the most of an early firework display harbourside at 6pm, or join the celebrations for a second display at midnight.
Relax into the New Year in North Cornwall
Just a stone's throw from Trebarwith Strand, visit Tintagel Brewery for a taste of local ale, exquisite sharing banquets and live music. As midnight approaches, step out onto the terrace for a mesmerising fireworks display.
Perfect for foodies, allow the year to draw to a close at the St Enodoc Hotel in Rock. Choose from one of two indulgent options, both available to non-residents at either Karrek or The Brasserie. Think Camel Valley on arrival, a five-course gala dinner or nine-course tasting menu, plus live music to dance the night away.
Alternatively, relax with a laid back evening overlooking the Camel Estuary from The Mariners in Rock. A beautifully coastal pub, The Mariners is an idyllic family spot for supper and celebration. Gather loved ones together, wrap up and watch 2024 roll in from the windswept sands below.
For something a little different
Think masquerade masks, secret gin bars and a magical Cornish setting. On the 31st December, Truro will host a New Year's event like no other - The Cathedral Masquerade. Dress up to the nines and wander down the cobbled streets of Truro where a red carpet will lead you into the beautifully decorated hall. With champagne and canapes on arrival, enjoy the festivities long into the night, before the cathedral's bells ring and the town erupts into celebration.
Or, for those who love live comedy, head to the War Memorial Institute in St Dennis for a night of singing, laughter and festive merriment. To celebrate the arrival of the New Year, Johnny Cowling will entertain with a fun-filled Cornish set.
Image credits: Rachel Claire via Pexels | Inga Seliverstova via Pexels | Nicole Michalou via Pexels | Looe image from Mike Fleming via Flickr | The Alverton via Instagram | The Longstore via Instagram | All other images are our own or from Unsplash.
Last updated: 2nd November 2023.