From the Blog
Where to stay in Cornwall
Posted by
Perfect Stays
on
Updated on
Popular destinations for couples, walkers, dog-lovers and families…
Famed for its golden sandy beaches, epic landscapes and vibrant foodie scene, it's no surprise Cornwall is often selected as one of the UK's top holiday locations. With bustling harbour towns and picture-perfect coastal villages to visit, it can be hard to decide where to explore, so we've rounded up some of the best places to stay in Cornwall.
Whether you're looking for a romantic getaway for two or an action-packed escape to keep the whole family busy, we share our top recommendations to inspire your next summer holiday in Cornwall.
For couples
Coverack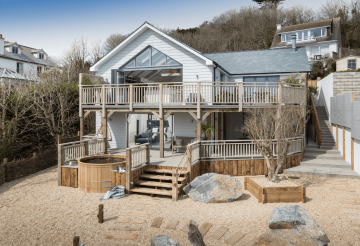 Right: Compass Point
Why you'll love it: Secluded and peaceful, visit to see the quieter side of Cornwall.
Situated on the rugged West Cornwall coast, Coverack is a beautiful spot for couples to get away from it all and spend time together.
Start your day with a stroll through the pretty village and take a dip in the calm waters at Coverack Beach. If you're keen to try something a little different, embark on a windsurfing lesson with the friendly team at Coverack Windsurfing Centre and learn a new skill.
When you're feeling hungry, meander along the country lanes towards St Keverne and take a break at the intimate Greenhouse restaurant. You won't go wrong by choosing one of their tempting seafood dishes. Popular options include roasted scallops with garlic and pan-fried Cornish sardines. Tables are in high demand during summer months so if you're staying at one of our properties, avoid disappointment by asking our Concierge team to book you a table.
Where to stay: Compass Point
Popular restaurant nearby: The Greenhouse Restaurant, St Keverne
Port Isaac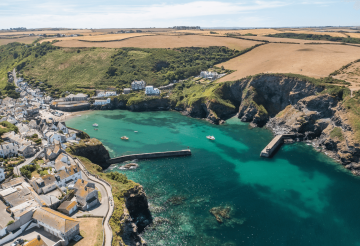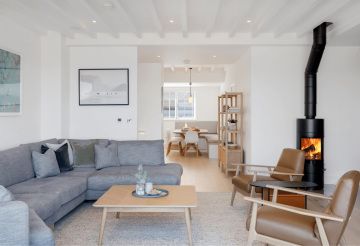 Right: Gwel Arvor
Why you'll love it: Explore well-known filming locations and find endless spots for a picturesque picnic.
Known around the world as the home of Doc Martin and the Fisherman's Friends, Port Isaac is a lovely location for a couples' getaway in Cornwall. Pretty shops and quaint streets await around every corner with plenty of eateries to try when dinnertime comes. A great choice for fish-lovers is Outlaw's Fish Kitchen; sitting opposite the harbour, it's a beautiful spot to enjoy the freshest seafood in the area. If you're planning for a special occasion, organise a Dine with Iris picnic package to be delivered to the beach and enjoy an idyllic lunch while watching the waves.
For something a little more adventurous, try a private paddle-boarding tour of nearby Port Gaverne with Cornish Rock Tors to explore the rocky gullies and hidden coves of this beautiful coastline.
Where to stay: Gwel Arvor
Popular restaurant nearby: Outlaw's Fish Kitchen. See our full Port Isaac restaurant guide here.

For young families
Polzeath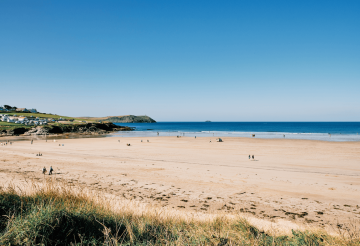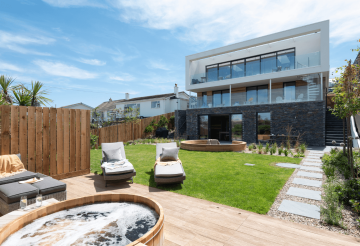 Right: Trelorna
Why you'll love it: Great for spending days bodyboarding or learning to surf.
One of the most popular spots in North Cornwall, this buzzing seaside village is the ultimate location for a beach holiday in Cornwall. Let toddlers run free on the huge sandy beach or put your wetsuits on for an afternoon spent splashing in the shallows.
If you have any budding surfers in your group, why not book them onto a private surf lesson at George's Surf School and they'll be catching waves in no time. Our Concierge team has a great relationship with George's Surf School, so if you're staying in one of our homes, let us take care of all the planning and organise the lessons for you.
Where to stay: try Trelorna, our newest property in the town, or see our full range of Polzeath properties.
Popular restaurant nearby: Atlantic Bar and Kitchen, Polzeath
St Ives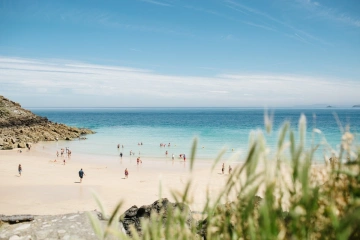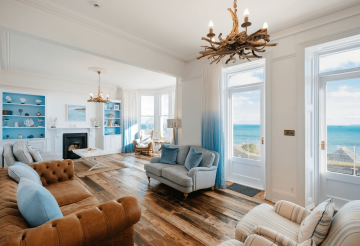 Right: Shun Lee
Why you'll love it: Plenty of family-friendly eating options, world-famous art galleries and five sandy beaches to discover.
It may be known for its child-friendly beaches, but St Ives can offer young families so much more. For something a little more cultural, head to Tate St Ives to wander the exhibits and let youngsters get arty during their monthly Toddle Tate sessions - a multi-sensory class for young children to investigate art and play with exciting materials.
Older children might like to try their hand at pottery at the world-renowned Leach Pottery on the outskirts of St Ives. They offer a range of different workshops throughout the year for children of all ages from 'Clay Play' to making your own piggy bank. Take a look at their website to see their latest family-friendly classes.
If you have a moment away from the little ones, take the short drive to the nearby Carbis Bay Hotel and enjoy a few hours in their newly renovated C Bay Spa. From facials to seaweed wraps, take time to unwind while overlooking the sea.
Where to stay: Shun Lee
Popular restaurant nearby: Porthmeor Beach Cafe, St Ives. See 14 more St Ives restaurant recommendations here.

For a walking holiday
Downderry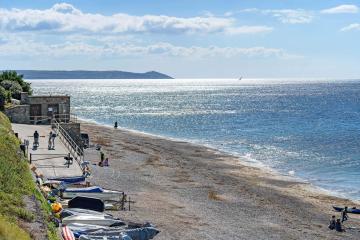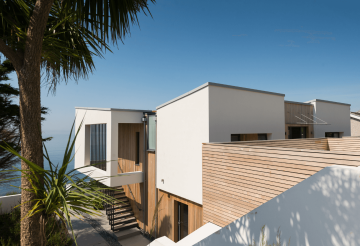 Right: Sea Edge
Why you'll love it: A hidden gem in Cornwall, walkers will enjoy discovering great local hiking routes.
One of the lesser-known areas of Cornwall, Downderry sits on the stunning south east coast of Cornwall, just a 20 minute drive from Looe. Walkers will love the unspoilt countryside and beautiful walks that can be found within a short distance of this picturesque seaside village.
One of our favourite walks in the area is the 6.7 mile circular hike between Downderry and Portwrinkle. It's a moderately strenuous stroll taking you along the South West Coast Path to Portwrinkle via Cargloth Cliffs and then back to Downderry through pretty country lanes.
If your four-legged friend is joining you, wake up early and stroll down to nearby Seaton from Downderry. Let your dog run free on the pebble beach at Seaton before heading out on the circular walk from Seaton to Millendreath. A six mile route in total, this undulating walk will take you up Looe Hill where you'll enjoy far-reaching views across the water towards the nature reserve of Looe Island.
Where to stay: Sea Edge or Eden
Popular restaurant nearby: Bewshea's By The Beach, Downderry
Trebarwith Strand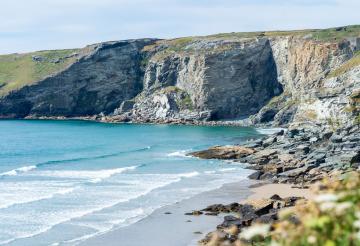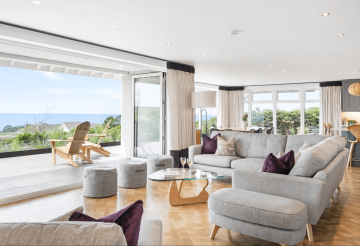 Right: The Paddock
Why you'll love it: There's so much to explore on your doorstep - spend the day roaming Tintagel Castle or wander along the coast path to Port Isaac.
Walkers looking to holiday in Cornwall will struggle to find a better spot than Trebarwith Strand. The rugged North Cornwall coast makes the perfect backdrop for a scenic hike along the coast.
Our must-try walk in the area is the five mile route from Trebarwith Strand to Tintagel Church. If you time it right, Glebe Cliff is a wonderful place to watch the sunset over the glistening ocean - a lovely place for a picnic in the last of the day's sun.
For avid walkers looking for an all-day hike, we recommend the walk from Trebarwith Strand to Port Isaac. A 13.6 mile return trip along the coast path, enjoy mesmerising views out towards Port Isaac Bay as you walk and when you reach Port Isaac, stop for a pint at The Golden Lion - famed as one of the locations used in The Fisherman's Friends film. On your way back, drop down into the rocky beach at Backways Cove to dip your toes in the water and soothe weary feet.
Where to stay: The Paddock or The Yellow Cottage
Popular restaurants nearby: Port William Inn, Tintagel

For a getaway with your dog
Daymer Bay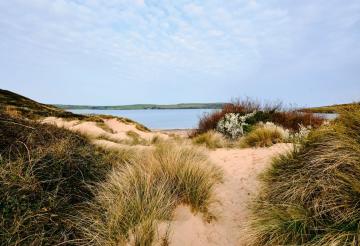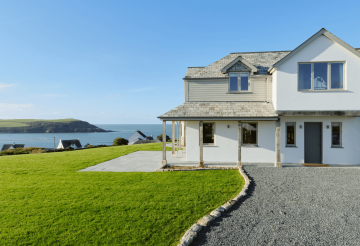 Right: Brynia
Why you'll love it: Enjoy leisurely dog walks on the sand or take a short stroll to popular Rock.
Whether rain or shine, a visit to Daymer Bay is essential for you and your four-legged companion. Open to dogs all year, the beach is famed for its long stretch of golden sand and is perfect for morning walks if you're staying in nearby Four Geese. On warm summer days, head to the beach shop and pick up ice creams for the walk home.
Foodie Rock is just a short 30 minute stroll away so grab your walking boots and lead for a dog walk along the coast path to Rock Beach. If pub classics with a modern twist are your thing, there's no better place to stop after your walk than The Mariners. Relaunched by chef Paul Ainsworth in 2019, this dog-friendly pub is famed for its small plates such as the sage scotch egg and Porthilly oysters. If you're looking for more places to explore in the area with your dog, take a look at our favourite dog walks in and around Rock.
Where to stay: Try Brynia, our newest property in Daymer Bay.
Popular restaurants nearby: The Mariners, Rock
Porthcothan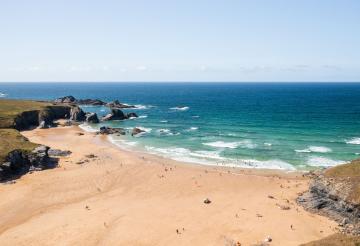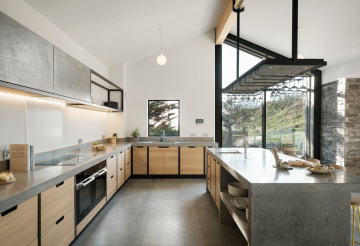 Right: Noordhoek
Why you'll love it: With no seasonal dog ban, Porthcothan Beach is perfect for letting your dog run free.
Not as well-known as nearby Padstow and Mawgan Porth, Porthcothan is a real north coast gem and one of Cornwall's iconic Seven Bays.
The beach is the centre point of the village and welcomes dogs all year round. If you're staying in one of our luxury homes in Porthcothan, wake up early to grab your first coffee of the day at Porthcothan Stores before wandering along the soft sand while your dog runs to the waves.
Just above the beach, you can head up the hill and join the South West Coast Path. As you ascend, take in the panoramic ocean views and meander along the path until you reach Bedruthan Steps. On a sunny day, head to Carnewas Tea Room and enjoy a classic cream tea on the outdoor picnic benches before heading home.
Where to stay: Noordhoek, Seastar or Roscarrock.
Popular restaurants nearby: Cornish Arms, St Merryn

Start planning your dream summer getaway for 2023
The countdown to summer 2023 is well and truly underway. Explore our range of spectacular homes across Cornwall, as well as Devon and Somerset. If you're still unsure about where to stay in the South West, call our Property Advisors today and let them help you pick the perfect holiday location for your group. Call the team on 01208 895 570 or email info@perfectstays.co.uk.
Image credits: Pexels | All other imagery is our own.