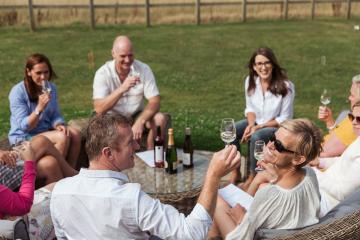 Wine Holidays
Take advantage of Cornwall's quality English wine during your getaway.
With a mild climate and long sunlight hours, Cornwall is the ideal location for producing high quality English wine.
Cornish vineyards
With a range of independent vineyards across Cornwall, visitors will be spoilt for choice when it comes to tasting sessions, vineyard tours and stocking up on wine to take home. Nestled amongst rolling Cornish hills, the award-winning Camel Valley was granted a royal warrant in early 2018 and produces a delicate sparkling wine. Near the dramatic north coast, Trevibban Mill is a working vineyard known for its stunning collection of wines and cider. And a stone's throw from the Eden Project, Knightor is a gorgeous winery and events venue producing premium still and sparkling wines.
There's a myriad of other vineyards in Cornwall and across the South West, all of which offer unique visitor experiences, bookable through our concierge service.
Cornish Wine Tours
If you love discovering new wine but don't want to worry about driving or researching where to go, our Concierge team can arrange everything for you with an in-house tasting. Ready to enjoy from the comfort of your holiday home, we can use our trusted local contacts like Cornish Wine Tours to provide fun, informative tastings that are tailored to your group. Simply get in touch with our friendly team to find out more.