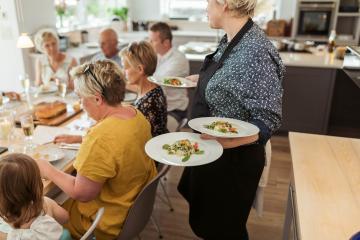 Holiday Homes with a Private Chef for Hire in Cornwall, Devon and Somerset
Consider a delectable dining experience within the comfort of your holiday home.
Enliven your taste buds with a private chef service for the duration of your stay in our luxury holiday homes and cottages.
Bespoke chef service
Our handpicked private chefs are incredibly experienced, and many have worked in some of the world's top restaurants. Having sampled a variety of their dishes, we can vouch for their incredibly talented culinary skills. Our most popular concierge option, this wonderfully unique experience will add the wow factor to your escape. The private chef service closely considers nutritional and dietary requirements to ensure a smooth dining experience for all.
Contact our concierge team for quotes. Prices can vary depending on details such as party size and choice of cuisine.
A personalised dining experience
Our partner chefs can also prepare delicious meals in advance to be delivered to the door of your holiday home and is therefore incredibly useful for those quiet nights in.